Quick Summary
Date of Birth: October 16, 1997
Other Names: Naomi
Occupation: Professional Tennis Player
Known for: Tennis
Family: Tamaki Osaka (Mother), Leonard François (Father), Mari Osaka (Elder Sister)
Website: https://www.naomiosaka.com/
Who is Naomi Osaka?
Naomi Osaka is a Japanese professional tennis player who has made a name for herself as the first Asian tennis player to be ranked no. 1 by the Women's Tennis Association as well as the first Japanese to reach the top ranking. Osaka was born in 1997 to Japanese mother- Tamaki Osaka and Haitian father- Leonard François. Although she was born in Japan she has lived and trained in the US since the age of 3. Her first career breakthrough moment came when she defeated former US Open champion Samantha Stosur in her WTA Tour Debut match at the 2014 Bank of West Classic. All this at the young age of 16.
Who are Naomi Osaka's parents?
Naomi is proud of her mixed heritage- Japanese and Haitian. She is Haitian from her father's side and Japanese from her mother's. She identifies as Japanese and loves everything about Japanese culture. In the area where Tamaki Osaka was born is a coastal town known as Nemuro. In this area, the racial purity was to be upheld according to a decree of the 1600s. However, when she joined her high school in Hokkaido, things changed. Her time in Sapporo (Hokkaido's capital) coincided with the arrival of lots of foreigners among whom Naomi's dad, Leonard Francois was one.The two dated secretly for years and her parents stopped speaking to her when they came to know about it. Tamaki's father was particularly enraged when she decided to go ahead with the decision of marrying Leonard. When Naomi was 3, the family moved to Long Island to live with Francois' family, later reuniting with the Osakas in 2008.
Leonard was motivated by the William Sisters in 1999 during the French Open doubles and soon began training the sister on tennis even though he had limited knowledge of the sport. He was in particular impressed by Richard Williams as he had trained his daughters to be unbeatable in the court. He soon followed Richard's blueprint on how to train for tennis and began preparing his own girls for a career in tennis.
Naomi is close to both her parents which has been evident in many on-field moments, especially the one when she beat Serena Williams in 2018.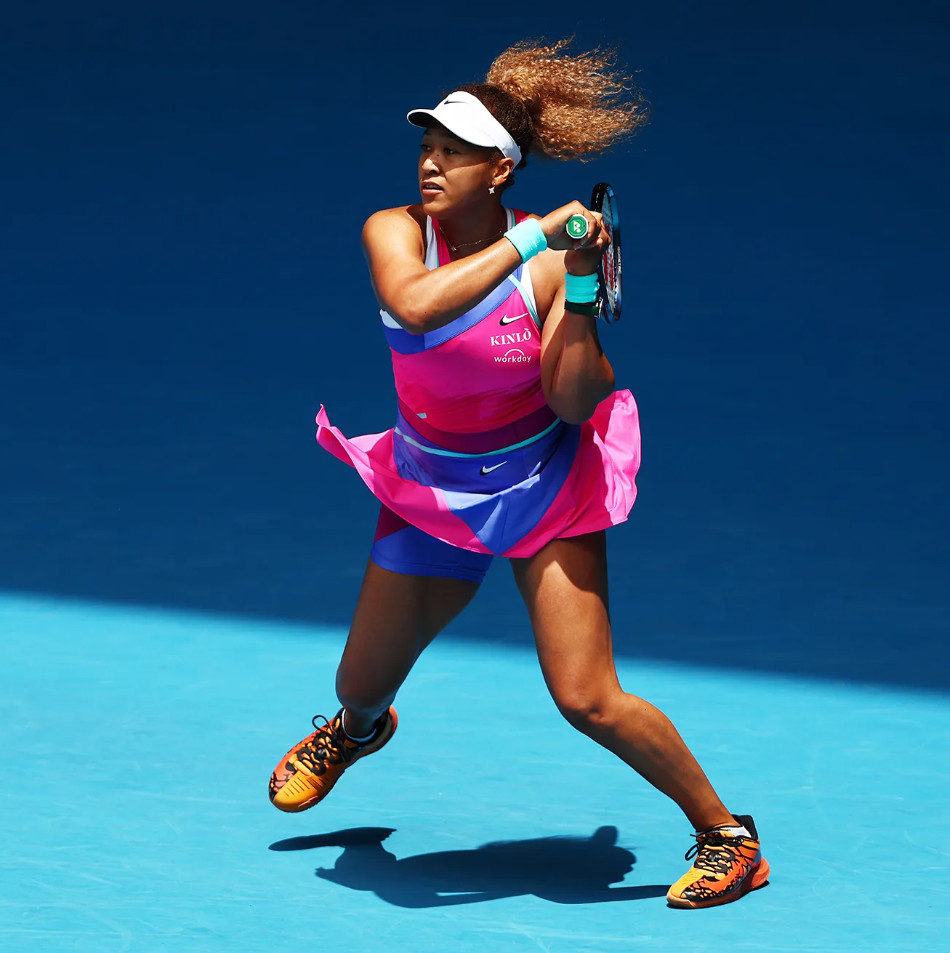 Naomi's career
Although it is a disservice to evaluate a career graph of a great athlete in sheer numbers, Naomi Osaka has an impressive record. With a career win-loss record of 247-137, Naomi is a four time Grand Slam Champion (58-24 at majors). Her first Grand Slam Win the 2018 US Open against the Queen of Tennis herself- Serena Williams. Osaka recorded this impressive win at a young age of twenty by defeating Williams in straight sets 6-2, 6-4 in one hour and nineteen minutes. Williams has been Osaka's childhood hero making this win an even more grand affair for her. The 2019 Australian Open saw Osaka winning by defeating Petra Kvitova and taking over the WTA no. 1 singles ranking. This position was earlier held by Simona Halep. She is also the first woman after Jennifer Capriati to register their first two Grand Slams wins consecutively. In 2020, Osaka created history by clinching her second US Open title by beating Victoria Azarenka.
Naomi's fitness routine
Naomi swears by the adage ' Early to bed, early to rise' as she abides by a strict sleep schedule. She likes to read before bed in an attempt to sleep better. She starts her day by warming up with light exercises like side bends, toe touches, hamstring and quad stretches. This is followed by a quick strength training session wherein she does exercises like squats, lunges and push ups- working on core muscles and strengthening them. This quick workout is in preparation of the hectic schedule that is to follow for the rest of the day. Her coach Abdul Sillah has trained many world- famous athletes and majorly focuses on Naomi. Her practice sessions are three hour long including lots of cardio- running, skipping ropes, and agility exercises- like lateral plyometric jumps, high knee drills, side to side drills, shuttle runs etc. Naomi also isn't the one who likes to be stuck in routines, she constantly switches up routines with activities like ice-skating and dance. Her social media accounts are full of her dance videos with her friends. Between her rigorous sessions, Naomi likes to nap while she is being administered a special kind of massage that not only reduces soreness but also helps her recover in a quick and healthy manner. The mobility exercises that she does help her stay agile and give her joints proper rest, strength and flexibility.
Naomi's Career Controversies
During the 2021 French Open, Osaka posted on Instagram saying that she did not want to participate in any press activities during the tournament. She thought that the press had no regard for the mental health of the athlete and this puts any athlete at immense risk especially during the stressful conferences. She felt that questions are often repeated and asked in a manner that makes the athlete doubt themselves. That she had seen many athletes break down after a press conference makes her decision even stronger. Soon after when she actually did not appear during the conference, the four Grand Slams soon released a joint statement wherein they fined her $15000 for not honoring the mandatory contractual media assignments. They went ahead and stated that it is mandatory for all players and that they won't allow anyone an unfair advantage over the other. She was also warned that she could face disqualification if she continued this resolve.
Following this statement, Osaka dropped out of the tournament stating that she did not want this situation to escalate the way it did. She did not want to be a distraction in the tournament and has battled depression since her first Grand Slam- US Open 2018. She also revealed she has suffered anxiety issues before every major press conference because she gets nervous in answering questions in the best possible manner. She added that her resolve to stay out of the press conference was a form of self- care and the rules of the press in the tournaments were outdated and needed to be revised which she will herself partake in once she has had a bit of time off the court.
Osaka soon garnered a lot of support from athletes and non-athletes aside. Even the greats like the William Sisters supported her. Serena was admitted saying that not all people are crafted in the same way and that they handle things differently. She supported her by saying that Naomi was doing the best she could do.
Naomi Osaka's relationships
Naomi has been dating a Grammy nominated rapper known as Cordae (aka YBN Cordae) since 2019. Naomi and Cordae both are very reserved when it comes about their relationship but Naomi has often written heartfelt messages on Social Media for the rapper. Naomi really appreciated the support that Cordae shows for her as he once left his work midway to be there for her when she was feeling sad and lonely in the covid bubble. He went on to fly straight to Naomi and even quarantined himself in a hotel for a couple days to meet her. In the 2021 Met Gala, they both appeared together- Naomi wearing a Louis Vuitton gown that was inspired by her unique Haitian and Japanese ancestry. Cordae's career moves are quite interesting in themselves- having dropped out of college during a course in communication and joining YBN Collective. In May 2018, he released his first viral song, a remix of Eminem's hit- My Name Is.
His debut Studio Album, The Lost Boy was well received everywhere and even won a Grammy Nomination in 2020. He was inspired by his own struggle for this album and wants to give wings to the idea of finding the way to your own success. He was even reported as manifesting the Grammy winning moment. Having been engrossed in his career, he never knew much about tennis earlier except the William Sisters as they have a cult-like status in the world. He even felt out of place when he came to his first tennis match to support Osaka. They also have the habit of recommending books and movies to each other which makes them bond on a variety of topics. He also writes songs about her sometimes.
Naomi Osaka Personality
Naomi's official website regards her as a rising Fashion Icon, Redefining the Tennis Game, A Self- Proclaimed Goofball, a Global Citizen and a bunch of other adjectives. Naomi is also an Entrepreneur- owning a Women's Pro Soccer Team, collaborating with the World's Most Popular Brands and investing in cutting edge companies. One can say that Naomi is a game changer and the World should definitely watch out for her.
OTHER POPULAR PROFILES
Naomi Osaka
Jason Derulo
Garcelle Beauvais
Clermont Twins
Leonard Francois
Wyclef Jean
Jamie Hector
Jacki-O
Jimmy Jean-Louis
Prakazrel Michel
Zoez Dollaz
Jean Baptiste Point du Sable
Vicky Jeudy
Andre Berto
Michel Martelly
Blondedy Ferdinand
Phyllisia Ross
Alan Cave
Roody Roodboy
Olivier Martelly