Quick Summary
Date of Birth: August 8, 1968
Occupation: Actor and Producer
Spouse: Evelyn Jean-Louis
Children: Jasmine (daughter), Thevi (Brother), Kyra Rose (daughter)
Known for: 'the Haitian' on Heroes, Toussaint Louverture (2012), Claws
Languages Known: English, French, Spanish, Italian and Creole
Who is Jimmy Jean Louis?
Born in Petion-Ville, near Port-au-Prince, Haiti in 1968, Louise' family moved to Paris when he was quite young in order to make a better living. He was only 12. Because he experienced culture shock, he took a few years to adjust in Paris. The family made their ends meet with little resources-no fresh water and electricity. His mother worked as a maid for a French family in Haiti and when they made a move to Paris, she worked for them again in Paris.
After a few attempts at giving business courses a shot, Louis understood that he was meant for the creative field. He then studied at Académie Internationale de la Danse which is the International Academy of Dance situated in Paris. While he and his brother continued studying his parents returned to Haiti. He also worked for a musical theater in Spain known as La Belle Époque for 3 years.
A struggle of one decade, when sometimes the conditions were dire as he became homeless, bore fruit when one of the producers saw him dancing at a gig in a French Club which left him quite impressed. He approached Louis with a Coca- Cola advertisement to which Louis agreed. The successful advertisement got him many modeling assignments all over Europe. In London, he worked with greats such as Gianfranco Ferré and Valentino as a model.
He then started appearing in music videos by collaborating with hip-hop and world-class R & B singers Ophelie Winter, En Vogue, Mariah Carey, and singing sensations such as Seal and George Michael. After moving to Los Angeles in 1998, he then appeared in several independent films in Los Angeles. In most of these movies he took whatever part he was offered but he believed that, 'the system and the business were not open enough to allow some other people to express themselves on an equal playing field'.
His wife Evelyn Jean-Louis is a producer and the two dated for a long while before eventually tying the knot. The couple are happily married and have three kids- two daughters-Jasmine and Kyra Rose and a son named Thevi.
Louis' Love for Soccer
As a kid in Haiti, he used to play with a soccer ball made out of a plastic bag filled with trash. Even as a kid he understood how the game, regardless of the class of the person playing it, relied on human connection and the ability of people to play as a team. When later he had the opportunity to become a member of the amateur soccer club Hollywood United FC, he grabbed it with both hands. Founded in 1988, the team consists mostly of Hollywood celebrities and former soccer professionals. They even organized a game known as, 'Soccer for Survivors' in 2007. His favourite soccer player is Neymar because of his ability and cockiness. He says he loves soccer because it is a poor person's sport and that the game connected everyone. He is often seen posting Instagram pictures from the field and marking any important occasion in soccer.
Career in Acting and Modeling
After he created a successful career in International modeling post the successful stint at the Coca-Cola advertisement, he began acting in a French TV Show in 1995. He then began pursuing acting seriously and moved to Los Angeles where he grabbed a number of roles in independent films that were low budget. One role that marked the beginning of his successful Hollywood career was in the movie Derailed. Released in 2002 by filmmaker Jean-Claude Van Damme, Louis' role as Henry was much appreciated and got him in line for other A List Hollywood projects.
Moving ahead, Louis was cast in movies like Tears of the Sun (2003), Hollywood Homicide (2003), the comedy movie-Monster in Law (2005), and the drama-The Game of Their Lives (2005). Subsequent to secondary roles in all these movies, Louis finally bagged the lead in the 2006 movie, Phat Girlz where he plays a good looking Nigerian called Dr. Tunde Jonathan who shows an interest in the plus-sized lead actress Mo'Nique.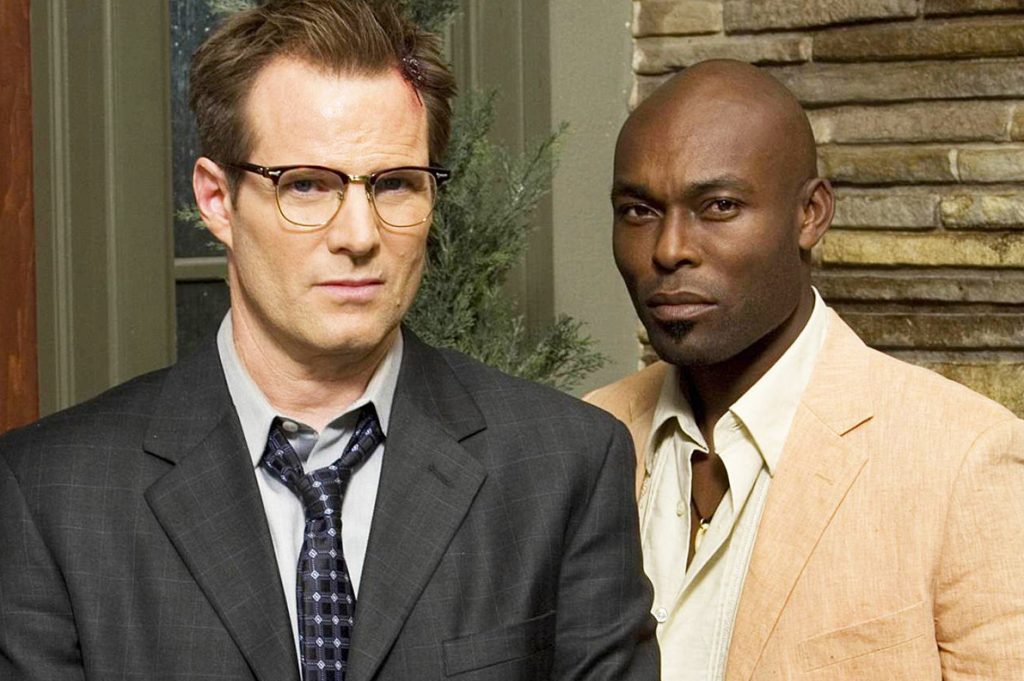 Playing The Haitian in Heroes
The Haitian is a fictional character on Heroes where Louis plates the character. The Haitian is an associate of Noah Bennet who is also known as the man in horn rimmed glasses. The character does not speak much but according to Louis has a big spirit. It was a challenge for Louis because all he had was his body language and his expressions to move the story of his character forward. Louis also connected with the character in the sense that he too is from Haiti therefore not much homework was needed to be done. The role was tweaked by the producers to cater to Louis' ethnicity, but Haitian was originally supposed to be from New Zealand and was going to be called, 'The Kiwi'. Louis in one of his interviews has also stated that he auditioned for the role of DL Hawkins thrice but did not get the part. He was eventually given the role of the Haitian a few months later even without an audition. As far as the character is concerned, the Haitian is mostly aloof. He wears his father's necklace which has a helix symbol and has a belief that superpowers are a gift from God and they should be respected.
Playing Titular character in Toussaint Louverture
Toussaint Louverture was a Haitian general and a prominent figure in the Haitian revolution. Louis got to play the titular role in the French film in 2012 directed by Phillipe Niang. The film turned out a great success premiering at Festival de Luchon. It also won the Best Diaspora Feature at the 8th Africa Movie Academy Awards. It was a nominee for Black Reel Awards in 2013 in the category of Outstanding Foreign Film. In the Monte Carlo TV Festival 2012, it was the nominee for Outstanding Mini-Series and Louis was nominated in the category of Outstanding Actor in a Mini-Series.
Playing Louverture was an honor for Louis as growing up he was the hero that they learned about as the most significant figure in 200 years of history of Haiti. Louis read a lot of books and watched a lot of documentaries in preparation for this role. He also spoke to Haitians who knew about Haiti and him. As the movie focuses on a time when he was the general and governor from the age of 30 to 60, it required a lot of leadership and vision to bring the role to life.
Claws TV Series
Another popular role that Louis pursued was Claws which is a comedy drama that premiered in June 2017. He plays the character of Dr. Duval who on one part is a good natured, good looking, reputed gynaecologist and plays Desna's (lead character) love interest and on the other hand is a Haitian mafia kingpin which complicates the character and takes it to many layers. The premise of the series is quite interesting as well. Five women who are manicurists by profession at a nail salon in Florida begin laundering money for a neighbouring pain clinic entering the grey world of organized crime which is also traditionally a male oriented field. They work their way up to become the kingpins of their own empire.
Best Actor Awards
In 2012 for the movie Toussaint Louverture, Louis won the Best Actor at the Pan African Film Festival. In 2019 he won the Career achievement award at the Montreal International Black Film Festival. For Desrances, a movie that released in 2019 and is a drama thriller directed by Burkinabe filmmaker Apolline Traore bagged him the Best Actor in a leading role at the Africa Movie Academy Awards.
Activism and Haiti Earthquake Relief Efforts
As mentioned earlier, Louis' parents returned to Haiti when he began his modeling career. After the 2010 earthquake that had hit Haiti, Louis went to Haiti to look for his parents and was devastated to find out that his home which housed many of his relatives and the one that he grew up in had collapsed. Fortunately his parents survived. He had founded Hollywood Unites for Haiti, a not for profit which originally provided sports and cultural education to underprivileged youth in Haiti was directed to provide disaster relief after the earthquake. He has taken part in most campaigns for Haitian Aid. He was also named the Ambassador at Large to Haiti by His Excellency President Michael Martelly in 2014 by which he can represent Haitian people internationally at various forums. He is a champion of Haitian culture having represented Haiti in not only his films but also his demeanour and being extremely rooted and proud of his Haitian upbringing.
OTHER POPULAR PROFILES
Naomi Osaka
Jason Derulo
Garcelle Beauvais
Clermont Twins
Leonard Francois
Wyclef Jean
Jamie Hector
Jacki-O
Jimmy Jean-Louis
Prakazrel Michel
Zoez Dollaz
Jean Baptiste Point du Sable
Vicky Jeudy
Andre Berto
Michel Martelly
Blondedy Ferdinand
Phyllisia Ross
Alan Cave
Roody Roodboy
Olivier Martelly