OFFICIAL WEBSITE, HERE
Spilling the Haïtea with Teenage Entrepreneur Sanaa Pierre
When thinking of countries famous for their tea, England, India, and China most likely come to mind, right? Well, it's now time to add Haiti to this list, thanks to the curious mind of eight-year-old Sanaa Pierre who founded Haïtea, a Black-owned, all-natural brand of teas and herbs sourced directly from women farmers in Haiti.
The Haitian tea drinking tradition is something well known to those familiar with the culture but virtually unknown to those without any ties to the Caribbean nation. Now, one family is ready to share with the world the richly flavored teas and medicinal herbs that Haitians have enjoyed for centuries.
Sanaa Pierre was born in Boca Raton, Florida, and now currently resides in Melbourne. As a first-generation Haitian-American growing up with her mother and grandmother in the household, tea drinking was a cherished ritual of daily life. Her mother and business partner, Sandra Florvella, said that when Pierre was just eight years old, she asked her, "Mom, why don't we share [our tea] with other people?" and that's when Haïtea was born. The family began the name search process, and Pierre thought of the idea of combining the words Haiti and Tea and ended with the portmanteau Haïtea.
The most successful tactics Pierre and her family use to market Haïtea to Haitians, and to the rest of the world, include offering products to the community via digital marketing, social media, email marketing, magazine ads, and more. Haïtea was created to support the people of Haiti in a sustainable way.
"I wanted to combine my love and passion for Haiti and fabricated something that would ameliorate the lives of local farmers in Haiti," says Pierre.
When it comes to giving advice to Haitian women who want to become entrepreneurs, Pierre says to do something you absolutely love and enjoy doing. In business, she advises doing something that will make a difference or provide a solution to consumers. Pierre believes the top three most important skills needed to be a successful entrepreneur are effective communication, the ability to focus, and constant learning.
As of now, Florvella is the managing director of Haïtea and handles a lot on Pierre's behalf. Pierre is currently a high school freshman and is laser-focused on getting her key courses out of the way for a clear path to high school graduation and college entrance. However, she does help with making decisions on product selection, marketing ideas, and future plans for the brand. In five years or less, the family looks forward to substantially scaling their business in the international markets in order to offer more opportunities in Haiti.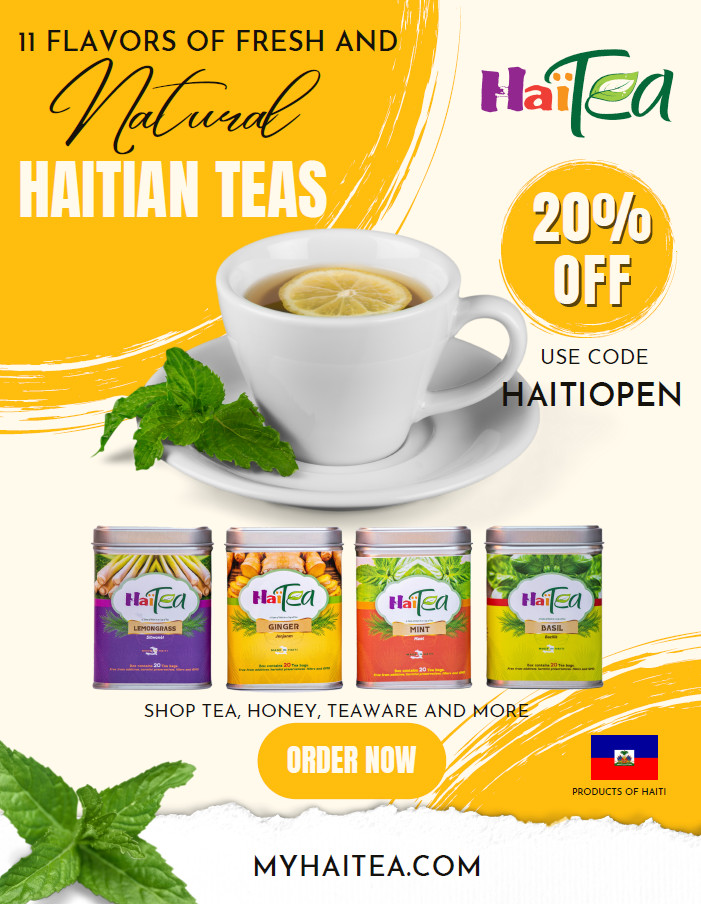 Contact:
Website: myhaitea.com
IG: instagram.com/haitea