Quick Summary
Date of Birth: September 21, 1989
Other Names: Jason Joel Desrouleaux
Occupation: Singer, Songwriter and Dancer
Known for: Singles like- 'Want to Want Me', 'Whatcha Say', 'In My Head', ' Ridin Solo', 'It Girl', 'Trumpets' etc.
Family: Joel Desrouleaux (Father) and Jocelyne Desrouleaux (Mother), Kim Desrouleaux (Sister), Jason King Derulo (Child)
Partner(s): Jordin Sparks, Carmen Ortega, Daphne Joy, Jena Frumes
Website: https://www.jasonderulo.com/
Who is Jason Derulo?
Derulo was born in Miramar, Florida to Haitian Parents- Joel Desrouleaux (Father) and Jocelyne Desrouleaux (Mother). Derulo's parents had migrated from Haiti to Florida to bring up their children. A child prodigy, Jason began to garner attention when he was little for his singing and writing skills. His mother noted his talent quite early on and enrolled him in a music school. He graduated from the American Musical and Dramatic Academy majoring in musical theater. He was only eight years old when he penned his first song. He also started attending performing arts school in various parts of Florida to not only test his talent but also hone it. When he grew up to be a teen he wrote a song called, ' Bossy' for Birdman who was a New Orleans based rapper. He even made a cameo appearance in this song showcasing his talent and range as a vocalist as well. Even though he had such an exquisite talent for music, he cared about sports as well, participating in as many sport competitions and activities throughout high school. After high school though, he started focusing on music exclusively.
Jason Derulo Parents
Both Joel and Jocelyne Desrouleaux are of Haitian descent and have reportedly retired from work. His mother had always supported his aspirations as she noticed a talent in him and did everything possible to hone his talent. His family was middle class and did not have affluent resources at his disposal. However, it is a close knit family and even the siblings are very close to each other as is evident from their social media accounts and his brother's matching tattoos. Jason loves surprising his mom. In one incident during the Billboard Music Awards he requested Celine Dion to Facetime his mother.
Jason Derulo Music-Style, Influence and Genre
Jason Derulo usually creates pop songs, which are heavily influenced by R&B and Hip-Hop Influences. He is inspired by Michael Jackson and is often seen paying him tributes through his music. His song Cheyenne has heavily drawn from 'Thriller' one of Michael Jackson's most hit songs of all time. Thriller was also the first album he owned and has been reported saying that it was like a textbook to him. It has taught him everything from how tos to vocal runs, little ad-libs among a host of other things. Apart from Michael Jackson- he is also influenced by MC Hammer, Elvis Presly, Prince, Usher, Justin Timberlake and Madonna.
His Debut Single- Whatcha Say
Music Producer J. R Totem discovered Derulo and signed him to record his label Beluga Heights Records and Warner Bros. Records. Totem was reportedly impressed by Derulo's work ethic as he churned one song over another in the music studio. His debut single, 'Whatcha Say' incorporates the song, ' Hide and Seek' by Imogen Heap and is used as a chorus in this song. It topped the Billboard Hot 100 for one week. Whatcha Say was inspired by his brother who gave him a call saying he cheated on his girlfriend but loved her so much that he wished she would give him another chance. Reflecting on the situation, Derulo went to his music studio and began working on the idea saying that he encountered similar situations in everyday life and many people went through it.
His Debut Album- Jason Derülo
Released on March 2, 2010, his debut album was promoted at Lady Gaga's, 'The Monster Ball Tour' and produced by J R Totem. One of the songs of the album- 'Ridin' Solo' reached number nine in the Billboard Hot 100 while another song 'In My Head' reached number 5. The album received mixed reviews from the critics.
Jason Derulo Awards
He received Teen Choice Awards for In My Head and Jason Derulo in 2010. In 2011 for the same album he got the 'Songwriter of the Year' Award and 50 Most Performed Songs of the year at the BMI Pop Music Awards. He then went on to win Choice Music: Star Male at the Teen Choice Awards in 2013. At the Youtube Music Awards in 2015 he won the 50 artists to watch. He has also won the LOS 40 Music Award and CMT Music Award in 2016 and 2017 respectively.
Jason Derulo Relationships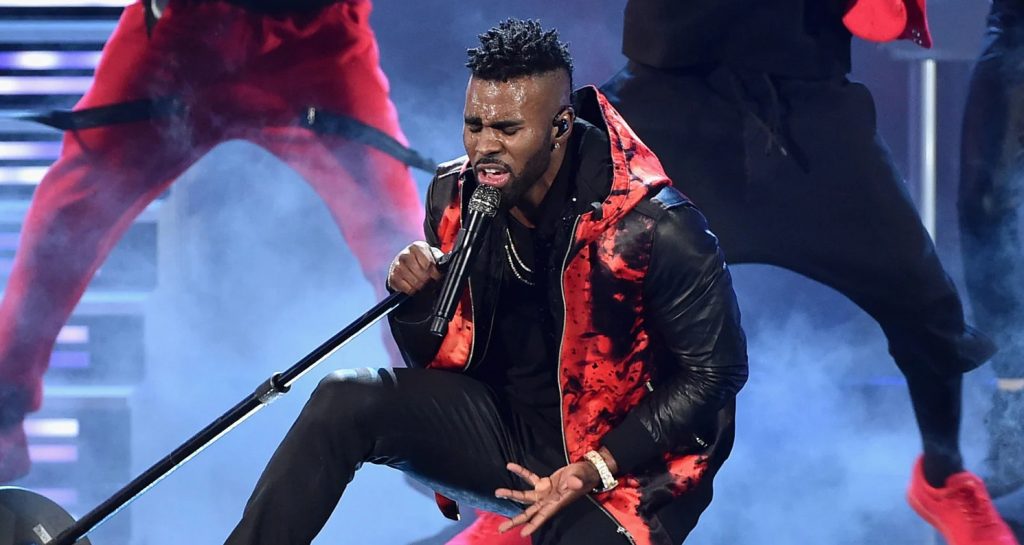 Derulo and Jordin Sparks
Derulo had famously dated Jordin Sparks for three years before calling it quits. There were many speculations revolving around their secret marriage but the couple denied it. The couple were going really strong and Jason was heard saying that they got close during his neck injury in 2012. He even wrote a full-blown video about Jordin titled, 'Marry Me' inspired by their real life romance. The couple reportedly had arguments about their marriage which led them to have split opinions. Till date they are not 'friends' and have permanently parted ways.
Derulo and Carmen Ortega
Immediately after his split with Sparks there emerged reports of his relationship with Carmen Ortega. Ortega had stated that she did not know Derulo's relationship status prior to dating him. However, once she got to know she cut ties off with Derulo.
Derulo and Daphne Joy
Derulo dated Daphne Joy, a bikini model for a brief seven months before splitting up. They were seen on vacation chilling by the beach and also made several public appearances before calling it off.
Derulo and Jena Frumes
Derulo began dating Frumes in 2020 and has a baby with her named Jason King Derulo. However, the couple called it quits shortly after the baby. The couple had grown really fond of each other during the corona pandemic.
Tattoos World Tour
Tattoos World Tour was the first world tour by Derulo after his massive neck injury during his Future History World Tour which ultimately got cancelled. The tour opened in Europe, Australia and Connor Maynard opened the act. Since his first tour had to be cancelled due to the unfortunate incident this tour had to be special which is why Derulo had begun planning for it much in advance. The tour was well received in both Europe and Australia and was sold out to the extent that several dates were added in order to accommodate the demand. The tour was launched when his third studio album Tattoos got released and he went to Australia to promote it where he announced the tour would take place between April and May 2014.
Jason Derulo Net Worth and Achievements
The most common question that a celebrity faces is how much money they are worth. According to several websites, Jason is worth $16 Million Dollars. However he has stated in an interview that he is worth far more than that and that this figure is not even close to how much actually he is worth. However, he is not going to correct the figure also. As a singer, he has sold over 30 million singles since 2009 which is when he began his career. His other achievements include joining the panel of the prestigious, ' So You Think You Can Dance' for the 12th season of the show. He even acted in the Fox Television's drama Lethal Weapon. He has also acted in the 2019 movie Cats based on a musical by the name Rum Tum Tugger. Jason's TikTok account is followed by 50.3 million followers and according to the latest reports it is the 13th most followed account on the platform. According to reports he makes about $75 thousand per video. Jason has a $3 million home in Los Angeles, California. In his large mansion he has all kinds of facilities including a vintage style large staircase, a private cinema hall, a recording studio, a large swimming pool apart from other world class amenities. He even has a basketball court where he practices his mean moves of shooting hoops.
Jason also has a dog named Ice Derulo who is also quite popular on his social media accounts. In one of the videos he made for TikTok, his dog is seen holding his legs while he does some sit ups. He has another dog named Ghost who he regularly flaunts on Social Media. Derulo loves sushi and is a water baby- as he loves swimming and partaking in water activities. Jason's latest album Acapulco has also gained widespread popularity and has a great video to go with it. His foundation Just For You promotes education and provides shelter and food to the needy and the homeless globally. He has lots of fond memories associated with Haiti and is quite passionate about his native culture.
OTHER POPULAR PROFILES
Naomi Osaka
Jason Derulo
Garcelle Beauvais
Clermont Twins
Leonard Francois
Wyclef Jean
Jamie Hector
Jacki-O
Jimmy Jean-Louis
Prakazrel Michel
Zoez Dollaz
Jean Baptiste Point du Sable
Vicky Jeudy
Andre Berto
Michel Martelly
Blondedy Ferdinand
Phyllisia Ross
Alan Cave
Roody Roodboy
Olivier Martelly