Quick Summary
Date of Birth: January 23rd, 1987.
Other Names: Also known as Vicky or Jeudy.
Occupation: Hollywood Actress

Height: 5'7 (1.7mts)
Sexual Orientation: Straight
Eye Color: Black
Hair Color: Black
Known for: Vicky Jeudy is an award-winning actress best known for her debut performance on the hit American comedy-drama series Orange Is the New Black.

Family: Vicky is single at the moment. She's also known for keeping her marital status a closely guarded secret. As a result, it's difficult to learn more about her partner. In addition, it is unknown whether she is married, dating, or has children.
Who is Vicky Jeudy?
Vicky Jeudy is a Haitian-American actress who is best known for portraying Janae Watson in the Netflix original comedy-drama Orange Is the New Black. Vicky was born and raised in Queens, New York, and attended St. John's Preparatory School in Astoria before attending the State University of New York at New Paltz to study theatre.

During her college years, Jeudy became one of the top 25 semi-finalists in the Miss New York competition, which launched her career in the entertainment sector. Vicky appeared in a number of short films after her initial acting role before landing the recurring role of Janae Watson.
She also made her network television debut in an episode of Law & Order: Special Victims Unit in 2014. She also appeared in the Harlem-based independent film, Romeo and Juliet.
Vicky is a natural campaigner. Vicky feels that as an artist, she should use each of her character interpretations to reflect her world perspectives.
Vicky is a holistic health enthusiast who can be found empowering the young in her urban neighbourhood when she is not on set. Vicky stays physically healthy and is a certified kickboxer in her spare time.
Who are Vicky Jeudy' parents?
There isn't any info available about Vicky's parents. The only information available is that she was born and raised in Queens, New York. There is also no information available about Vicky's siblings. According to sources, she likes to keep the names and information of her parents and siblings private.
What is Vicky's ethnicity?

Vicky Jeudy is an American Hollywood actress and her race/ethnicity is Haitian-American. The religion she follows is Christianity. Vicky Jeudy is also a non-vegetarian.

Haiti is a country on the Caribbean island of Hispaniola, formally known as the Republic of Haiti. The Dominican Republic is the other country on the island. The official languages of Haiti are French and Haitian Creole, or "Kreyol," a simplified version of French blended with African languages. Port-au-Prince is the country's capital.

Which accent does Vicky Jeudy speak in?
Her accent isn't described in any detail. However, she is half-American and half-Haitian, according to sources. As a result, she speaks both dialects at the same time. There are also no specifics regarding her family's origins, just that she was raised in Queens, New York.


What is Vicky Jeudy's marital status?
Vicky is not married right now. Her marital status is likewise kept a secret. As a result, learning more about her relationship has become tough. It's also unclear whether she's married, dating, or has children. As like her family matters, she keeps this information private and away from the prying eyes of the media.

What is Vicky Jeudy's net worth?

Vicky's net worth is estimated to be around $15 million. This includes her property, funds, and earnings. Her acting and television personality careers provide her with most of her income. Vicky has amassed a large wealth from several sources of income, yet she likes to live a modest lifestyle.

What are Vicky Jeudy's educational qualifications?
Vicky Jeudy did her schooling from St. John's Preparatory School, Astoria. St. John's Preparatory School is a Roman Catholic private high school in the Astoria area of Queens, New York City. It is part of the Diocese of Brooklyn, which is Roman Catholic.

She did her college at the State University of New York at New Paltz. The State University of New York at New Paltz (SUNY) is a public university in New Paltz, New York. Its roots may be traced back to the New Paltz Classical School, which was founded in 1828 and reconstituted as an academy in 1833.
She was a top 25 semifinalist in the Miss New York pageant during her undergraduate years, and took home the title of "Ms Photogenic."

She realized she wanted to be an actress in college. It was a profession that she always found intriguing and wanted to pursue. For her, it was storytelling of humanity.

Vicky also studied Theatre before venturing into doing movies and TV shows.


Vicky Jeudy's Career

Vicky began her career in show business by competing in beauty pageants. Her focus moved from pageants to acting once she earned her BA in theatrical studies. Vicky's initial roles were in small independent films. She discovered via these projects that her emotionally nuanced performances, combined with her professionalism, will open doors for her career as an artist.

Vicky Jeudy is most recognised for her debut performance on Orange Is the New Black, an American comedy-drama TV series. Vicky plays Janae Watson, a former high school track star who ends up in Litchfield Penitentiary after taking a wrong turn.Jenji Kohan's Netflix comedy-drama Orange Is the New Black (often abbreviated to OITNB) is an American comedy-drama series. Piper Kerman's memoir, Orange Is the New Black: My Year in a Women's Prison (2010), is based on her experiences at FCI Danbury, a federal minimum-security prison.

Vicky Jeudy said in a magazine interview, "When I get into character, I attempt to imagine Janae's thoughts, how she feels in a certain circumstance, and what she's trying to achieve. All of the characters, in my opinion, are relatable, and the audience can identify with their feelings of loss, sadness, delight, and so on."

Orange Is the New Black launched on Netflix on July 11, 2013, and was produced by Tilted Productions in collaboration with Lionsgate Television. The series was renewed for a fifth, sixth, and seventh season in February 2016. On July 26, 2019, the seventh and final season of the show was released.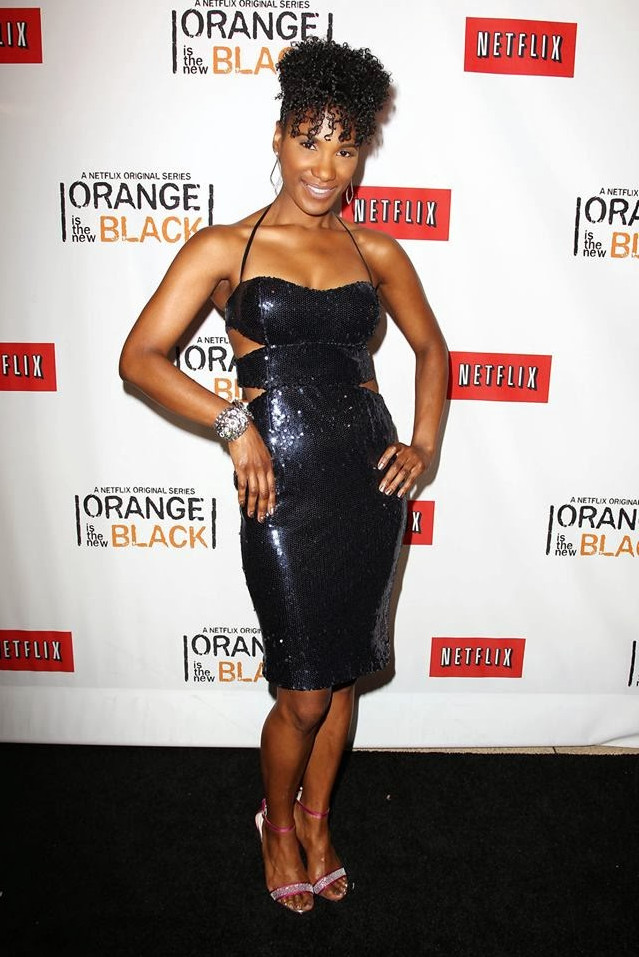 She also starred in Armstrong where Lauren, an EMT, and her companion are dispatched to pick up a wounded superhero. The two are drawn into a mission to save Los Angeles from a nefarious group. Vicky was cast in the role of Lauren, while Jason Antoon was cast in the character of Eddie, Lauren's partner. Shawn Parsons portrayed Armstrong, the main superhero in the film.

She made her network television debut in an episode of Law & Order: Special Victims Unit in 2014, and she co-starred in the independent film Romeo and Juliet in Harlem with Aunjanue Ellis.

Law & Order is a well-known American police procedural and legal drama television series that depicts the sometimes-complex process of deciding a suspect's guilt or innocence. As a result, various lives are on the line. The presentation is frequently motivated by current events and legal issues to which the audience and the general public can relate.Vicky is still working in the entertainment sector as a creative actor, and lately, she has been doing a lot of Hollywood movies.



Did Vicky Jeudy win any awards or nominations?
Vicky Jeudy and the entire cast won a Primetime Emmy for Outstanding Drama Series in 2015.

The Academy of Television Arts & Sciences (ATAS) bestows the Primetime Emmy Award in appreciation of excellence in American primetime television programming. The Primetime Emmy Awards are divided into three categories: regular Primetime Emmy Awards, Primetime Creative Arts Emmy Awards honouring technical and other similar behind-the-scenes achievements, and Primetime Engineering Emmy Awards honouring significant contributions to television engineering and technology.

She also won three Screen Actors Guild Awards for Outstanding Ensemble Performance in a Comedy Series in 2015, 2016 and 2017.

The SAG Awards (Screen Actors Guild-American Federation of Television and Radio Artists) are honours bestowed by the Screen Actors Guild-American Federation of Television and Radio Artists (SAG-AFTRA). The award was established in 1952 to honour outstanding achievements in film and prime time television.

"The Actor" is the name of the statuette, which depicts a naked man figure wearing both a comedy and a tragedy mask. The American Fine Arts Foundry in Burbank, California, cast it in solid bronze and it stands 16 inches (41 cm) tall. It weighs over 12 pounds (5.4 kg).




Is Vicky Jeudy on any social media apps?
Social media allows celebrities to communicate directly with their fans. Celebrity accounts, while entertaining, have a business aspect to them. As a result, the Social Media marketing company bears a significant amount of responsibility for managing these accounts and performing the delicate balancing act of communicating the celebrity message to the right target audience while also maintaining the artist's image.

Vicky Jeudy also has a presence on social media, as she loves connecting with her community and fans, and to showcase some moments from her life. At present, she has Instagram and Twitter, where she is the most active.
She also has her personal website, along with a LinkedIn profile.
OTHER POPULAR PROFILES
Naomi Osaka
Jason Derulo
Garcelle Beauvais
Clermont Twins
Leonard Francois
Wyclef Jean
Jamie Hector
Jacki-O
Jimmy Jean-Louis
Prakazrel Michel
Zoez Dollaz
Jean Baptiste Point du Sable
Vicky Jeudy
Andre Berto
Michel Martelly
Blondedy Ferdinand
Phyllisia Ross
Alan Cave
Roody Roodboy
Olivier Martelly