Quick Summary
Date of Birth: March 21, 1994
Other Names: Clermont Twins
Occupation: Models, Fashion designers, Television personalities
Known for: Starring in Bad Girls Club in 2015 and gathering an Instagram following of 1.7 million
Website: http://theclermonttwins.com/
Who are the Clermont Twins?
Shannon and Shannade are identical twins who are referred to as the Clermont Twins. They were born in Montclair, New Jersey.They were the youngest of the five children of their parents. Their parents were immigrants- his father was a Haitian and mother was a Jamaican. They have tweeted about their ethnicity as being Jamaican, Haitian, Indian and Chinese. His Haitian father owned a moving company while their mom ran a daycare facility. Although they were born in Montclair, they grew up for the most part in Dallas where they had moved at the age of 9. The parents who were honest, hard working and middle class instilled the same values in the girls stressing on the importance of good grades. However, both the girls wanted to pursue fashion and modeling as they had more glamorous ambitions. It was their aunt who belonged to New York who introduced them to fashion as she was a fashion designer herself. The idea of making their own clothes fascinated the twins and soon they began pursuing fashion.
Shannon attended the Fashion Institute of Technology and Shannade attended the Parsons school of design for studying fashion merchandising and strategic design respectively. They both graduated in 2016.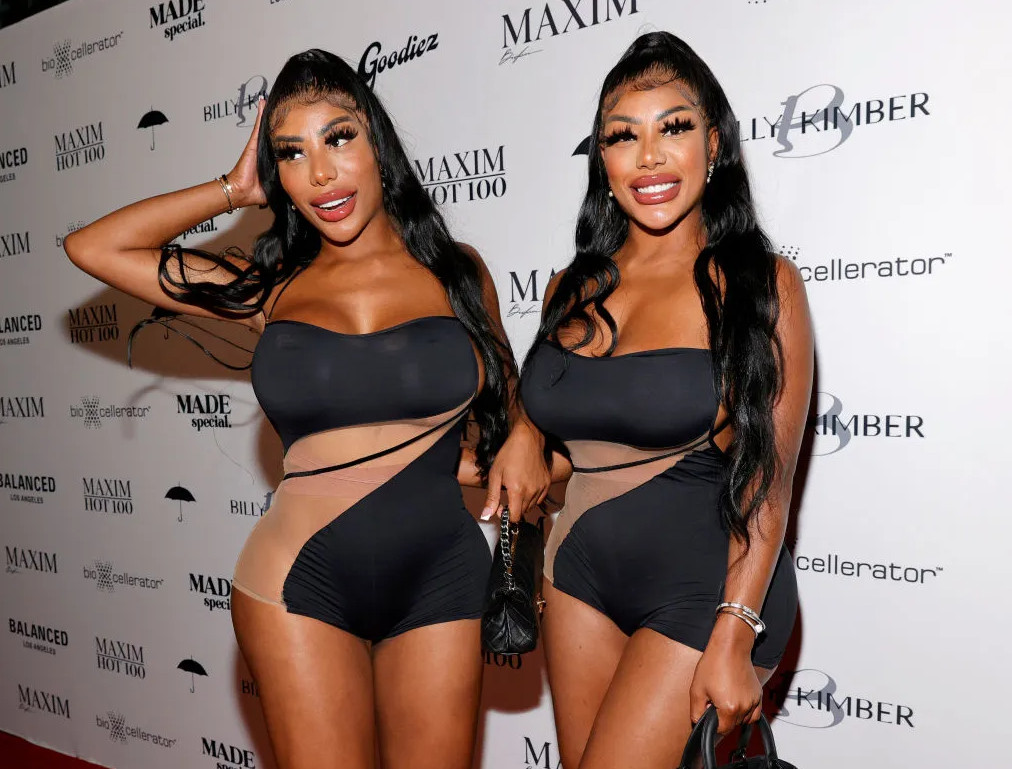 Foray into Reality Television
Both Shannon and Shannade participated in the reality TV show known as the Bad Girls Club in 2015 in an attempt to gain popularity on a national scale. Bad Girls Club basically portrays the interactions and altercations of seven women who are housed together for three months in a grand mansion. The cast, which is essentially these seven women, are characterized as quarrelsome, unruly women, who intentionally or unintentionally create ruckus and have to adapt to the format to live together with other housemates. Shannon and Shannade, in their brief stint on the show, managed to capture the audience's interest which eventually helped them in gaining popularity on their social media as they became influencers. Many social commentators have acknowledged the fact that their notoriety on the show helped them amass huge social media followers which catapulted into their own personal brand.
As far as their experiences in the Bad Girls Club is concerned, they saw it as a challenge as they were not able to communicate without the cameras being around. They don't regret being a part of it as it helped them grow their personal brand and allowed them access to an audience that grew with them and supported them at every turn of their career.
Fashion and Modeling
Kanye West launched his Yeezy Season 6 collection in 2018 wherein the twins modelled alongside Paris Hilton as clones of Kim Kardashian. This assignment quickly put them on a fast track for other prestigious modeling assignments such as the New York Fashion Week where they modeled for Gypsy Sport which is an American Fashion Brand. Some of their other modeling assignments include Chromat in September 2019, The Blonds in January 2019 and Married to the Mob Collection by Leah McSweeney in Fall 2015.
Music Videos
The twins have also worked in music videos by Future and Nicki Minaj. Future had cast them in his music videos- Same Damn Time and Real Sisters and Nicki Minaj had them in Good Form. Same Damn Time peaked at Number 92 on the US Billboard Hot 100 whereas Nicki Minaj's song entered the US Billboard Hot 100 at number 60. Currently they are focused on music and want to create a career in the same.
Plastic Surgery
Once they finished season 14 of the Bad Girls Club, the girls went missing from the public eye for quite some time. The fans and their followers were shocked when they discovered that the girls underwent plastic surgery for most parts of their body. They had not only bleached their skin, but also had plump lips, nose jobs, etc. The fans were visibly moved and many wrote them off for parting away with their natural skin and body. However soon people got accustomed to how they looked and they got a lot of gigs including the Yeezy campaign. They have been maintaining their looks by getting even more fillers and Botox injections.
Mont Boudoir- Their Fashion Brand
The twins launched their own label Mont Boudoir in 2017. The brand is characterised as fast fashion nova-esque that is in equal parts Western cowboy and gothy '90s starlet.They then started the line with the Money Sunglasses that is unisex with a square frame and is supersized. It is made with 100 percent jet black acetate. They were inspired to create the sunglasses when they saw a lot of people dressing up as them for Halloween. The sunglasses were also a staple piece that everyone needed and it's an accessory that can be used to dress up or dress down. Once they saw the trend, they realized the glasses completed their true branded look. The Mont Boudoir website also has a Bikini shop which is yet to be launched.
Shannade's arrest and Identity Theft Case
Perhaps the most controversial episode in the twin's life was the case when Shannade faced arrest after stealing the identity of a man in Manhattan who was found dead from drug overdose. His death happened right after Shannade visited him for a supposed 'prostitution date'. Shannade then went ahead and stole his debit card to make purchases of over $20,000 in airline tickets, luxury items like headphones, clothes and cell phone payments. The man was found keeled over the morning after SHannade had left and had overdosed on cocaine and fentanyl. Shannade was charged with one count of conspiracy to commit wire fraud, one count of access device fraud and identity theft. She pleaded guilty and was sent to one year in prison in April 2019. However she was released early on March 9, 2020.
The Clermont Foundation
After Shannade went through a harrowing time during the legal proceedings, the twins started the Clermont Foundation to help the youth struggling with mental health. The mission of the foundation is to 'spread positivity, love and a lending hand to our youth struggling with mental health so that they are reminded that there is hope in humanity and future.'The headline of the website states- 'You are Enough'.
Clermont Twins Personality
The twins were often heard saying that although they are identical twins both of them have a distinct personality. When they were still kids, their parents encouraged them to be creative and have their own voice. They even made their own homecoming dresses. Their decision to be in New York after growing up in Georgia was mainly because they wanted to pursue a career in fashion and wanted to be near other creative people.
The sisters are also really close to each other as they share the same passion for the same things which is what, they believe, makes them a great team. They enjoy working with each other and motivating each other to do their absolute best. Shannade has been described by her sister as more adventurous and more social than Shannon who is more laidback and describes herself as a homebody. They often emphasize on the absolute necessity of having each other in their lives and refer to themselves as yin and yang. However, sometimes they long for separate spaces and privacy since they are together most of the time.
They have had body image issues in the past however they overcame all of that to do things their way. They make sure that they do not limit themselves to one thing that is why they keep on trying out new things like music videos, entrepreneurship, fashion, modeling etc.
The twins have always looked up to Beyonce, admire her talent and are inspired by her. Apart from Beyonce, they look up to the Olsen Twins for changing the fashion industry for good.
Future Plans
In an interview the twins laid out an ambitious plan for themselves stating that they wanted to be the next Johnson and Johnson. They wanted to do a variety of things in life and building a brand that is bigger than their own personal brand is what they aimed at. They want to create an impact on the upcoming generations. Their brand is inspired by the time they had spent in the south. The style is mixed with a bit of country and the risk factor is adjusted to make it suitable for wearing in New York City. They want their looks to make a statement- the kind that is unforgettable. They also want to dabble in drawing and painting and want to have their own show and even star in their own movies.
OTHER POPULAR PROFILES
Naomi Osaka
Jason Derulo
Garcelle Beauvais
Clermont Twins
Leonard Francois
Wyclef Jean
Jamie Hector
Jacki-O
Jimmy Jean-Louis
Prakazrel Michel
Zoez Dollaz
Jean Baptiste Point du Sable
Vicky Jeudy
Andre Berto
Michel Martelly
Blondedy Ferdinand
Phyllisia Ross
Alan Cave
Roody Roodboy
Olivier Martelly