Quick Summary
Date of Birth: October 7, 1975
Occupation: Actor
Known for: Portraying the role of drug lord Marlo Stanfield on The Wire and Detective Jerry Edgar in the Bosch and founding Moving Mountains Inc- a not for profit organization that encourages Young artistes.
Spouse: Jennifer Amelia
Remarkable facial feature: A facial scar on his left smile line
Who is Jamie Hector?
Jamie Hector was born of Haitian parents and was raised in Brooklyn, New York. His mother and father separated soon after he was born. He is the 7th born child of his parents and is now married to his longtime girlfriend Jennifer Amelia. They have two kids, a daughter born in 2009 and a son born in 2016. His earliest memories of his childhood comprise the stories that his mother, who worked as a nursing assistant, used to narrate of her time spent in Haiti. This activity was the one thing that inspired him to act as he wanted to tell stories through the character he played. As per reports he is also a trained martial artist. He also, as per his own admission, used to rap and used to love putting two words together. His family came to know that he is an actor only after he became famous after The Wire.
After completing his high school from Brooklyn itself, he began to audition for a community theater company. While still in college he bagged quite a few roles in shows like New York Undercover, Third Watch, Law & Order, Law & Order: Special Victims Unit, and The Beat.
In New York Undercover he played an uncredited character named Tony Sands. The episode was titled- 'Is it a crime?'. In Third Watch he played a character named Legros in the episode called-' And Zeus Wept'. In Law and Order, he played Jean Marchier in the episode-'Burn Baby Burn'. And in the Beat he played Rasta in the episode titled- 'They Say It's Your Birthday'
After his graduation he enrolled to study at Lee Strasberg Theatre and Film Institute in New York. The famous Lee Strasberg Film Institute has also produced many notable actors such as Angelina Jolie, Ranbir Kapoor, Scarlett Johannson, Chris Evans among others. His determination to learn from the best didn't go unnoticed at the institute and garnered him a lot of praise.
After his course got over, he made a small appearance in the movie called Paid in Full which was released in 2002. However, his career took off with the short film- 'Five Deep Breaths' which was directed by the critically acclaimed director Seith Mann. Jamie played the role of Banny who was the protagonist of the movie. This movie went on to win many accolades- it became the Official Selection of the Cannes, won the Gold Plaque for Narrative Short Film at the Chicago International Film Festival 2003, won the first place in the Charles and Lucille King Family Foundation Award for Best Short Film among a host of others. This catapulted Hector's career to new heights.
Playing Marlo Stanfield in The Wire
Soon after this he bagged his most memorable role; the role for which his name is synonymous for- that of Marlo Stanfield in 'The Wire' by HBO. Stanfield is ambitious, intelligent and cold blooded, portrayed to near perfection by Hector and is the head of the eponymous Stanfield Organization. His single headed focus, as shown in the show, is what leads it to become the fastest rising Baltimore Drug Trade organization. Hector had often commented on the character's insatiable desire for power rather than the profit and that he revels in the use of that power over others. Hector used minimalist movement and speech to capture Stanfield's man of power and economy image. For his innate portrayal of Stanfield, the Rolling Stone ranked Stanfield as number 2 in the 40 Greatest TV Villains of All Time.
The character of Marlo Stanfield actually has real life origins in Timmirror Stanfield who was a known figure in Baltimore Drug Trafficking in the 1980s. When Stanfield was only 25 in 1986, he managed a gang of more than 50 members and controlled Baltimore's Westport Area and West Baltimore's Murphy Homes housing project. Even though Hector has a good boy image, he nailed the character's body language, his looks and his demeanour perfectly for this role. Researching, reading and listening to music helped him get into the shoes of this character. He focused most of his research on how the character moves- using minimalist movements to portray power. In an interview, Hector states that Stanfield moves in a way a King moves- wasting nothing as he is very economical. His actions are not loud as he is a man of few words. Hector stated that getting into Marlo's shoes required a lot of discipline. In order to prepare for playing the character Hector even gave him his own backstory- Stanfield's family was addicted and other individuals raised him; as he was more intelligent he used it to achieve his own means and ends.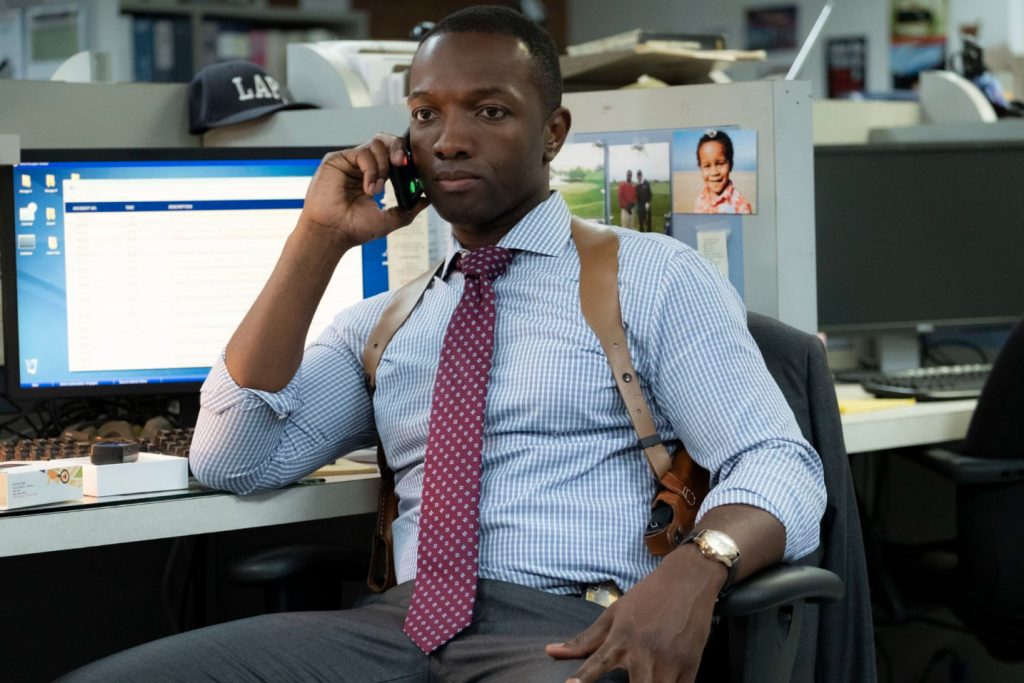 Bosch and other memorable roles
Hector played the character of Rasheed in the movie Blackout which was released in 2007. He also played the role of villain Benjamin 'Knox' Washinton in the third season of the hit series Heroes which was an American Superhero Drama. Drawing a leaf from his Haitian roots, Hector played the role of Lincoln DeNeuf, a Haitian Crime superlord in the movie Max Payne which was released in 2008. In other roles he played a rapper in Just Another Day (2009 release) and as DoRight Miller in the Night Catches Us (2010 release).
In 2014 he began playing Jerry Edgar who is a partner and detective to the titular character of Harry Bosch in the police crime drama by Amazon Studios and Fabrok Entertainment titled Bosch. The character portrayed by Hector is a homicide detective with the Hollywood division of LAPD. He is shown as Haitian American, a sharp dresser and is neat and clean by nature. For his preparation for the role, Hector shadowed a couple of detectives to get his moves right. As the character has Haitian roots, Hector was excited to portray it as beautifully as possible showcasing the Haitian culture in its truest form. Hector pointed out that his approach in portraying Edgar was different from Stanfield in the sense that the sum total of their lives was vastly different from each other when the characters are introduced in the shows. He strongly believes that the characters are created from the environments before them. Talks are in for a spinoff show for Edgar's character.
Film Production and Royal Addiction
Being in the film industry for over two decades, Hector decided to don the hat of a producer in 2013 with a TV movie titled Grow which released in March 2013. He also played a character in this movie who was named Sosa. He then produced Taking Chance a 2014 short film. He has also produced two episodes of the popular comedy show Nobodies by Hugh Davidson, Larry Dorf and Rachel Ramras.
In another venture, Hector began his own clothing line which is named Royal Addiction. The urban clothing company based in Brooklyn, New York started in 2007. He has also been featured in several video games such as Grand Theft Auto- Liberty City Stories and Halo: Reach.
Founding Moving Mountains
In 2007, Hector founded a theater based not for profit organization called Moving Mountains that provides opportunity to the participants to learn the creative and business side of the Arts. It services the inner-city youth with year round drama classes, dance vocal and acting classes etc. Moving Mountains as an organization provides a constructive way for the youth to express themselves by providing a sense of family, support- academic and community and leads to holistic development of the individual.
He also raised relief funds for the devastating earthquake that had hit Haiti in 2010.
Family Life
Hector's wife Jennifer is a wedding planner and an event designer and the founder of Jennifer Amelia Events LLC. The couple have two kids- a son and a daughter. In a much publicised event in 2009, when Hector was hosting a baby shower for his wife, a gate crasher opened fire outside their home. However, in a tweet Hector clarified that the incident happened next door. A teenager was killed and two men were injured but no harm came to Hector and his family. No arrests were made post the incident. Hector conveyed condolences to the victim's families. The family keeps its life strictly private and barring a few photographs on Hector's social media, not much is known about the family based in Brooklyn.
Upcoming Shows
Hector has been roped in along with Josh Charles and Jon Bernthal in a show titled, 'We Own This City' which is based on the book by the same name by Justin Fenton who is a reporter in Baltimore Sun. The show will be a limited series which will chronicle the rise and fall of Baltimore Police Department's Gun Trace Task Force. The series is being produced by HBO.
OTHER POPULAR PROFILES
Naomi Osaka
Jason Derulo
Garcelle Beauvais
Clermont Twins
Leonard Francois
Wyclef Jean
Jamie Hector
Jacki-O
Jimmy Jean-Louis
Prakazrel Michel
Zoez Dollaz
Jean Baptiste Point du Sable
Vicky Jeudy
Andre Berto
Michel Martelly
Blondedy Ferdinand
Phyllisia Ross
Alan Cave
Roody Roodboy
Olivier Martelly