Quick Summary
Place of Birth: Jacmel, Haiti
Other Name: Leonard Maxime Francois
Occupation: Tennis Coach
Spouse: Tamaki Osaka
Children: Mari and Naomi Osaka
Known for: Father of Tennis Star Naomi Osaka
Who is Leonard Francois?
Born in Jacmel, Haiti, Leonard was always a sports enthusiast. He studied in New York University. When during college he was given an opportunity to visit Japan for a study program, he lapped it up. He visited Hokkaido It was during this program he met his future wife- Tamaki Osaka. The two instantly took a liking to each other as Tamaki, who was raised in a traditional Japanese setting where the purity of race was upheld at all costs, was introduced to a different, open and accepting world by Francois. The two secretly dated for a couple of years until Tamaki's parents decided to arrange a match for her. Tamaki then spilled the truth to her family that she was already seeing Francois and wanted to marry him. Given the background of her family and their long held traditional beliefs, she was immediately excoriated for bringing disgrace to her family.
Tamaki then left her family and moved to Osaka which was her birthplace along with Francois. After living for a few years in Osaka, the couple which by then had Mari and Naomi, moved to Long Island to live with Leonard's parents. Tamaki's parents did not speak to the family for over a decade before finally reconciling.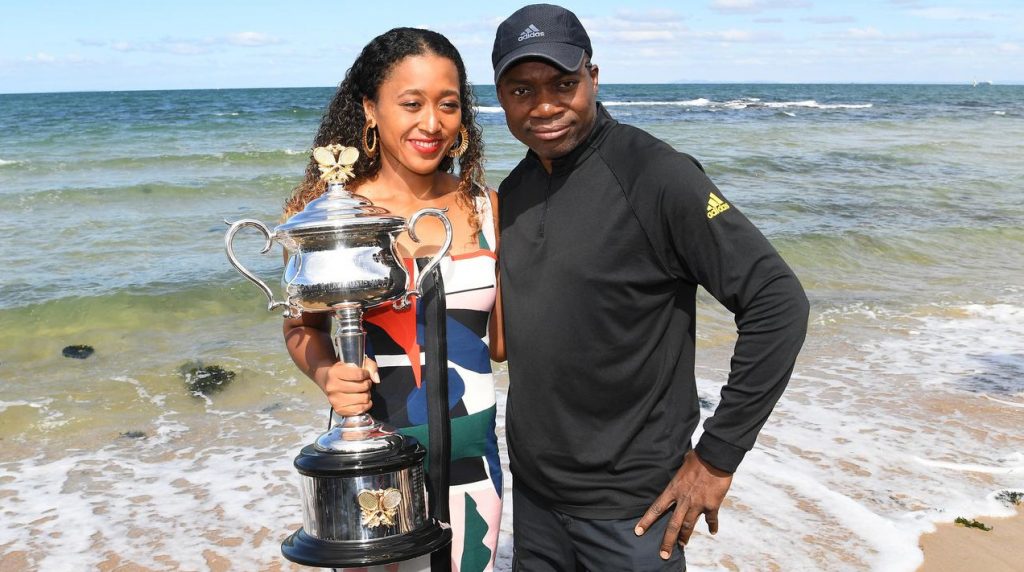 Training of Mari and Naomi Osaka by Francois
During the 1999 French Open, Francois was deeply inspired by Richard Williams, the father of the William Sisters- Venus and Serena. Although Serena and Venus were 17 and 18 at the time, and Mari and Naomi were both toddlers, Francois had decided to train them in the same way as Serena and Venus had been trained by Richard. To his relief, he already knew the basics of tennis before while Richard had no knowledge of tennis at all. This brought in him an immense sense of inspiration. Francois began by teaching them how to serve big and hit hard from each and every spot of the court. He credits Richard in creating the blueprint for raising champions so half of his work was already done. He just had to follow the blueprint.
Since Richard had trained his daughters on the clay court, Francois decided to do the same. He trained them on Pembroke Pines Public Courts to further enhance their techniques. In her recent Instagram posts Naomi Osaka has shown how she renovated some of her childhood courts where she used to practice as a kid. This shows how much of an influence he had on her training. Naomi, in several of her conferences has pointed out how she looked up to Serena at all times because not only was her training similar to that of her, she had set most of the benchmarks in tennis and Naomi was inspired to see, learn and break them. She also says that both Serena and her have this big sister connection. She stated that had Mari not been there to support her during the training sessions, she wouldn't have made it big in this competitive sport.
In addition to all these similarities, both the William sisters and the Osaka sisters were trained primarily in Florida. The Osaka family had to move a couple of times in order to accommodate their tennis careers. From Japan the family moved to Long Island and then subsequently to Fort Lauderdale. The Williams family too moved to West Palm Beach from Los Angeles.
Homeschooling remained the preferred mode of education for Francois as it better suited the rigorous training schedule of the girls. Richard Williams too homeschooled both Venus and Serena.
Francois had instructional booklets, DVDs, exercise regimen and a target of hitting a thousand balls daily. He trained both the daughters together in order to instil in them a healthy sense of competition. Naomi has often been found to say that she cultivated a sense of competition with her sister. It was the excitement of beating her sister in the game that got her up from the bed everyday.
Choosing to Represent Japan
Since the sisters had already taken up their mother's last name and they had always felt Japanese, Francois had decided that the girls would represent Japan. In 2019, Naomi gave up her American citizenship in order to become Japanese citizen permanently as Japan does not allow dual citizenship past the age of 22. However, many reports stated that the Japanese tennis federation offered her more funding than their American counterparts which led Francois and the girls to make this decision. Francois' wife, Tamaki in a press conference had stated that Naomi felt closer to Japan and has deep cultural ties with Japan therefore the couple- Francois and Tamaki-had decided that Naomi would represent Japan from early in her career.
Support From His Wife Tamaki
Given he was always busy training their kids, Francois never took the responsibility of providing for the family. It was his wife, Tamaki who took this responsibility and worked very hard to ensure that the family always stayed afloat and had enough resources to build the careers of their daughters. Naomi had often stated that their mother had to sacrifice a lot as the girls and their father had to be present at the tournament while their mother had to work to pay for their flights and other stuff. Although his wife was cut off from her parents for about 15 years, Tamaki continued to build a strong relationship with not only their daughter but also Francois. In 2008 when the couple returned to Japan with both their daughters, her parents reconciled with their daughter and her family.
Advice to daughters while they play their matches
Naomi has often playfully said that she finds the advice of her father annoying while she plays international matches. His father, who cares a lot when it comes to their careers, would often walk to their benches and offer advice such as-'Stay Calm. Be patient' without offering any other tactical insight into the match. But humor aside, she believes she is whatever she is because of the joint efforts of her father and mother. Naomi also believes that her father Francois' determination put them on the road to success. Leonard is especially nervous during Naomi's matches and prefers to take long walks in order to calm his nerves down.
Francois' Personality
Francois has a typical Haitian personality which means that he is very caring, sweet and he would literally do anything for people who need him. On the court he asks the girls to maintain a calm demeanour and himself tries to follow the same. His strict discipline and dedication towards a sport that he had little knowledge of has paid off heavily in the sense that his daughter became the world's best tennis player. Together with Naomi, Francois travelled everywhere to each of her tournaments and kept following her matches even the ones where he did not have to coach her. He is dedicated to the craft which is why he asked his daughters to hit the ball from each and every corner of the court to develop expertise.
Despite international coaches that had the requisite expertise to teach her, Naomi appreciated the freedom that her father's training plan gave her. She loves that Francois lets her do her own thing so that she develops a plan that is more suited to her. However when she gets bored and needs a little more advice, she brings in structure to her training. He is also pretty nervous when Naomi is playing crucial matches because then he prefers to keep off court and catch live coverage of her match, taking long walks in order to calm himself down.
Even though Francois' parents spoke no English, he ensured that his daughters learned a lot about their Haitian roots from them. Therefore he surrounded both the toddlers with Haitian food, Haitian Creole and Haitian customs and traditions. Naomi proudly flaunts her Haitian roots through her fashion and style statements off the court. Francois also is a strong decision maker and does not let ego come in the way of his daughters making their careers. Be it the name of her daughters which is their mother's surname and not his or them choosing to represent Japan- he always had the best intentions of his daughters in mind.
He also supported his elder daughter's career but due to multiple injuries Mari decided to retire from tennis and pursue other interests. The strong bonding between the sisters is the result of the healthy competition that Francois has brewed in them since they were younger. Even though Mari used to beat Naomi up until she was 16, he never let Naomi's confidence or interest fray away from tennis which has paid off immensely as Naomi reached no.1 ranking by Women's Tennis Association multiple times during her illustrious career. Francois has been an ideal father, a loving husband and most of all an asset to his nation.
OTHER POPULAR PROFILES
Naomi Osaka
Jason Derulo
Garcelle Beauvais
Clermont Twins
Leonard Francois
Wyclef Jean
Jamie Hector
Jacki-O
Jimmy Jean-Louis
Prakazrel Michel
Zoez Dollaz
Jean Baptiste Point du Sable
Vicky Jeudy
Andre Berto
Michel Martelly
Blondedy Ferdinand
Phyllisia Ross
Alan Cave
Roody Roodboy
Olivier Martelly