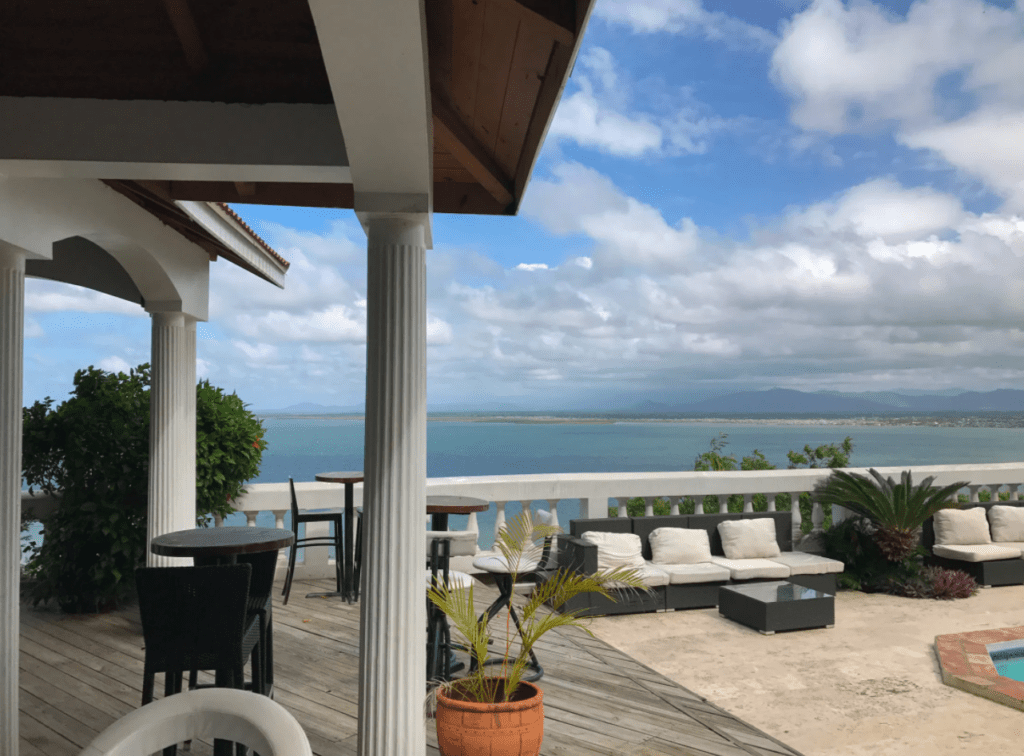 Habitation Jouissant is a 3.5-star hotel built on the sloping side of a hill. It is a beautiful spot that allows guests to overlook the whole city of Cap-Haitien in all its glory. You will also get a beautiful view of the ocean that is simply breathtaking. Some of the nearby attractions include the Cap-Haitien Cathedral and the Place d'Armes.
Even though the hotel is near the coastline, the actual beaches are a car ride away. You need to drive 13 minutes to reach Cormier Beach and 23 minutes to reach Labadee Beach. But you can walk for 18 minutes to reach the Cathedral or the Place d'Armes. Tourists love to walk because it gives them a chance to explore the tropical area up close. Cap-Haitien is a safe city for walking too.
Reviews
When you arrive at the Cap-Haitien International Airport, it is a 16-minute drive to reach the Habitation Jouissant. There is no onsite parking available at the hotel, so you'll have to rely on the shuttle to take you from the airport to Habitation Jouissant. It is best to contact the hotel ahead of time and arrange for the shuttle to meet you at the airport at the right time. There is a surcharge for the shuttle.
Habitation Jouissant has an onsite restaurant that serves free breakfast in the mornings. You'll find all your favorite American-style breakfast choices, including scrambled eggs and toast. The hotel is conveniently located near some fine restaurants, including Auberge du Picolet Restaurant and Lakay. You can try them out for lunch and dinner.
There are only 13 rooms available at Habitation Jouissant. You must reserve your hotel room well in advance because there are not too many rooms available to begin with. Some people might appreciate the fact there are fewer rooms because it means there are fewer guests. As a result, you don't have to deal with as much noise and wild behavior from them.
Amenities
Habitation Jouissant offers the standard amenities you would expect at a 3.5-star hotel. The 13 rooms of the hotel feature a refrigerator, air conditioning, flatscreen television, cable channels, Wi-Fi internet, coffeemakers, showers, and hairdryers. If you need to arrange a business meet-up with clients or partners, the hotel will let you use their conference facilities.
The outdoor swimming pool overlooks the coastal surroundings quite well. There is no better way to enjoy a dip in refreshing pool water on a hot day in Haiti. You'll almost feel like you're in the ocean. The pool is suitable for basic swimming and laps, but it is not a massive pool by any means.
Do you like to get massages? If so, you can pay extra to have a masseuse give you a massage in your room or their special massage room. It is a great way to ease your tense muscles after moving around all day.
Wedding Space

There are no special wedding services available at Habitation Jouissant. The best you can do is reserve the business meeting room and turn that into a small wedding service. If you are planning a small wedding with a few people, then perhaps you could arrange that with the hotel staff. However, they don't have event planners to coordinate the wedding decorations and food. Those are things you will have to arrange yourself.
Conclusion
The greatest thing about Habitation Jouissant is that it is away from the heavy traffic of the city. You can enjoy a quiet hotel experience during your time there. But if you're after some wild entertainment with exciting activities, then you won't find that at this hotel. Habitation Jouissant is better for people who just want to relax and enjoy the tropical surroundings in peace.
More Hotels in Haiti