Quick Summary


Name: Michel Martelly

Full Name: Michel Joseph Martelly

Date of Birth: 12th February 1961 (Age Sixty)

Place of Birth: Cote de Fer, Port-Au-Prince, Haiti

Sun Sign: Aquarius

Famous as/Known for: Michel was the former President of Haiti

Stage Name: Sweet Micky

Occupation: Former President, Musician and Composer

Political Ideology: Political Party – Farmers' Response Party

Founder/Co-Founder: Superior Council of The Judiciary of Colombia

Who is Michel Martelly?
Michel Joseph Martelly, a Haitian singer and politician who served as President of Haiti from May 2011 until February 2016, was born on February 12, 1961. Sweet Micky has been one of Haiti's most well-known musicians for more than a decade. Martelly has travelled between the United States and Haiti several times for commercial and artistic reasons. Martelly spends most of his time in the United States in Florida. Martelly returned to his former band after his presidency and sang a carnival méringue called "Bal Bannan nan" (Give Her the Banana) in mockery of Liliane Pierre Paul, a well-known Haitian female journalist in Port-au-prince.

Martelly, well known by his stage name "Sweet Micky," was one of Haiti's most successful musicians for over a decade. His musical work in the Haitian Compas style, a type of dance music with Creole lyrics, originally gained him attention.

He also had a brief stint as a club owner later in his musical career, during which time he became active in Haitian politics. Martelly backed the coup d'etat against Jean-Bertrand Aristide, and when Aristide was re-elected four years later, he stayed away from Haiti for nearly a year. In 2010, he entered the Haitian presidential election as a candidate for the Repons Peyizan (Farmers' Response Party) and won. Martelly's election represented Haiti's first peaceful transfer of power from one political party to another.

One of Martelly's first acts as president was to devise a plan to restore the military, which Aristide had banned. Martelly also organised a coalition with other foreign leaders to promote Haiti's budgetary growth and stability, including former US President Bill Clinton. Martelly was accused of corruption later in his presidency. Some Haitian protests have called for Martelly's resignation, citing his leadership as a target.

Who are Michel Martelly's parents?

Michel Martelly's parents were Haitian. Gerard Martelly was a Shell Oil Executive, and his mother was Marie Madeleine Martelly, whose occupation/work is not known.

Auguste de Pradines, his mother's grandpa, was a troubadour who wrote comedic protest songs against the United States occupation of Haiti from 1915 through 1934.

Troubadours were the dazzling knights of poetry in the Middle Ages (in fact, some were ranked as high as knights in the feudal class structure). Troubadours elevated chivalry to a high art form, penning poems and singing songs about it, establishing the mystique of refined damsels, and extolling the gallant knight on his horse.

Troubadour is an Old Occitan word that means "to compose," and it was a suitable moniker for such inventive artists. In modern usage, the term troubadour still refers to Middle Ages song-meisters, but it has been expanded to include contemporary poet-musicians as well.

Does Michel Martelly have any siblings?

Michel has a brother Girard Martelly, who served in the United States Armed Forces. He also has a sister, Marcelle Martelly. Marcelle Martelly was a Democratic candidate for Governor of Florida in the 2014 elections but failed to qualify for the primary ballot. The general election took place on November 4, 2014.


Michel Martelly's Education

Martelly graduated from Saint Louis de Gonzague High School. Saint-Louis de Gonzague is a Roman Catholic elementary and secondary school in Port-au-Prince, Haiti. The Brothers of Christian Instruction (FIC) (Frères de l'instruction chrétienne de Plormel) founded and operate it. Red and green are the school colours.

It was created in 1890 and was originally located on rue du Centre in downtown Port-au-Prince for pupils aged 6 to 12. It is now considered one of Haiti's most renowned schools. Saint-Louis de Gonzague began offering secondary school degrees in 1930. Saint-Louis de Gonzague saw a considerable expansion in the early 1970s. Brother Ephrem Le-Mat, the director at the time, created a new campus on previously purchased land in the Delmas suburb. The secondary school has since relocated to the new site.
The primary school has roughly 400 kids enrolled. There are three portions in each of the six grades. Following the earthquake in Haiti in 2010, the primary school was relocated to the Delmas site, while the secondary school remained on the main campus.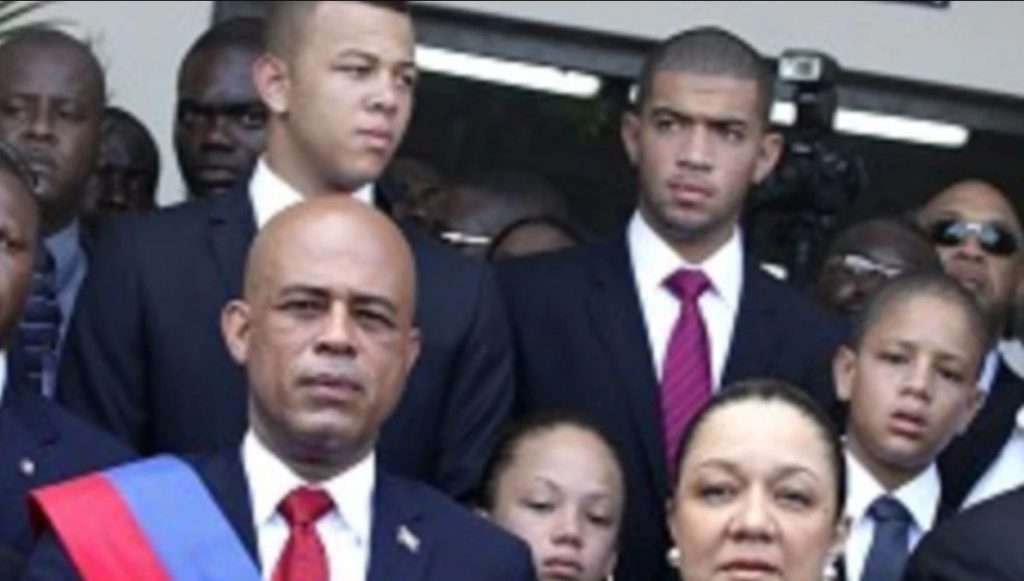 He also went on to the Haitian Military Academy, where he was expelled after only a few months. According to Martelly, he was expelled because he impregnated the daughter of the General in command.


Early Life

He travelled to the United States in 1984, where he worked in construction and attended a community college in Miami for a short time. He divorced his first wife, an American citizen, and returned to Haiti in 1986, just as Jean-Claude Duvalier, the country's then-president-for-life, was leaving for exile. Martelly returned to Miami in 1987 with Sophia Saint-Rémy, his then-girlfriend, whom he eventually married in a tiny ceremony in Miami, Florida. In 1988, they returned to Haiti.

Martelly's first break in the music industry came when he returned to Haiti when he began playing keyboard as a fill-in musician in local clubs in Pétion-Ville and Kenscoff, posh suburbs of Port-au-Prince. "Over a sluggish méringue beat called Compas, the only music authorised under the Duvaliers," Martelly "sung whimsical, romantic melodies."
"After the expulsion of Jean-Bertrand Aristide in 1991, Martelly opened a Pétion-Ville club called the Garage, where he entertained many of the coup's main architects, including the much-feared chief of the national police, Michel François, later convicted in absentia for massacring Aristide supporters," according to the book.



Martelly's Music Career

Martelly is credited with inventing the Compas or Kompa music beat, which he popularized with the publication of his first single "Ooo La La" in 1988. His popularity skyrocketed as he developed a reputation as a hedonistic playboy who struck a sympathetic chord with individuals seeking solace from their daily struggles.

He quickly gained national acclaim for his performances, which featured liberal use of betiz – Creole for fun and sarcastic obscenities – as part of his repartee with the audience, which was delivered in a slang mix of English, French, and Creole.

With the release of his I Don't Care album in 1994, which had multiple hits that shook dance floors from Haiti to New York City, his popularity skyrocketed. Martelly's preference for wearing a skirt on stage or even performing in full drag, as he did for the 1996 Carnival, is refreshingly adventurous in an often conservative society.

From the late 1980s through the early 2000s, he released a slew of albums and kept a busy travelling schedule. Martelly was recognised for his sharp-tongued political satire in his songs, despite the fact that he was not directly involved in politics during this time. He was a vocal supporter of the military coup that deposed President Jean-Bertrand Aristide in 1991.


Politics

Martelly ran for President of Haiti in the general elections after the 2010 earthquake. He took advantage of his reputation as a musician by holding musical rallies known as koudjay (musical political endorsement rallies), which attracted large audiences and media attention.

He also benefited from Bill Clinton's (UN Special Envoy to Haiti) and Hillary Clinton's (US Secretary of State) active assistance. He disputed whether he came in second, qualifying for the runoff, or third. He stated on 3 February 2011 that he would run in a run-off election planned for March 20, 2011.

On May 14, 2011, Martelly was sworn in as President of Haiti, marking the first time in Haitian history that an incumbent president peacefully ceded power to a member of the opposition. The existing Haitian Prime Minister, Jean-Max Bellerive, resigned on the anniversary of the earthquake to allow Martelly to appoint his own Prime Minister. Martelly was eager to promise reforms in the aftermath of the earthquake.

On February 10, 2016, Martelly resigned as president, leaving Haiti without a president for a week. Jocelerme Privert, who served as interim president, succeeded him on February 17, 2016. Following claims of election fraud in 2015, Privert established a month-long verification panel to restore the voting process' validity. In May 2016, the commission examined 13,000 votes and concluded that the elections were rigged, recommending that the election be rerun entirely.
Pras of the Fugees created a documentary titled Sweet Micky For President in 2015, charting Martelly's journey to President of Haiti and his struggle against corruption. At the 2015 Slamdance Film Festival, the film got its world premiere.

Awards and Achievements

Martelly received the Grand Cross with Gold Breast Star of the Order of Merit of Duarte, Sanchez, and Mella of the Dominican Republic in March 2012.

Personal Life

Martelly now resides in Haiti, but previously resided in Palm Beach, Florida. His four children, Olivier, Sandro, Yani, and Malaika, reside with him and his former manager turned wife, Sophia Saint–Rémy.

Martelly announced his unofficial retirement from recording and performing in 2006, but resurfaced two years later with a new track, Magouyè, and the video/short film "Bandi Legal yo ki rive," announcing his return to music. Richard Morse, a hotel manager and musician in Port-au-Prince, is his cousin.
Martelly was transported to the United States in April 2012 for treatment of a pulmonary embolism, which was later diagnosed. It was ascribed to his arm being immobilised as a result of recent shoulder surgery.
OTHER POPULAR PROFILES
Naomi Osaka
Jason Derulo
Garcelle Beauvais
Clermont Twins
Leonard Francois
Wyclef Jean
Jamie Hector
Jacki-O
Jimmy Jean-Louis
Prakazrel Michel
Zoez Dollaz
Jean Baptiste Point du Sable
Vicky Jeudy
Andre Berto
Michel Martelly
Blondedy Ferdinand
Phyllisia Ross
Alan Cave
Roody Roodboy
Olivier Martelly