Written by Alex Popa
Sophia Bria Gedeon is a young entrepreneur who owns Sparkle Empire, a multifaceted business that has four subsidiaries:
Sparkle Magazine—A lifestyle magazine publication with bits of inspiration, motivation, and information.
Sparkle Property Investment Group—A real estate investment group that purchases properties as-is for cash.
Sparkle Publishing House—A publishing house that publishes fiction, non-fiction, self-help, memoirs, children's books, graphic novels, and other genres.
Sparkle Graphic Creations—A company that offers affordable and innovative graphic design services for businesses.
She says that even though it's difficult to run all of these businesses, work as a nurse and take care of her family, she loves it. In her own words, "It was easy for me to get started because I was getting into businesses that I was interested in and that I loved. I must admit, though, starting a business takes commitment, time, and resources."
At present, Sparkle Property Investment Group and Sparkle Graphic Creations are quite popular and have proven to be good investments for Sophia. In the future, she wants to improve on the other two subsidiaries and promote them to the general public. Until now, word of mouth has been the only type of advertisement she has focused on, but she realizes it's not enough.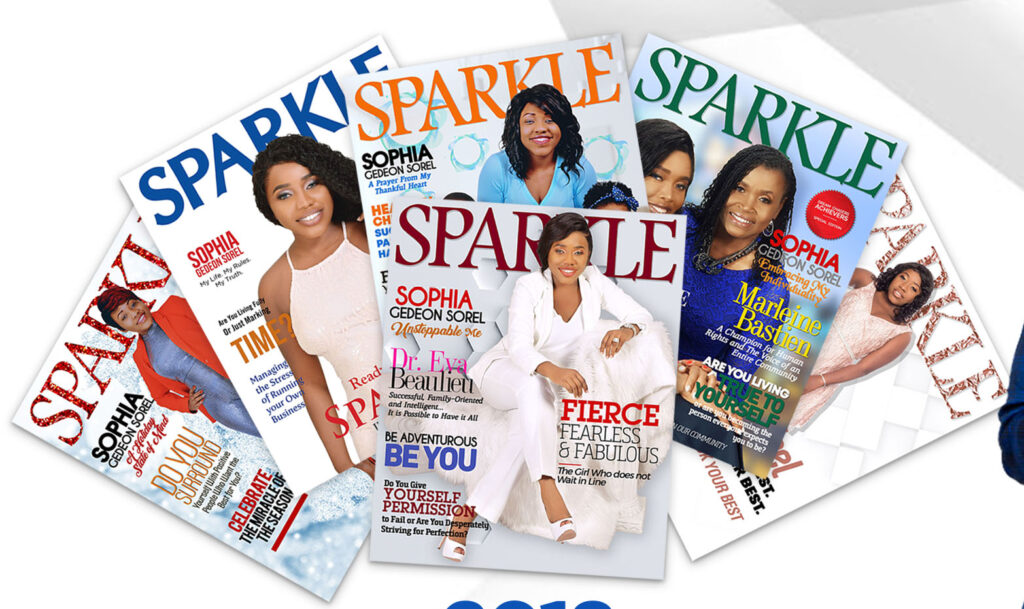 "Doing what I love feels like I'm not working a single day in my life."
What Is Her Experience With Entrepreneurship?
"I love it. Doing what I love feels like I'm not working a single day in my life. I do not struggle to put effort into my business because I feel passionate about it. I am happy to have sleepless nights over it and sacrifice a thing or two to move the business to the next level. I feel very lucky to do what I love," says Sophia.
She also admits that one of her greatest accomplishments is publishing six books and building her clientele through quality products and great customer support. When we asked her what advice she would give to Haitian women aspiring to be entrepreneurs, she had a lot to say.
First and foremost, patience, consistency, thick skin, and family support are the most important factors in succeeding in entrepreneurship, according to her. If you don't take the initiative and keep at it against all obstacles, you'll never make it. She says that "it's easy to get discouraged as a businessperson, especially when you see your colleagues succeeding when your business is still struggling. But keep trying until you get it right."
Another piece of advice she gives is that failure is to be welcomed, an experience you should learn from. Entrepreneurship isn't easy nor accessible. You need to be consistent and believe in what you do. When you fail at something, pick yourself up, ask yourself what went wrong, and correct your mistakes. Only by doing that will you advance your business and achieve your dreams. Put in the work that no one else is willing to put in!
Sophia also acknowledges that family support is very important, especially when it comes to feedback on your products. You need to realize when the product is bad and try to fix it. Ego has no place in business. Only the customer matters, and if the customer doesn't like your product, it's your fault.
How Does She Manage Work-Life Balance?
Sparkle Empire takes a lot of time to manage, but Sophia doesn't complain. She loves every moment of it but still, she realizes she needs spare time to spend with her family. This is another piece of advice she gives aspiring entrepreneurs, "Winding-up time is as important as family time and work time. Be intentional about how you spend your time."
In the future, she wants to further extend her reach and customer base to other areas. Advertisement is going to play a large role in this, according to her. We'll see what happens, and we'll be there to write about it when it happens!