Written by Martine St. Hilaire
Louissaint, who was born in Port-au-Prince, fell in love with fashion and found her calling at a young age by spending years watching her seamstress mother design and sew clothes. Since then, her family relocated to Miami, Florida. In high school, she began to utilize her acquired knowledge of sketching and sewing by entering her first fashion design competition at Louise Salinger Academy of Fashion (now known as the Art Institute of California), where she won an award for Technical Design. She then went on to earn an associate's degree in fashion design from the Fashion Institute of Technology, and following this she earned a bachelor's degree in Business from Nova South Eastern University. To gain more inspiration, she became a fan of French designers such as Christian Lacroix, Christian Dior, Jean Paul Gaultier, Yves Saint Laurent and more. She adored these designers because each piece of their custom collections told a story about the "Arts." This is exactly how Louissaint intends all of her designs to be perceived as well.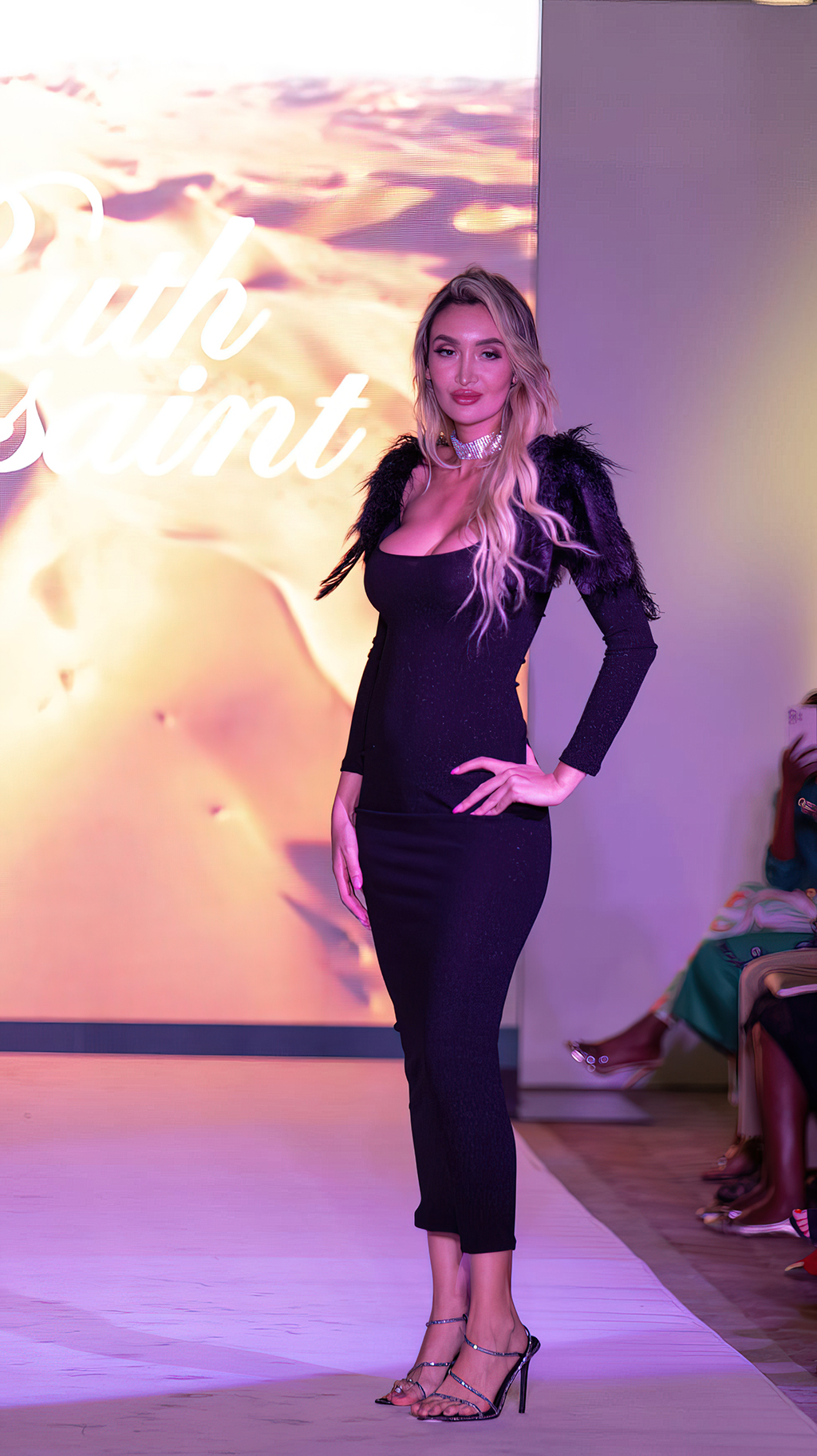 Elegant academia fused with Gothic touches, says Ruth as she describes her collection.
Louissaint enjoys being fierce, hardworking, assertive, beautiful and owning her own identity. She represents every woman in some way and is constantly evolving. She became such a well-versed designer that she is capable of actually sewing a design without needing a pattern, and her unique and artistic approach to conceptualizing has allowed her to create special moments for her clients. She proudly stated, "I'm in the business of making people feel good about themselves and they look great while doing it!"
One of Louissaint's greatest accomplishments was in 2003 when she opened her own design studio in North Miami, called Mlle. Louissaint. She was elated and proud to establish a strong brand for her fashion line. "My design studio is where I produce my couture and one-of-a-kind designs for my clients," she explained. She takes pride in specializing in wedding gowns, couture gowns, prom gowns and accessories. Her plan is to continue to push her brand to new heights, including transitioning her studio into a manufacturing company.
Louissaint's designs have been featured in boutiques throughout South Florida and Atlanta, Georgia. Not only that, but prominent community leaders such as Former Commissioner of the City of Miramar Darline B. Riggs, and producer and actress Sandra Justice, have worn her custom designs. She's also been featured in various magazines such as Creativ and Femme. The popular media company, Chokarella Media, has exclusively interviewed her on their morning show and her designs are featured in the movie Secret Society, which is now streaming on Amazon.
Louissaint would like her supporters and future customers to be on the lookout for her upcoming online fashion line, Le Chique Boutique, as within just a few months, clients will be able to view and purchase designs from her website.
Contact:
Website: ruthlouissaint.com
IG: instagram.com/ruthlouissaintdesigns