Haitian cuisine refers to the foods, meals and cooking practices that originate from the country of Haiti. You can find this country on the western half of Hispaniola, which is a Caribbean island that is located in the West Indies.
Most of the culinary styles and influences of Haitian food come from many different cultures. All the explorers, settlers and immigrants that came to Haiti throughout the years had brought their culinary influences along with them. That is why Haitian food has a nice blend of Arab, Spanish, French and African influence. The indigenous Taino people of the island are the only native influence to Haitian cuisine.
Sometimes Haitian cuisine is referred to as Caribbean cuisine because there is a lot of influence that comes from the other Caribbean islands too. After all, the Caribbean is comprised of over 7,000 islands, with 13 of these islands being sovereign nations and 12 of them being territories of other countries. This has only increased the mixture of cultures and culinary influences in Haiti even further.
However, when you taste Haitian foods, you will notice they have a very distinct flavor for other Caribbean foods. The Haitians love to put herbs and spices into their foods. The most common ingredients found in Haitian foods are rice, peppers, and beans. Entire meals can be made out of two or three of these ingredients combined together with other vegetables and spices.
For example, one very common Haitian meal is white rice mixed with pinto beans or red kidney beans. The cook will also use a marinade sauce to glaze the beans and then add peppers, onions and tomatoes on top. There are many Haitian meals that use a combination of beans and rice in various ways. You might see white rice with white beans, red beans, peas, black beans and so on.
Here are brief summaries of the most common Haitian foods.
Soup Joumou (or Haitian Pumpkin Soup)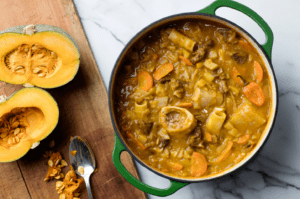 Soup Joumou has a long history in the Haitian culture. It was a food denied to slaves before they were liberated and freed. Now it is a delicacy enjoyed by all. It has a nice mixture of beef stewed meat, vegetables, pumpkin and spices.
Haitian Pikliz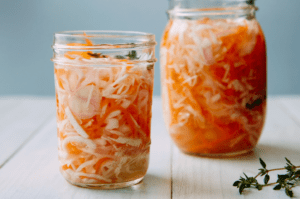 Haitian Pikliz is a popular Haitian food and condiment. It includes pickled cabbage, bell peppers, garlic, onions, scotch bonnet peppers, carrots and white vinegar. Haitians typically use this condiment on their beans, rice, fried pork, fried plantains and fried beef.
Haitian Patties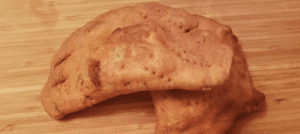 Haitian patties are beloved Haitian street food. They include lots of different meat ingredients, such as beef, chicken, fish, and pork. It is common to eat Haitian patties as an appetizer before your main course meal, but they are also good to eat as snacks too.
Lambi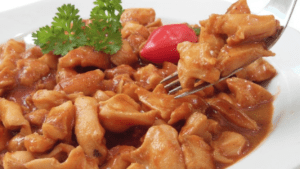 Lambi is a savoring seafood-based stew with a large sea snail called conch. Haitians love to consume conch. It is one of their favorite seafoods to include in their cuisine. As long as the conch is fresh, it goes wonderfully in stew. You are supposed to mix it with other ingredients, such as onion, peppers, cloves garlic, fresh herbs.
Haitian Legume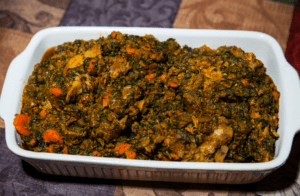 Haitian legumes are similar to Haitian legims. They're both Haitian stews that include many different tropical vegetables. The legume version includes beans and rice in it. People all over Haiti love to eat Haitian legims for dinner or whenever it is cold out. The hot and spicy flavor of the dish is the perfect way to warm up your body on a cold night.
Haitian Epis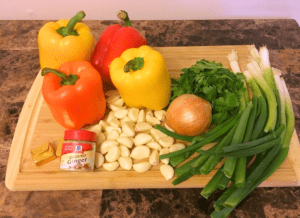 Epis is a Haitian flavoring and seasoning solution. Haitians add epis to almost all of their dishes and meals. Each region of Haiti prepares epis differently, but the basic ingredients are the same. These ingredients include peppers, garlic, and lots of different herbs. Epis is best used with beans & rice, stews, and soups. It can also be used to marinade beef, fish and chicken too.
Haitian Cremas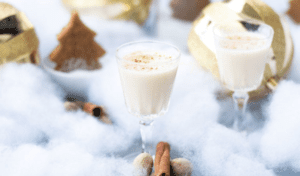 Haitian Cremas is similar to a traditional milkshake in the west. Haitians like to consume Cremas on special events and holidays. It is often made with rum and spices to give it more of a tropical and zesty flavor. But it is also a very sweet and milky drink too. If you want to consume a satisfying dessert or snack in the afternoon and cool off, then Haitian Cremas is a great choice.
Haitian Griot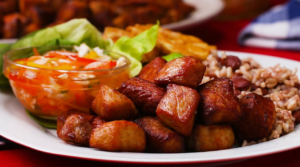 Haitian griot is fried pork meat, which is a renowned food in Haiti. You'll find Haitian people eating cubed griot in several different Haitian cuisines and snacks. They love to prepare it for events, parties, and family get-togethers. The cubed pork meat is marinated in lime juice or orange juice before it is roasted and fried.
Haitian Rice and Beans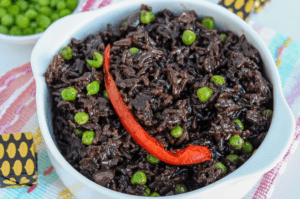 Haitian rice and beans are a Caribbean favorite. Whether you go to Haiti or any other Caribbean nation, you'll find rice and beans served everywhere. Haitian rice and beans are very nutritious because they have vitamins, fiber, protein and carbohydrates. They're usually made with red kidney beans, black beans or pinto beans. White rice is the most common rice used in it. You can experiment with your own version of the recipe too by trying out different rice and beans.
Haitian Spaghetti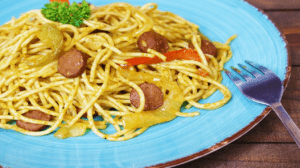 Haitian spaghetti is similar to any other type of spaghetti. Of course, the big difference is the spices and ingredients that are used to make Haitian spaghetti. You'll find an interesting combination of salt, thyme, peppers, onion, epis, and your choice of herring, pork sausage or hot dogs.
Akra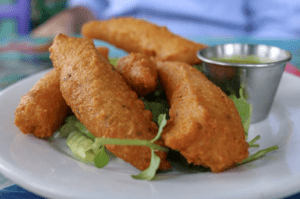 Akra, which is also known as Haitian Accra, is basically a fried fritter appetizer. It is cooked differently throughout Haiti, but they all contain a tropical root vegetable ingredient known as Malanga. It is a very hypoallergenic food and is said to have a lot of nutrients and medicinal properties.
Haitian Bouillon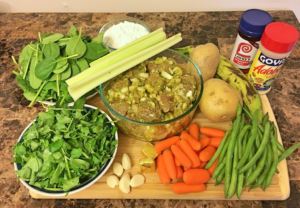 Haitian bouillon is a beef stew that is popular to eat in Haiti. The local people usually consume this food on colder nights in order to stay warm and relaxed. Haitian bouillon is also given to sick people to help them with their cold and flu symptoms. Bouillon consists of beef, plantains, dumplings, and malanga.
Djon Djon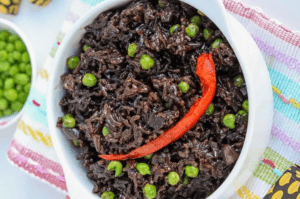 Djon Djon refers to a black mushroom rice dish from Haiti. The boiling juices of the black mushrooms give the rice a satisfying aroma and taste that are unlike any other. Haitians from the northern region of the country are very familiar with black mushrooms because they are native to their land. They consider it a real treat whenever they get the opportunity to eat djon djon. You will consider it a treat too.
Haitian Macaroni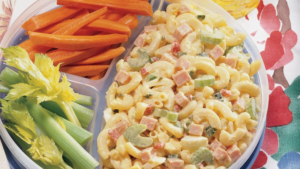 Haitian macaroni is the Haitian version of macaroni and cheese. It uses both gouda cheese and parmesan cheese. The Haitians also use a different kind of pasta other than elbows. They use penne or rigatoni. Both pastas taste great in this dish. You will love it no matter which variation of it you have.
Conclusion
Haitian cuisine is the heart of the Caribbean. If you want to get a sense of what high-quality Caribbean food tastes like, then you've got to try out Haitian cuisine. There are plenty of Haitian cuisine dishes available, but the dishes listed above are some of the best ones.
Fortunately, you don't need to travel to Haiti to try them out. You can prepare them yourself at home no matter where you live. The ingredients you'll need are available at any local supermarket. Bring the essence of Haiti into your kitchen and experience the deliciousness of homecooked Haitian cuisine.