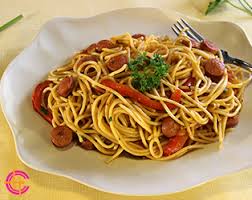 Haitian Spaghetti
The actual spaghettistrings are made from wheat and flour just like most spaghetti products. Butthe difference here is how the Haitians prepare their spaghetti compared topeople in other countries. That is why this recipe receives the unique "HaitianSpaghetti" name.
Spaghetti is not just an Italian dish. Espageti is thename of a Haitian spaghetti dish that includes sausage, onion, peppers, epis,thyme, and salt. Sometimes Haitians will use smoked herring or hot dogs insteadof the sausage. It all depends on which type of meat you have available andyour particular preferences.
Haitian spaghetti is a wonderful meal to have forbreakfast. This might sound unusual because most westerners eat spaghetti forlunch or dinner. But the Haitians like to eat their spaghetti in the morningfor breakfast because it gives them the energy needed for the rest of the day.They might even include a slice of buttered bread along with it.
Ingredients
1

lb

of Thin Spaghetti

½

lb

of Spicy Pork Sausage (An Alternative is Turkey Sausageor Hot Dogs)

1

Small Onion (Sliced)

½

Green Bell Pepper (Diced)

2

tbsp

of Tomato Paste

½

"Minced" Scotch Bonnet Pepper (Optional)

1

tsp

of Seasoning (All-purpose)

2

Sprigs of Thyme

1

tbsp

of Haitian Epis

2

tbsp

of Olive Oil

4

Cups of Water

3

tsp

of Salt
Instructions
Put a large cooking pot on the stove. Add the salt, water, and olive oilto the pot. Turn on the burner to medium high heat and wait for the water toboil.

Once the water boils, add all four pounds of the thin spaghetti stringsto the pot. Stir the spaghetti in the water to loosen it up and mix it around.It should take up to five minutes before it turns soft and edible.

Once the spaghetti has finished boiling, pick up the pot safely anddrain the water in the sink with a strainer. Dump the spaghetti into a separatelarge bowl and put it aside.

Put the large cooking pot back on the stove. Add half a pound of porksausage and one tablespoon of olive oil to it. Let the sausage sauté for aboutthree minutes. Then you can add all the other ingredients, including the scotchbonnet pepper, Haitian epis, onions, thyme, tomato paste, and peppers.

Please Note: Pork sausage is the most common meat choice for Haitian spaghetti.Some Haitians might choose to use hot dogs instead of pork sausage because hotdogs are cheaper and easier to cook. In other cases, Haitians that catch theirown fish might use herring meat instead of hot dogs or pork sausage. Westernersmight not be as motivated to try fish with their spaghetti, but a lot of theHaitian natives love it.

Pour one cup of water into the cooking pot. Heat up the pot until thewater boils. Pour the cooked spaghetti from the bowl into the pot. Mix all theingredients around together.

Lower the heat on the stove. Let the food simmer for about four minutes.By that point, it should be ready to serve to your party.
Video
Notes
The recipe should allow you to serve up to four people. If you have a bigger crowd to feed, then you can always double up on the ingredient sizes and cooking times. Haitian spaghetti is one of those meals that virtually everybody will love. It doesn't matter where you come from in the world. If you enjoy spaghetti, then you will want to try Haitian spaghetti.
Also, check out some of the most popular Haitian Food recipes below: