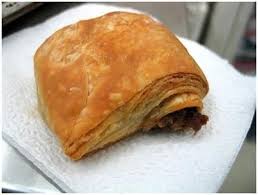 Haitian Patties
Caribbean islanders love their patties. The baseingredient of Caribbean patties is beef. What's interesting is that Englishsettlers were the ones who introduced patties to different areas of theCaribbean. This took place as they colonized the islands, including Haiti. Overthe years, each Caribbean nation created a unique type of patty that isdifferent than other types of Caribbean patties. They have become a symbol ofthe various cultures found on these Caribbean islands.
Haitian patties are one of the most popular street foodsin Haiti. It contains a plethora of meat ingredients, including beef, fish,chicken, and pork. Haitian people eat patties as either a snack or appetizer.They are often served on holidays and special events or occasions. Anyone whovisits Haiti for the first time should try their patties. They are unlike anyother patties in the world.
Ingredients
1

lb

of Ground Beef

1

Small Onion (Diced)

½

Scotch Bonnet Pepper (minced)

1

tsp

of Lime Juice

2

tbsp

of Tomato Paste

1

tsp

of Adobo Seasoning

1

tbsp

1 of Olive Oil

1

Egg

1

tbsp

of Water

1

Package (2 sheets) of Pepperidge Farm Puff Pastry Sheets

¼

Cup of Haitian Seasoning Base (Epis)

1

tsp

of Vinegar
Instructions
Thaw out the Pepperidge Farm puff pastry sheets ifthey're not thawed already. It should take around 30 minutes for the pastrysheets to thaw out well enough. While this is going on, add the meatingredients, Adobo seasoning, vinegar, and Haitian seasoning base to a largebowl.

Place a large frying pan on the burner of your stove. Putthe ground beef and olive oil into the pan and heat them together on mediumhigh for 10 minutes. The meat should turn brown by the end of the 10 minutes.

Mince the scotch bonnet pepper if you haven't alreadydone so. Add the minced scotch bonnet pepper into the frying pan mixture, alongwith the tomato paste too. Mix all of the ingredients together until there is anice blend of everything together. Lower the heat from medium high to low orlow medium.

Turn on your oven to 350 degrees Fahrenheit and let itpreheat to that temperature. Your puff pastry sheets should be thawed by now,so unfold both of them. Dust a clean counter with flour and place the sheetsdown onto the floured counter. Flatten the sheets with a rolling pin. Slicethree long strips out of each sheet with a knife or pizza cutter. Now slice thethree strips of each sheet in half, creating six rectangles per sheet.

Take one rectangle from the cut sheet and wet the bottomof it. Put 1 tablespoon of beef in the middle of the rectangle and fold theother side over the meat. Close the corners with a fork or use your fingers.Make sure the corners are closed well enough. Now you have an uncooked patty.

Take out a baking sheet and put the patty on it. RepeatStep #5 until all the rectangles are used up and all the uncooked patties havebeen prepared.

Crack an egg and dump it into a small bowl. Add 1tablespoon of water and mix them both together. Now you've created an egg wash.

Use the egg wash to brush over the pastries. Put thebaking sheet with the pastries on it into the oven after it has turned 350degrees Fahrenheit. Leave the pastries in there for 20 to 25 minutes. Once yousee the pastries have turned golden brown, then you'll know they're done.

Take out the baking sheet of pastries from the oven andlet them cool down for 5 minutes. They are better served warm than hot.
Video
Also, check out some of the most popular Haitian Food recipes below: