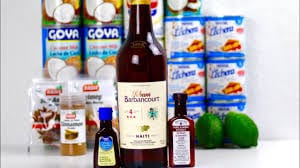 Haitian Cremas
 Haitian Cremas is like the Haitian version of a westernmilkshake. The Haitian people love to drink Cremas on special occasions, suchas holidays, festivals, and events. It is really more than your standardmilkshake because it has spices and rum in it too. Of course, it is still avery creamy and sweet tasting beverage that goes wonderfully with pastries anddesserts.
 Haitian Cremas does not have a milk-white color, though.It appears to have a little more of a beige color to it. You'll also noticesome brownish particles within the creamy liquid. Those particles are likelythe cinnamon and grated nutmeg ingredients that go into this recipe. Cremas iscertainly a tropical milkshake that doesn't taste like any other milkshakeyou've ever had before. It is definitely worth a try.  
There are many different kinds of creamy drinks found onCaribbean islands and nations. If you were to try each recipe, you would noticesmall differences in how they taste. The Haitian recipe is considered to be oneof the best Cremas style drinks in the Caribbean.
Fortunately, you don't need to take a trip to Haiti toexperience the tastiness of Cremas for yourself. You can simply prepare it athome with the list of ingredients below. These ingredients should be availablein any supermarket or health food store.
The rum might be the only ingredient that you'll have to lookfor carefully, but there are always alternatives to it if needed. That iswhat's excellent about Haitian Cremas because it gives you more freedom to makeit your own type of creamy drink, while still following the traditional Haitianrecipe.
Ingredients
1

Can of Evaporated Milk

2

Cans of Sweetened Condensed Milk

One Can of Coconut Cream

1

tsp

of Grated Nutmeg

1

tsp

of Cinnamon

1

tsp

of Anise Star Extract

1

tsp

of Almond Extract

1

tsp

of Vanilla Extract

1

tsp

of Lime Juice

1

Cup of Barbancourt Rum (optional)
Instructions
Pour the two cans of sweetened milk and one can ofevaporated milk into a large bowl. Stir the milk around to mix themtogether. 

Pour the can of coconut cream into the bowl and mix that around with theother mixed milk. After that, you can proceed by adding cinnamon, nutmeg,almond, vanilla, and anise star. Mix all of those ingredients in with the othermixed solution.

Now you'll want to try thickening the solution somewhat to give it moretaste and texture. You can do that by adding the lime juice to the solution andmixing it all around together.

The true essence of the Haitian Cremas comes from the one cup of rumyou're supposed to add to it at this point. Most people will recommendBarbancourt rum, but you can experiment with other brands if you want. Ifyou're preparing the drink for someone underage, then you can leave the rumout.

Leave the mixture alone for a couple of minutes. Afterthat, the solution is ready to consume as a drink. Of course, you'll need tofind a way to pour the solution into cups or bottles. The simplest way to dothat is by using a funnel. We recommend you purchase a 750-millilitre bottlebecause that is about how much of the solution should be available.

If you're ready to serve the drink, you should add ice to a cup beforeyou pour the solution into it. Cremas is supposed to be consumed as a coldshake. The amount of ice you want to add is up to you. It all depends on yourtolerance for ice-cold drinks.
Video
Also, check out some of the most popular Haitian Food recipes below: