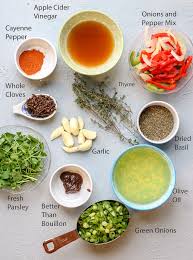 Haitian Epis
Haitian epis is a Haitian seasoning or flavoring. You'llfind Haitian epis used in virtually all Haitain cuisines. However, the exactrecipe of Haitian epis is a little bit different in each region of Haiti.Sometimes the person preparing the seasoning might add their own ingredients tothe recipe as well.
Overall, you can expect to find a variety of herbs,peppers and garlic ingredients in epis. The most common foods that are flavoredwith epis are stews, soups, beans, and rice. If a Haitian is preparing fish,beef, chicken or other types of meat, they might use epis as a marinade for themeat.
 There are different versions of epis found all over theCaribbean. The origins of epis come from African. It is believed that runawayAfrican slaves from America came to Haiti and introduced it to the countryhundreds of years ago. The recipe below is one of the more elaborate versionsof Haitian epis.
Ingredients
10

Sprigs of Parsley

1

Onion

2

Celery Stalks

2

Chicken Bouillon Cubes

1

tsp

of Clove Powder

5

Sprigs of Thyme

3

Heads of Garlic

2

tbsp

of Lime Juice

2

Cups of Cilantro

2

Whole Green Bell Peppers

3

Scallion Stalks

1/4

Cup of Olive Oil (extra virgin)

1

tbsp

of Vinegar

Blender

32

oz

Jar
Instructions
Sort out all of the ingredients that contain seeds andstems. Remove the seeds and stems so that you don't end up cooking them in withthe rest of the ingredients. Chop up the vegetable ingredients.

Setup a blender or food processor on the counter. Takeoff the lid and add vinegar, garlic bouillon cubes, peppers, onions, thymes,cilantros and herbs to the inside of the glass pitcher. Set the blending optionto "puree" and watch as the ingredients get mashed up.

You'll want the pureed ingredients to have balance andconsistency. You achieve this by adding olive oil slowly as you puree themixture. Of course, make sure you stop pureeing before you pour the olive oilinto the mixture. After it is added, put the lid back on and start pureeingagain. Repeat this step until you have the consistency you desire.

Now you have created your epis solution. It should looklike a thick green solution with little pieces of vegetables in it. Open thelid of your 32-ounce jar and pour the epis mixture into the jar. 

The jar is what you will use to store the epis for lateruse. Put the jar in the refrigerator to preserve the lifespan of the epis.Whenever you want to prepare a meal with epis, take out the jar and remove thelid. It should last you for more than a few meals because most Haitian mealsonly require a few tablespoons of epis in them.

You can store jarred epis in the refrigerator for severalmonths and it will stay fresh. If you want to preserve it even longer, you canfreeze the epis by pouring the solution into the slots of an ice cube tray.Once the solution freezes, you can pop out the epis ice cubes and put them in azip lock bag. Store the bags in the freezer for long-term purposes.
Video
Notes
There are almost unlimited ways you can use Haitian epis with your meals. It is a gluten-free seasoning, so anyone who is health conscious will appreciate that. It is one of the few ingredients that works great in meat-based meals, vegan meals and vegetarian meals. Since epis does not contain any meat ingredients, then it is convenient for just about everybody's diet.
Also, check out some of the most popular Haitian Food recipes below: