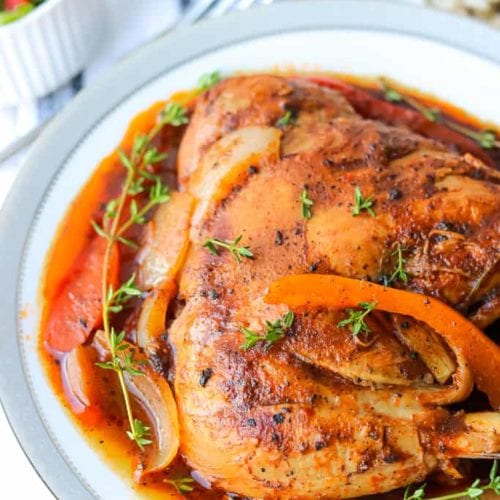 Haitian Chicken
Haitian chicken could mean many different things, such asHaitian fried chicken and Haitian stewed chicken. The traditional Haitianchicken recipe is basically a chicken stew dish that consists of onions,garlic, thyme, parsley, black pepper, scotch bonnet pepper, tomato paste, andmore. The spices and herbs used to prepare Haitian chicken are what make itunique.
Of course, some Haitian chefs may decide to use slightlydifferent ingredients than what is listed in this recipe. That is okay becausethere are several different ways to prepare Haitian chicken. The recipe listedbelow is the traditional method, which includes the classic creole sauce thatis representative of the country.  
Most Haitians will eat their fried chicken stew with aside dish of white rice. You can decide whether white rice is right for youwith this meal. Haitians love to include white rice as a side dish with most oftheir traditional meals. So, it is not unusual for this recipe either.
Ingredients
1

lbs

of Chicken

½

Onion (diced)

2

tsp

of Garlic (minced)

1

tbsp

of Lime Juice

4

Sprigs of Thyme (fresh)

4

Sprigs of Parsley (fresh)

1

Scotch Bonnet Pepper

1

tsp

of Black Pepper

½

Red Pepper (julienned)

1

Maggi Chicken Bouillon Cube

1

 tbsp

of Adobo allseasoning

½

Cup of White vinegar

2

 tbsp

of Tomato Paste
Instructions
Start with the chicken. The Haitian style of meat preparation is toclean it with sour orange juice or lime juice. For this recipe, you can use thelime juice and white vinegar to clean the chicken. After you've done that,rinse the chicken with hot water.

Grab a bowl and prepare the marinade in it. Add the chicken bouilloncube, seasoning salt, black pepper, thyme, garlic and parsley to the bowl. Mixall the ingredients together.

Use the mixture from the bowl to marinate the chicken. After theseasoning is on the chicken, leave it alone for a minimum of 15 minutes.However, if you want to enhance the flavor even further, you can let thechicken marinate overnight. Just put the seasoned chicken in the refrigeratorand then take it out the next day. It will taste so much better that way.

Grab a large sauce pan and put it on the stove. Place the chicken intothe pan and turn on the heat to medium high. Your goal here is to brown bothsides of the chicken.

Add peppers, onions, half a cup of water and tomato paste to the chickenin the sauce pan. Let it all cook together for approximately 25 minutes.

After 25 minutes, you should have a nice stew available in the saucepan. The aroma will fill the air of your kitchen and everyone in your home willbe eager to try out the stew.

Lower the heat of the stove. Let the food continue to simmer so that youcan keep it warm as you prepare to serve it to your party.
Video
Notes
Haitian stewed chicken has a very distinct taste. You will fall in love with it as soon as you try it for the first time. And remember, it goes great with a side dish of white rice in order to create the perfect meal.
If you follower the recipe above, it should give you between 4 to 6 servings in total. The preparation time is 15 minutes and the cooking time is 30 minutes. Then you need another 15 minutes to let it simmer while you prepare to serve it.
Overall, it will take you 60 minutes to cook the Haitian stew and serve it to your guests.
Also, check out some of the most popular Haitian Food recipes below: