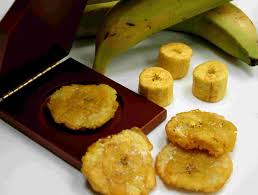 Banan Peze
Banan Peze goes by a few different names, such as HaitianFried Plantains, Fried Green Plantains and Haitian Plantains. The baseingredient of Banan Peze is plantains, which are a greener type of banana thanthe standard yellow banana. You can find this ingredient in so many Haitianmeals. The plantains are prepared by frying them in vegetable oil, olive oil,or some other type of cooking oil.
Fried plantains are wonderful to have as side dishes orappetizers with other Haitian meals, including fried goat, fried pork, andfried chicken. If you go into a Haitian restaurant and order any of these friedmeats as a meal, you might find a side dish of fried plantains to go along withit.
A lot of Haitian people prepare Banan Peze differently.However, they all share the same basic ingredients, such as the greenplantains, garlic powder, vegetable oil, vinegar, and salt. You can modify therecipe with other spices and herbs if you'd like.
Ingredients
3

Green Plantains

1

tbsp

of Vinegar

1

tbsp

of Salt

1

tsp

of Garlic Powder

1

Cup of Vegetable Oil

1

Cup of Hot Water
Instructions
You'll need a frying pan or deep fryer for this step. A deep fryer willmake the final result taste better, but it is not a requirement. You can use aregular frying pan on your stove and still create a very tasty dish. So, putthe vegetable oil in the frying pan or deep fryer and set the temperature tomedium high.

Grab the green plantains and start peeling off the skins. Cut eachplantain at any angle so that it creates five equal pieces per plantain. Putthe plantain pieces into the oil of the frying pan or deep fryer. Leave them inthere for 5 minutes until they turn light brown on all sides.

Grab a large bowl and add hot water, salt and vinegar to it. Scoop outthe plantains from the frying pan or deep fryer. Take the tostonera and flattenthe plantain pieces with it. The tostonera is a flat wooden device designedspecifically for flatting foods, such as plantains.

Put the plantains in the bowl of hot water and let them soak in there.Then put the plantains in the oil again for another five minutes.

Place some paper towels down on the counter. Take the plantains out ofthe oil and put them on the paper towels. Let the paper towels absorb the oilsof the plantains.

Don't leave the plantains on the paper towels for too long becauseyou'll want to serve the hot to your guests. If the plantains end up coolingdown too much, then it'll lose the savory taste that it's supposed to have. Ofcourse, you can always reheat them in the microwave but it's still not the samething.
Video
Notes
You can find so many ways to prepare meals with Banan Peze. Think about your favorite fried foods and what you like to have with them. Haitians usually prepare plantains and white rice with their fried meals, especially the ones with fried meats.
However, you don't necessarily need to prepare a Haitian cuisine recipe to enjoy plantains with your meal. They are good with just about anything as a side dish or appetizer. Experiment and get creative to figure out the best way to serve them.
Also, check out some of the most popular Haitian Food recipes below: