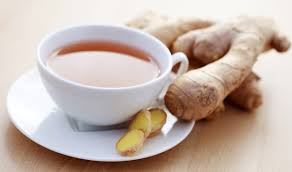 Haitian Ginger Tea
Haitians love to brew all kinds of teas, especiallyherbal or remedial teas. One of their favorite types of teas is Haitian GingerTea. Its base ingredient is obviously a spice called ginger, as the namesuggests. Ginger is known to have a variety of medicinal properties, such aseasing the symptoms of stomach aches, digestive issues and nausea.
When you consume Haitian Ginger Tea, it offers a kind oftherapeutic effect. Your entire body will feel warm and relaxed, especially onthose colder winter nights. If you enjoy the taste of ginger, then you won'tmind drinking ginger tea. You could always put some other spices and sweetenersinto the tea if you want, but the Haitians like to keep their ginger tea recipesimple.
You'll notice the recipe below only contains fiveingredients. That is all it takes to brew the perfect Haitian Ginger Tea.
Ingredients
1

Ginger root

1

Star Anise

1

Cinnamon Stick

3

Cups of water

1/2

tsp

salt (optional)
Instructions
Peel off the skin of the ginger root. Wash and rinse the ginger rootthoroughly after it has been peeled. Dice the ginger root into several smallerpieces.

Grab a small cooking pot and put it on the stove. Addwater, cinnamon, ginger and star anise to the cooking pot and stir theingredients together. Turn on the heat of the stove and wait until the mixturestarts to boil. Let the mixture boil for five minutes.

Turn the heat on the stove to medium at this point. Let the tea brew foranother five minutes.

Grab a small strainer and put it over a cup. Pour the tea mixturethrough the strainer so that the tea liquid goes into the cup.

Now you are ready to serve the ginger tea. You have the option to addyour own sweetener to the tea if you want. Some Haitians will drink the gingertea as-is because they love the taste of ginger. Westerners will probably wantto use a sweetener packet or stevia.
Video
Notes
Ginger tea has no shortage of medicinal and health benefits for the human body. It can boost the immune system, reduce inflammation, enhance the digestion process, reduce nausea, reduce stress, enhance blood circulation, and relieve menstrual discomfort.
Of course, you should always see a doctor if you have any serious health conditions. But people who want to feel better in a more natural and easier way should try to brew their own Haitian Ginger Tea. The natural healing properties of ginger may help you more than you might think.
Also, check out some of the most popular Haitian Food recipes below: