By Martine St. Hilaire
Who is Jhonson Napoleon?
An entrepreneur is the only thing Jhonson Napoleon knows how to be. Before becoming one, he had only worked one job—as a security guard for a Florida department store in 1994.
How he became an entrepreneur is probably more important than the businessman he is today. It started in 1986, at the age of 12, when his aunt sent him a bicycle. He did not know how to assemble it, and he did not speak English, so he hired a bicycle repairman in the area to do the job. The next day, he took the bicycle with him to his hometown. That is when he realized the bike was not properly assembled.
Realizing the only choice he had was to assemble the bike himself, he did. This time, it worked properly. During that same period, other young men started to purchase their own bicycles in the village, and he realized there was a problem: when their bikes had issues, there was no one in the area to fix them, so he used the knowledge gained while assembling his bike to launch the first bike repair shop in the village. As Jhonson put it, he discovered entrepreneurship then—the ability to solve a problem and charge a fee for the solution. He made $75 to start, but most importantly, he discovered the joy of using his mind to make his own money.
Fast-forward to the present day: Jhonson is now the CEO of Azure Group, a company that invests in education, media, and the production of Kola Choucoune, the all-natural soft drink company he relaunched in April 2020 during the Covid-19 pandemic. He established a new website, www.choucounekola.com, for the company in mid-2021.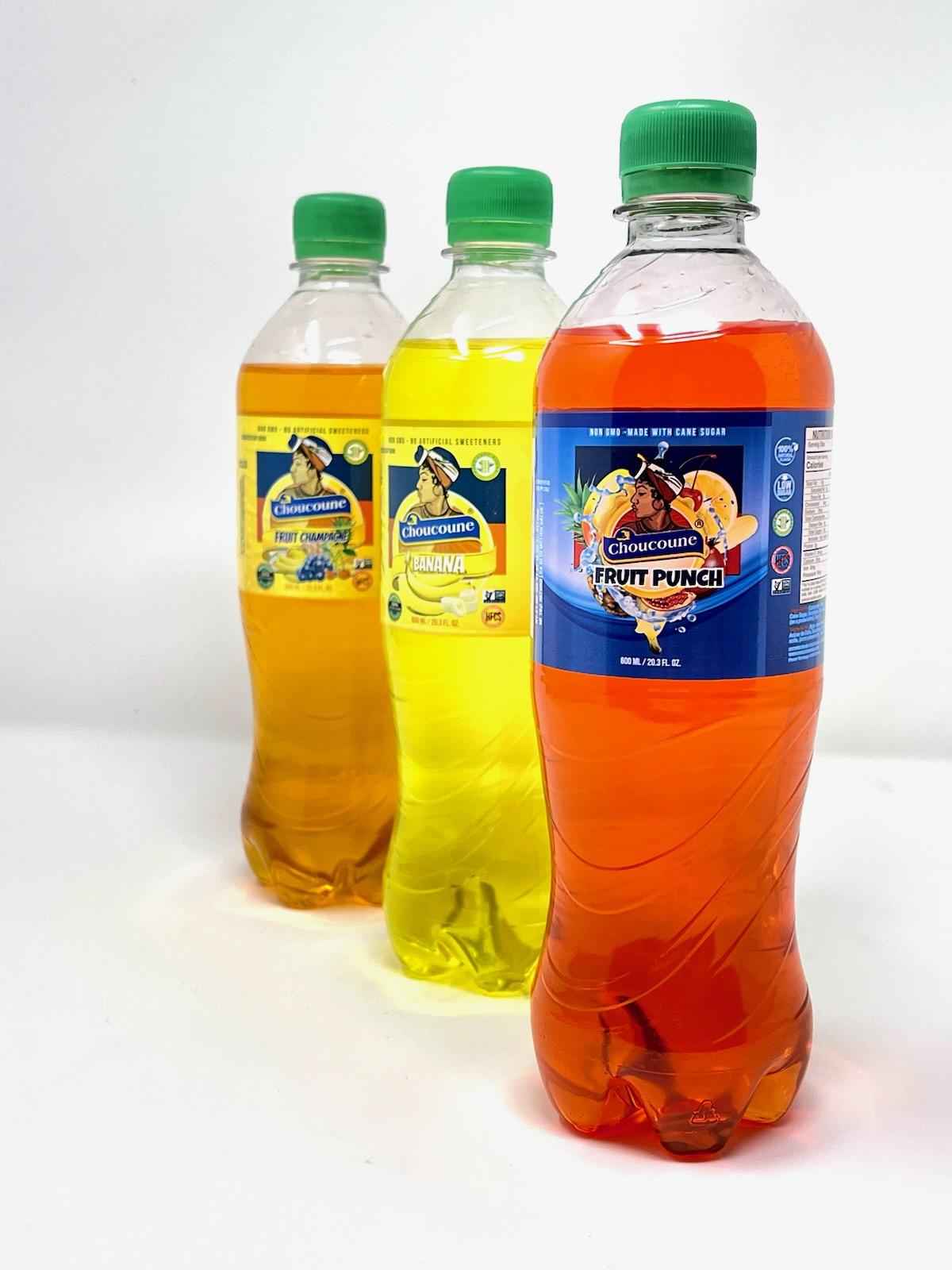 Why Re-launch Kola Choucoune?
There are two other Caribbean-based soft drink brands known in the Haitian community. One is Cola Couronne, the oldest manufactured soft drink in Haiti. The other is Cola Lacaye, now owned by a Cuban firm. All three are B2B (business-to-business) companies, meaning they sell to other businesses that resell their products. Jhonson's approach is different; he not only built a distribution network in Miami but also in Chile, Brazil, and Canada.
After he researched the competition, Jhonson realized the Haitian community in the diaspora is getting old; however, they still love their Caribbean soda even though the current offering does not suit their new health reality. Additionally, he noticed that the current healthy eating craze has also reached the young Haitians in the diaspora…in his words, something was missing, and that's how he discovered a niche for Kola Choucoune. Together with his team, he developed Kola Choucoune: 100% natural flavor, non-GMO, 40 calories per serving, low sugar of only 10 grams, and no high-fructose corn syrup with the same refreshing Caribbean taste. In this way, Choucoune is a solid alternative for consumers who suffer from high blood pressure or high blood sugar.
"A portion of the Haitian community is growing older, especially the 'boat people' generation," says Jhonson. Caring for the well-being of this demographic mattered. Many of them grew up drinking Haitian soft drinks. For nostalgic reasons, these same people, along with future generations, still want to drink their favorite beverages and not feel guilty. Jhonson had the risky chemicals removed from his formulas, which led to the launch of Kola Choucoune's plant-based, non-GMO formula containing delicious, all-natural flavors.
The Impact Jhonson Napoleon Will Make
Jhonson wants to show the Haitian diaspora a different way of being part of the business world. He says that when we come to this country, we tend to become involved in the services industry: we work in hotels or restaurants, and when we decide to open a business, we open real estate offices, rarely exploring real estate development. We go to school and earn a mortgage or insurance broker's license, but rarely do we start our own mortgage lending company or insurance company. We rarely see Haitians involved in manufacturing and distribution, and that's where the money is.
Jhonson wants to show the Haitian diaspora a different way of being part of the business world… [as] We rarely see Haitians involved in manufacturing and distribution, and that's where the money is.
My goal in being very public with Choucoune and his process of manufacturing and distributing a product is to tell my young, new Haitian generation that you don't have to limit yourself to one thing. You are in the United States, and you can go to a bank, borrow money, and become a player in the manufacturing and distribution game. You have an American passport, and you can travel to Europe or China to buy the necessary equipment to build a manufacturing plant. The consumers are Haitian like you, the consumers are Caribbean like you, and you can target those markets; especially in this new world of social media advertising, use the opportunity you have now to create generational wealth.
Jhonson is now selling his products in local supermarkets, on amazon.com, and walmart.com. In the coming months, he will launch an all-natural malta, Malta Choucoune, and an all-natural energy drink, Baton. When an American picks up a bottle of Kola Choucoune, Malta Choucoune, or Baton energy drink, his goal is to share with them what makes Haiti great, what makes us all want to rebuild our country and return to live there, and our food and lifestyle. He wants his soft drinks and other products to prompt Americans to explore Haiti because of its rich culture and not stereotype the country based solely on negative media reports.
Community Service Is Key
Giving back is a large part of Jhonson's life. He has about 700,000 followers on two Facebook pages where he communicates with them every day. He freely shares knowledge that people would pay for in business school. That's one of the many ways he gives back.
The main challenge Jhonson faces as a B2B owner is meeting the demand for his products. "I can't produce the soft drinks fast enough," he says. Though this is an issue, it's a good one to have. To rectify it, he's exploring new ways of selling. Currently, Kola Choucoune sells about 1,000 to 2,000 cases a week. His goal is to sell over 100,000 cases per month in the next five years.
This past summer, Jhonson successfully raised $23,000 on Go Fund Me to help clean Cap-Haïtien, Haiti, also known as Okap. He matched the donations he received with $20,000 of his own money, then purchased two dump trucks and shipped them to the mayor of Okap to support the clean-up effort. The Okap community needed to know this effort came from sales of Kola Choucoune products.
When Jhonson's not working, he enjoys spending time with his three sons. He's also a motivational speaker who loves to share his experiences in business with aspiring professionals from around the world.
"I have a deep passion to help others. I hope to publish my book entitled Problem/Solution very soon," says Jhonson. Stay tuned!
CONNECT WITH JHONSON
Hashtags: #koladiaspora #kolachoucoune
Website: http://choucounekola.com/
Facebook:
Instagram: