By Martine St. Hilaire
Who is Debbie Toussaint?
Debbie Toussaint sells traditional Haitian garments, commonly known as Karabela. This type of attire is traditionally hand-sewn and hand-painted by Haitian artisans from various parts of Haiti. The main reason Debbie sells Karabela dresses is to promote Haitian culture through fashion.
Debbie has seen many Haitian women wearing other cultural styles, such as African ankaras, Indian saris, Japanese kimonos, etc. However, she hasn't seen enough Haitian women wearing traditional Haitian Karabela clothing. Karabela fashion is diverse in styles, making it equally as beautiful and great in quality. To increase awareness, Debbie started her company Karabela Glamour LLC, better known as Karabela Glam.
The Karabela Glam website (karabelaglam.com) was launched on September 2019. It's an online boutique that sells custom Karabela garments. Most of Debbie's inventory is "ready-to-ship" meaning if you place an order by 2PM, EST, it will ship the same day. This helps eliminate the hassle of searching for a seamstress to make a dress. The site allows customers to easily find any piece at an affordable price without compromising quality.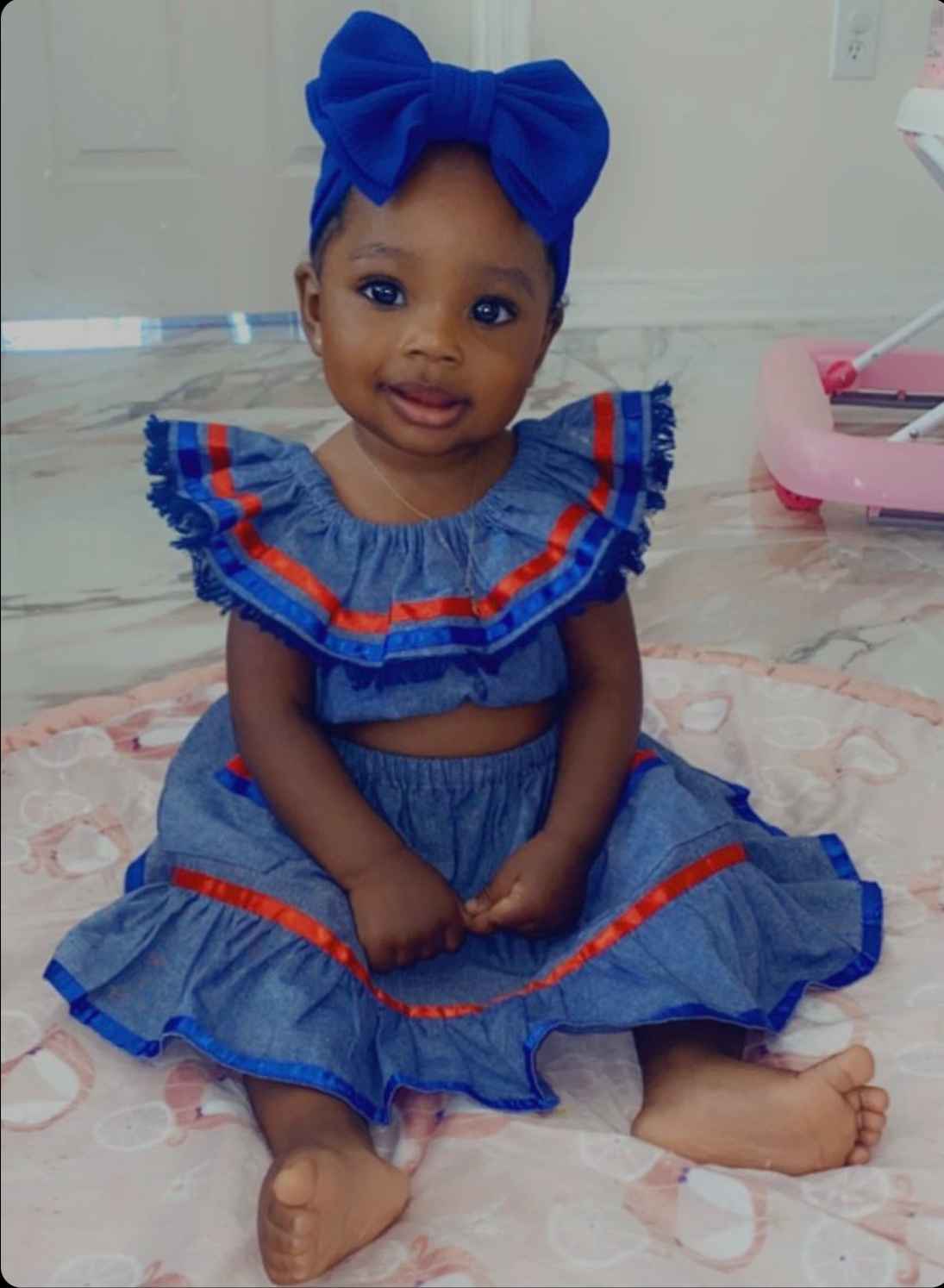 Why Debbie Toussaint Sells Karabela Dresses
Unfortunately, an influx of imported used clothes from the U.S. took over and destroyed the thriving garment industry Haiti once had. To do her part in restoring the crisis, Debbie engages with various Haitian organizations, both in the U.S. and in Haiti. Her business welcomes patrons from all over the world year round. "You can't miss our tent during a Caribbean/Haitian Festival," Debbie proudly stated. She plans to network with as many business owners, in the Haitian community, as possible. Debbie supports Haiti's economy by sourcing her inventory and employees from Haiti.
Debbie takes pride in personally hiring her staff. As she expected, the manufacturing location in Haiti has gradually expanded since inception. Despite ongoing issues and political unrest, her team in Haiti has yet to fail to deliver orders on time. "My team is a group of amazing people who go above and beyond to ensure we keep the business going so that they may continue to have a source of income due to the constant challenges Haiti faces," says Debbie.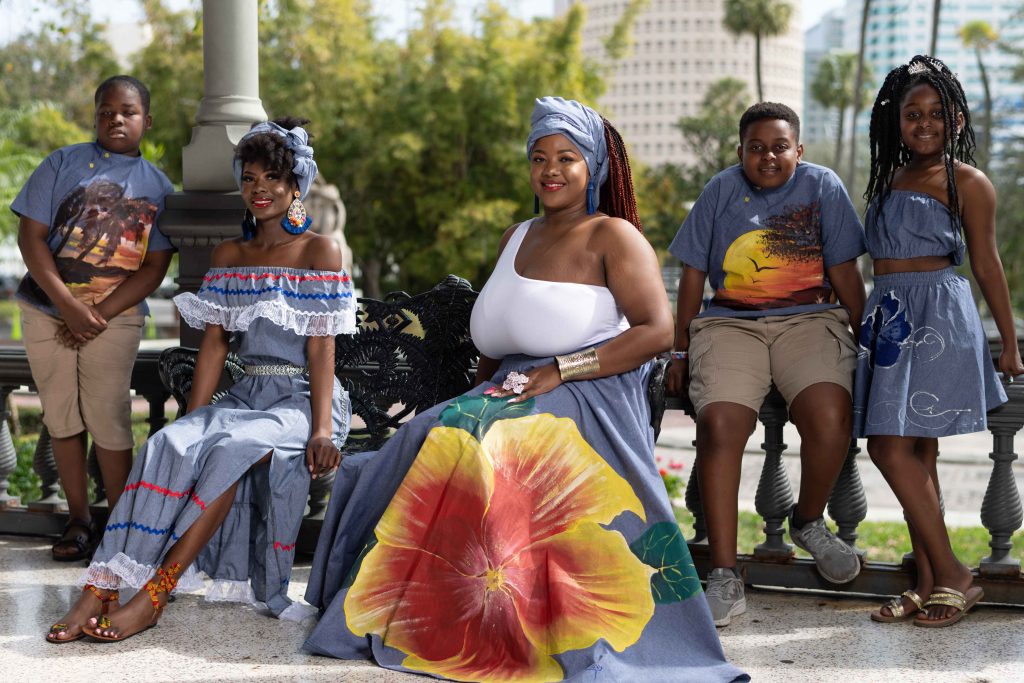 There are endless admirable reasons to support Karabela Glam. For starters, you can endorse Haitian culture through fashion. This means you can use this opportunity to educate your children, other family members, friends and colleagues alike about traditional Karabela attire and its rich history. The next worthy reason to support Karabela Glam is one word, "handmade." According to Debbie, "hand-designed is the new form of luxury." Every Karabela Glam piece is handmade and of great quality. Customer reviews received have reassured Debbie and her staff to continue to never compromise on quality and craftsmanship of a traditional Karabela ensemble.
Every Karabela Glam piece is handmade and of great quality.
Another great reason is product diversity. Karabela Glam doesn't just design dresses, there's a line of painted dusters, maxi skirts and men's shirts, too. Any Karabela Glam piece will make a great conversation starter. It's often because people observe and want to compliment your style. The most important reason to shop at Karabela Glam is that you'll be supporting various Haitian artisans who are paid for their incredible work.
Debbie's team of leaders have accomplished hiring talented young artists (often young men) to custom paint the fabrics. This opportunity allows misguided young men to stay off the streets and away from gang activity. Refreshingly, the young artists take great pride in what they're doing and are always happy to receive feedback on how they can further develop their talents.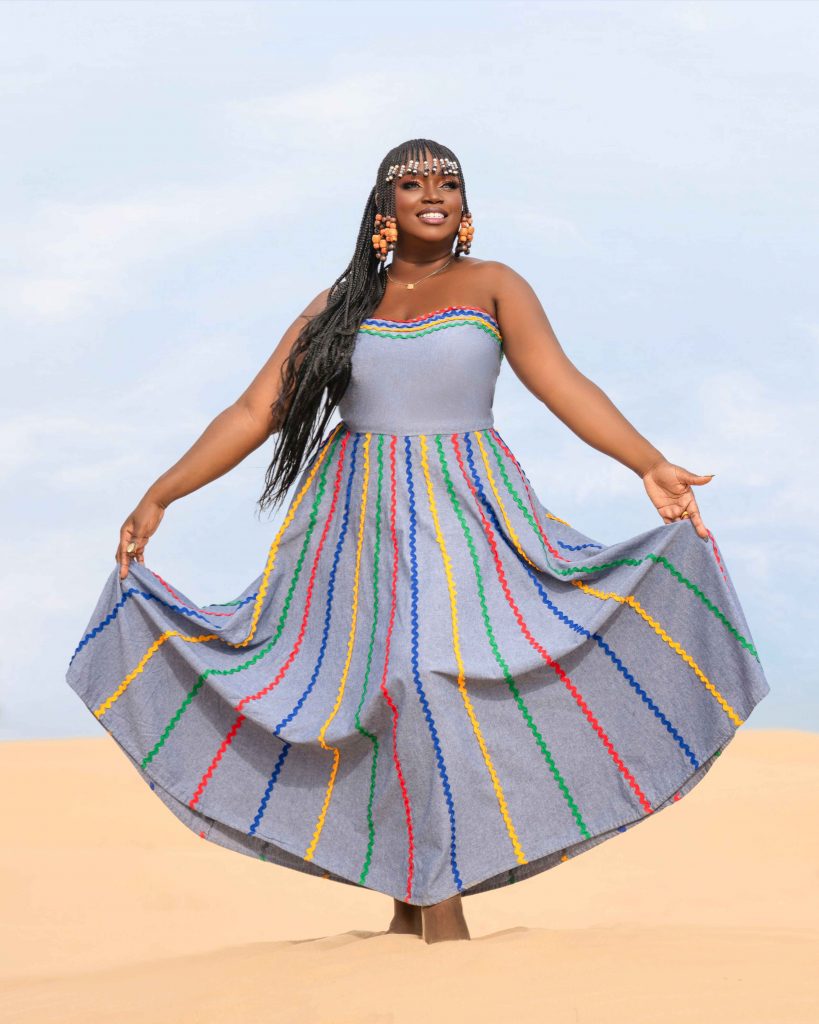 The Impact Debbie Toussaint Wants to Make
Debbie's ultimate goal is to have more people wearing Karabela fashion. She envisions her impact mission crossing over to the realms of streetwear and couture.
Debbie will continue to have a positive effect in Haiti by employing more staff members and extending living assistance to Haitian employees in need. In the U.S., she will build a narrative that will spread awareness of the Karabela culture.
Through technology, Debbie is able to conduct video conferences and group chats to ensure she keeps an open line of communication with her team. She also supports the Haitian economy by purchasing the fabric and sewing materials direct from Haitian businesses.
Karabela Glam's demographic is mostly women. It extends to performers who are often high school or college students. Parents who order for their children's cultural events in school or church enjoy the line, too. Debbie's repeat customers come back to purchase more because of the compliments they receive and to place orders as gifts for friends and loved ones.
As a special discount, exclusively for our readers, use coupon code "HAITIOPEN" to get free shipping on domestic orders from www.karabelaglam.com.
CONTACTS:
IG: karabelaglam
Website: karabelaglam.com