Haitian clothing is just as glamorous as the rest of their culture. Feminine Haitian dresses are called Karabela or Quadrille. This is the traditional dress for women in Haiti, while men would wear shorts, shirts, and outfits painted in red and blue. Haitians are also in love with flag-related patterns in their attire, thanks to the famous flag-making hallmark of their culture.
Haitian folklore clothing is rich and colorful, with red and blue as the main colors, especially for women. Though modern trends have persuaded some Haitians to adopt a more recent dressing style, many still prefer the traditional looks. In this article, I'll talk more about Haitian clothing, why Haitian dress the way they do, and what it all means for their culture.
What's The Haitian Traditional Clothing?
Haitians may be cataloged as a poor country but this doesn't stop them from loving their traditions. In terms of traditional fashion, Haitians impose a very vivid and colorful clothing style, with glamorous dresses for women and freestyled yet serious attires for men. The Karabela combines an off-the-shoulder top with a full skirt, both in matching colors (usually a combination of red and blue).
This dress is a bit thicker than you'd expect, considering the warm climate of the country. It's also embellished with various laces, ruffles, and other visual elements that add a bit of glamor to the attire. Haitian Karabela dresses are famous across the world for their natural glamour and colorful appearance.
To complement their pretty dresses, most Haitian women wear matching headwear, as well. These headscarves or turbans can be both formal and informal, depending on the occasion. People in rural areas wear them more often, though. It's a folklore-infused piece of clothing that becomes more complex with a fancier-looking dress. Haitians actively seek to match their clothing items all the time!
As for men, their traditional dancing clothing consists of a jacket and pants that match the style and color of their female partners. Haitian dressing shirts are called guayabera, and they're made from thin fabrics like cotton and linen. Two vertical pleats are sewn on each side of the shirt, which men generally wear untucked.
There are many occasions when Haitian men and women will dress fancily, aside from dancing and other formal events. Church attendance is an important event for them, an opportunity to truly shine with their glamorous clothing. Women put on their best-looking Karabela dresses, while men don their costumes. As each pair exits their home, a striking parade of various colors is created.
Every Day Haitian Clothing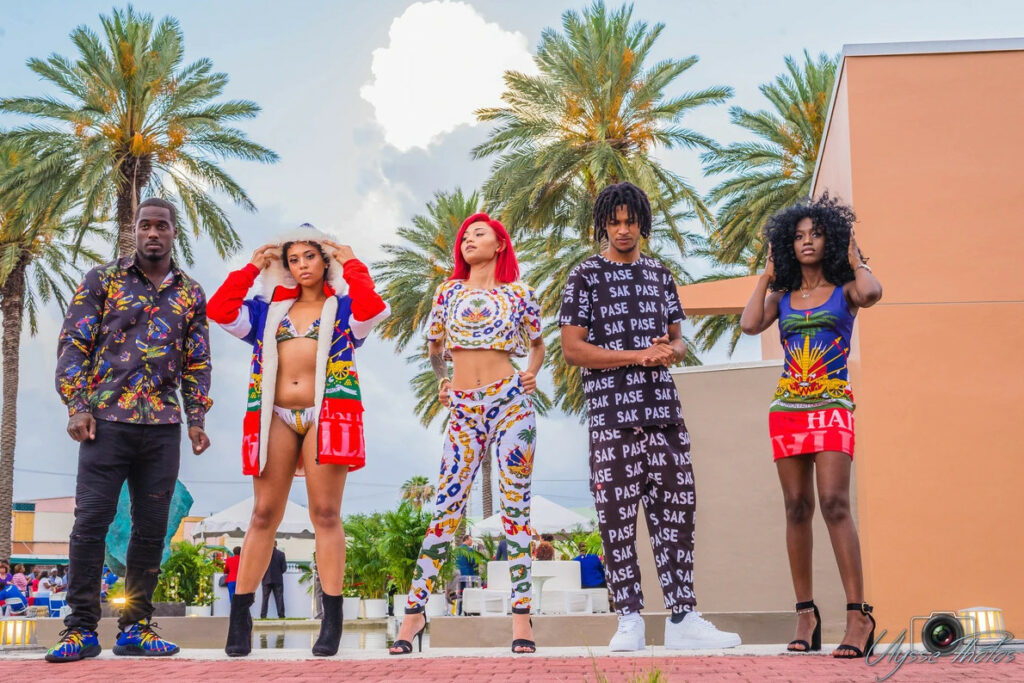 Shorts, dresses, flag-related clothes, and various outfits – that's what Haitians wear for everyday use. It's a casual clothing style that you'll see in many parts of the world, mainly consisting of common clothing pieces like shirts and shorts. Men wear short-sleeved shirts for informal and formal, while women prefer Karabela or similar dresses.
It's good that casual wear is incredibly affordable for most Haitians. Clothing in Haiti tends to be less expensive than clothes in other areas of the world. Think of it as an option that's there for everyone, regardless of their financial possibilities. Haiti has a fashion industry of its own, and all citizens can access it. But casual fashion still remains strong in Haiti.
Flag-stylized clothes are also quite popular in Haiti, most likely because of the flag-making tradition that the country is known for. Men and children regularly wear T-shirts or hoodies with their national flag on them. Yet even in this context, the Karabela outfit remains a striking fashion element of Haitian culture, one loved by many nationalities around the world.