By Alex Popa
Bibi Chevallier is a first-generation Haitian American. She was born in Boca Raton, Florida, and currently lives in Los Angeles, California. Both of her parents are originally from Haiti. Her father comes from Gonaïves, and her mother is from Arcahaie. Growing up in an all-Haitian family and in culturally diverse Florida, Bibi was exposed to authentic Haitian culture her entire life until moving across the country.
Now that she lives in California where the Haitian community is much smaller, she strives to educate others about Haitian culture, history, and people. But raising cultural awareness about Haiti isn't the only thing in which she takes pride. Bibi is also an accomplished plus-size model, a businesswoman, and an advocate for sexual assault victims worldwide. She also strives to uplift Black and plus-size women by challenging beauty standards and by showing the world that all bodies can be good bodies.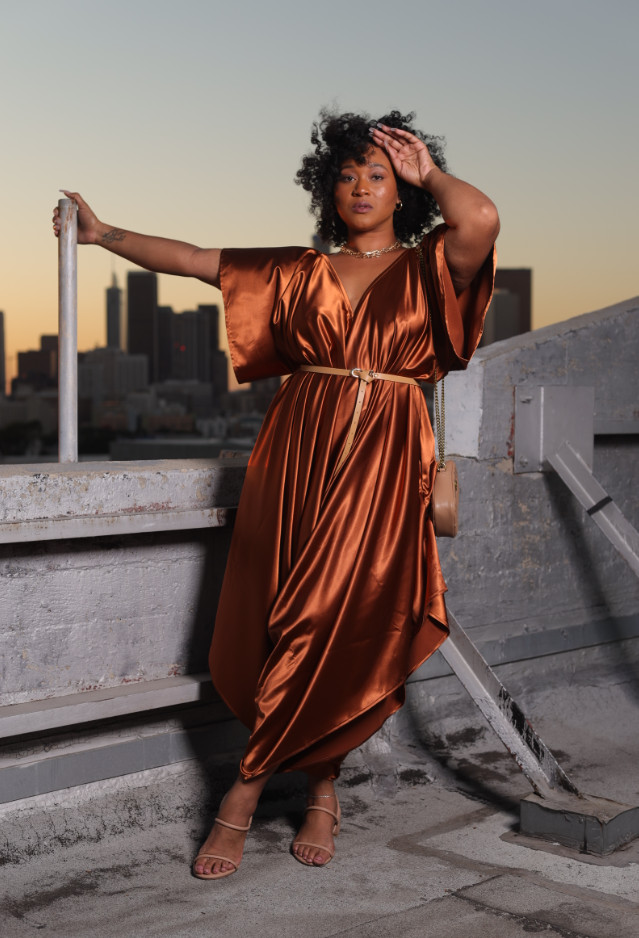 Business and Career Accomplishments
Bibi is an up-and-coming model with an impressive portfolio. She's already been signed to three agencies and has been modeling professionally for three years. She's experienced in print, runway, commercial, and fit modeling, to name a few. She was published over 14 times in 2021 alone. Bibi also mentioned that she's taken some high-level gigs, including walking for Naid's Fashion at LA Fashion Week and appearing in a commercial for Land O' Lakes. Despite her many accomplishments, Bibi stays humble and down to earth. "I still have a long way to go," she told us.
She also wants to work on her acting skills and put her 25 years of music experience to good use. She's not just an emerging plus-size model but a triple threat in the making! Besides her modeling, singing, and acting talent, Bibi is also interested in entrepreneurial pursuits. She's already opened her own online business, Goddess Oils. She offers an array of bath bombs, shower steams, body butters, and soaps for an exquisite, spa-like experience. Her online store is called GoddessOilsLLC and is hosted on Etsy.
Bibi also shares pictures of her modeling gigs on her Instagram with the user handle "aye_yo_bibi". She hopes that her online presence will attract more modeling and business opportunities. Her dream is to keep building up her portfolio and work for high-end designers such as Schiaparelli and Alexander McQueen. When she makes it big, she wants to use her name and influence to discuss pressing issues like mental health and sexual abuse. As a survivor herself, Bibi wants to inspire other victims to speak up and regain their sense of power and confidence.
Helping Improve the Image of Haiti
Bibi is a proud Haitian who waves her culture's flag high wherever she goes. She's passionate about educating others and dispelling misconceptions about her people. She believes all Haitians should do the same. "One thing Haitians can do is have conversations about Haiti and its importance to Black history. Remind people that Haiti was the first free Black republic. There are still lots of people who are unfamiliar with Haitian culture. If more of us tell positive stories about our culture, then we help change the narrative."