By Alex Popa
Marie Frager (Mimi to friends and family) is a true Haitian who comes from a mixed cultural background. She currently lives in the Tampa Bay area in Florida, so she's well aware of the differences between Haitian and American societies. Marie knows the hardships that Haitians have to endure every day because her family had to endure them as well.
Her mother, especially, is the one to whom she owes her current lifestyle, security, and financial stability. As she admits herself, "I grew up with both parents, but my mother never depended on dad to provide—she would start a side business and get her own. She went to trade school, and so she knew how to sew and how to bake. She focused more on her sewing skills and would make uniforms and other sewing projects as her side hustle."
ClearlyMarie follows in her mother's footsteps in terms of work ethic, determination, and strength of character.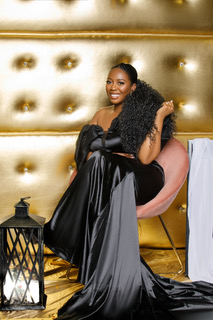 Education, Work, and Accomplishments
Marie Frager has a bachelor's degree in business administration, an MBA in business, and a master's degree in health service administration. These qualifications have allowed Marie to find work as an administrative consultant and open two businesses to expand her portfolio.
Her accomplishments could also fill two lives since she has two children, established her own non-profit organization, created a fashion brand, and launched a travel company. She hopes to expand on these in the following year while also working on herself in the process. "Personal goals: learning to work more on my mental health and focusing more on what makes me happy."
When it comes to hobbies and passions, Marie is a simple person with simple pleasures. She loves to travel, spend time with her family, read, and listen to music whenever she can.
What Young Haitians Can Learn from Marie
Marie believes that Haitian youth require role models above all else because these come more easily than actual financial opportunities. The country's economic ecosystem might not change anytime soon, but having strong role models makes that matter less because a determined, knowledgeable, and resourceful individual with the right guidance and proper role models can overcome that issue.
Marie believes that only Haitians can change Haiti, but for that to happen, they need to change themselves first. As she puts it, "I think young Haitians can learn from what is happening right now in Haiti and try to do better for the country. I wish to see more young Haitians supporting their culture and country the best way they can."
She's also lending a hand herself via her non-profit organization but admits that that has become increasingly difficult over the years—the primary issue being the lack of security in the Haitian landscape. Even so, Marie isn't one to falter easily.
She hopes to still make a positive impact, whether through her work, inspiring people, or creating an online platform to support and educate young Haitians on their potential and opportunities while also promoting Haiti for its beauty, unique heritage, and unparalleled historical and cultural climate.