By Alex Popa
Wadline Emmanuel was born in Haiti and now lives in Connecticut with her aunty, whom she says is the strongest woman she knows. Her aunt took Wadline in when she was very young and cared for her with the best of intentions. Now, Wadline is a grown woman with aspirations of her own in the modeling world. She recalls how harsh life in Haitian was and doesn't take the comfort of her new life for granted. She appreciates everything she's been given and wants to give back as much as she can.
Education & Dreams
Wadline finished high school, completed a year of college, and then enlisted in the air force, where she now works in aviation management. She plans to continue her schooling to become a physician assistant, something that would let her help people more. But her true dream lies in the world of modeling. Her physique is sculpted for the industry, and she takes great care of it.
In the next twelve months, Wadline wants to grow her Instagram platform, collaborate with more photographers, and put herself out there to launch a modeling career. She already takes photographs of herself and posts them on Instagram, hoping to attract the right kind of attention. She believes she'll get an opportunity. After all, it's in her Haitian heritage to be hopeful and optimistic about the future.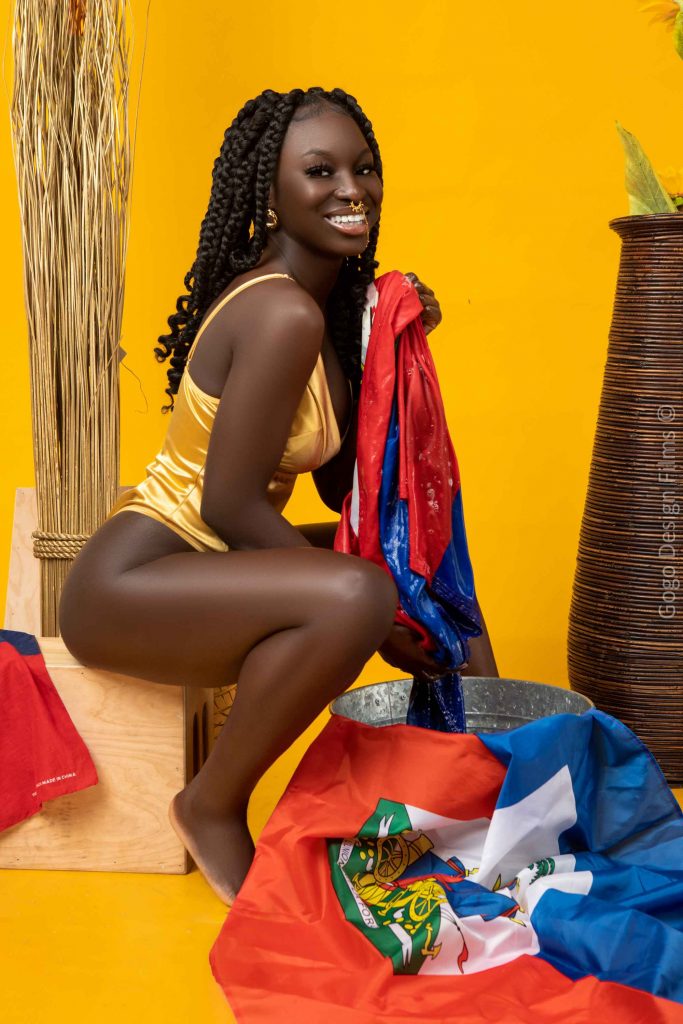 If she had a platform and an audience, Wadline would promote "the importance of loving your skin no matter how light or dark it is."
"To me, modeling is happiness, something that I've long wished for," she says. "Working in this industry would be like finding myself and doing what I was destined to do." She understands there are other talented women out there but feels she has a place among them as well.
Advice for Young Haitians
Wadline's advice for the young generation of Haitian is simple: spread awareness about what is happening in the country. Educate yourself more, learn a few skills, and try to give back to the community when you attain success. Be hardworking, disciplined, determined, and never give up on your dreams. Fight for them and you will eventually achieve them. That's a true Haitian lesson!
If she had a platform and an audience, Wadline would promote "the importance of loving your skin no matter how light or dark it is." Her experiences have taught her that you must come to terms with your own skin and love yourself for who you are. It took her a long time to learn this lesson, and she doesn't want others to endure the same difficulties she did.
"Beauty is in the eye of the beholder, but most important, it's in your eyes," she says. Wadline has clearly reached a rare level of self-knowledge. Feeling comfortable in your own skin, as she says, is the best way to be happy and have the mental resources to strive for more in your life.
You can contact Wadline Emmanuel on Instagram at "@darkskin.wads" or on Twitter at "@wadline3".