By Alex Popa
Laucuania Kettia Remy is a Haitian-born and raised who lives in Port-au-Prince and who believes she is guided by Haiti's very spirit. "Haitian culture and tourism are the source of my inspiration. I base myself on the history of my country and what it was."
Laucuania finds inspiration not only in her country's image and history but in other people's lives as well. She admires strength of character, discipline, and hard work above all else because she has seen those attributes at work. She has seen what they can do when used with clear goals in mind.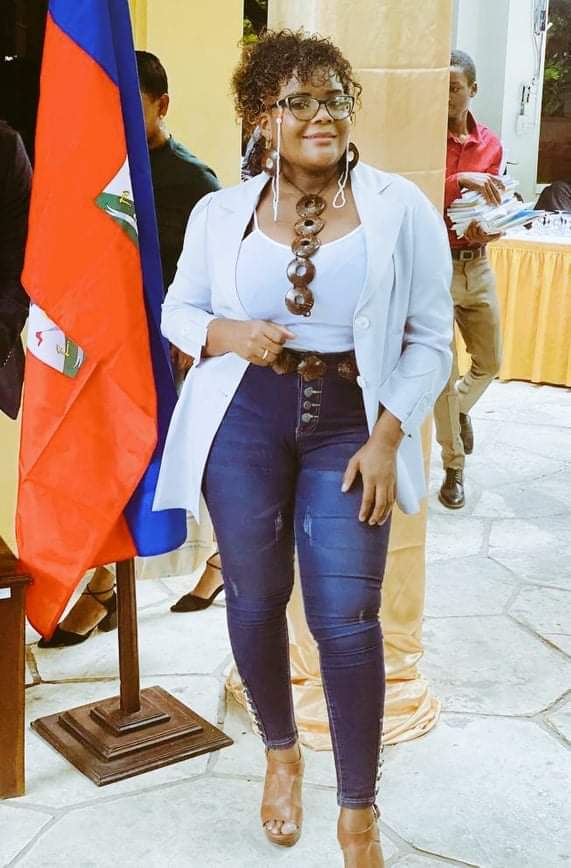 Work and Education
Laucuania has an impressive educational background and even more impressive interests and achievements. She graduated with a degree in journalism from ISNAC, studies political science and international relations at INAGHEI, and is a law student on top of that, interested in human rights.
She admits she has a strong interest in politics and law and that "human rights is one of the branches of law that I like very much. Since 2020, I have been the head of an organization that defends human rights, the Defender of Human Rights (DESAFRODH)." And this is just the beginning.
Laucuania considers herself to be multitalented with a wide range of interests and goals. She can sing and dance and is interested in art and fashion, among other things. Although she hasn't turned those into explicit goals moving forward, she doesn't exclude the possibility of going down the artistic route either. For now, all of her energy is aimed at achieving a career in politics or culture, whichever provides her with more results and satisfaction.
A Word for the Haitian Youth
Laucuania is well aware of the problems plaguing Haitian society. Violence and poverty are two she can name in one breath, but there are many more on the list. Fatherless families are another one of them, as Laucuania admits that too many Haitian fathers flee their parental responsibilities. In turn, this affects the child's development, making him or her emotionally unstable and lacking self-confidence and self-esteem.
She hopes to one day be able to become more influential in the public domain so that she can speak and act on these pressing issues. Should she succeed in doing that, Laucuania would speak "on the evolution of girls and women in Haitian society and human rights in general. Any of these subjects would bring an answer to many of the problems that we see and remain silent about. The impact I'm hoping to make mainly refers to bringing a positive response and good results in this area."
Laucuania hopes that she can serve as an inspiration for others to take action and follow in her footsteps. Changing Haiti is only possible via a communal effort since there is not one single individual who can succeed where the strength of many is needed.
In terms of hobbies and interests, Laucuania is a simple person. She enjoys music, dancing, traveling, and spending time with her friends and family. She loves nature, which, by extension, means she loves Haiti above all else.