By Martine St. Hilaire and Photos by Sydney Castor
Meet Stevens Dorcelus, one of the five finalists from our 2022 Hot 100 Young Haitians contest. He's of Haitian decent and currently lives in Montreal, Quebec, Canada. Stevens is a professional track and field athlete. One of his greatest accomplishments is becoming Canadian long jump champion at the Canadian Junior Championships. He has been practicing this sport since he was 16 years old. He's also a financial advisor, entrepreneur, and a model for one of the supreme modeling agencies in Canada, FOLIO. He's currently working on his dream career, which is to run his own financial firm. He's also the founder of Jump Like Me (JLM), a movement whose mission is to encourage the youth to get into sports and live a healthy lifestyle.
During his athletic career, Stevenswanted a way to share his approach with young people. In 2017, he started the JLM movement. He began creating video capsules, hosting training sessions and speaking in conferences at schools. JLM is made up of two divisions: Move Like Me and JLM Fitness.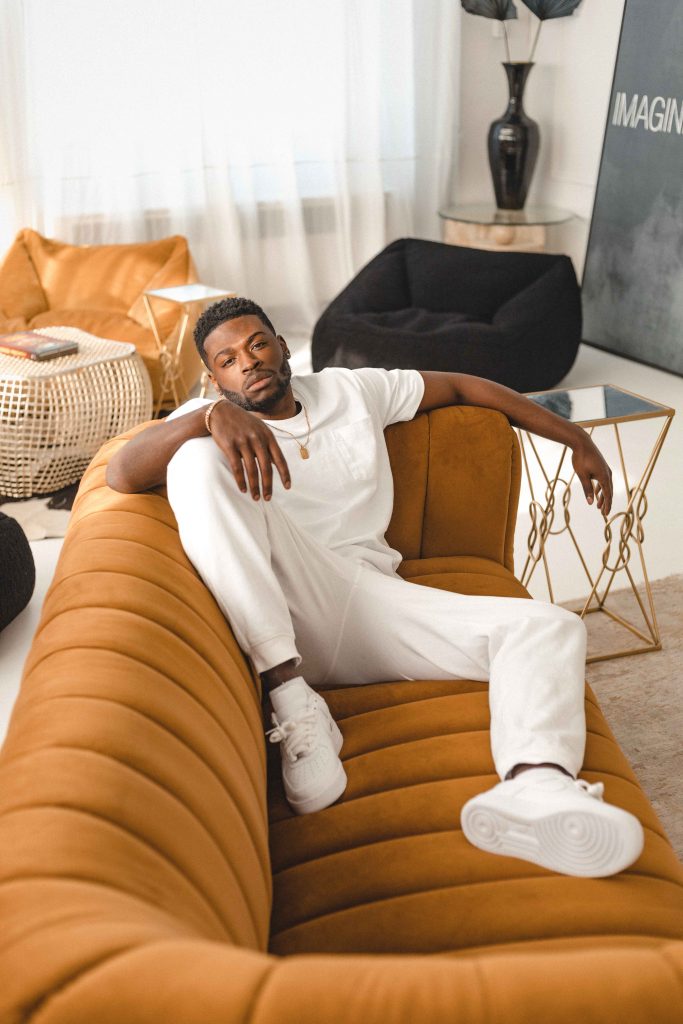 …Canadian long jump champion two years in a row (2019-2020).
Stevensalso won a college scholarship to study in the United States. He was the Canadian long jump champion two years in a row (2019-2020). He still holds the Canadian games record, to this day, with a record of 7m84. His diligence towards his sport led him to make four Canadian teams and to complete a training camp in Romania for a six-month period.
Stevensis the main subject of an upcoming documentary about his life as a big brother and inspirational role model. The project is project directed by a professional filmmaker and was shot over a period of nine years. Production began in 2013 and is expected to wrap up next year.
As a financial advisor, Stevens continuously demonstrates his passion for the financial security of his clients. He aims to ensure their financial wellbeing by providing them with personal protection and investment solutions that will them achieve their life goals. Stevens stands out for his professionalism, ability to listen, and leadership.
In 2021, Stevens was a contestant on Occupation Double, one of the biggest dating reality shows in Canada. He made history as the first black contestant to win in the program's 15-season run. He also earned second place as the public's favorite among the 28 other candidates. The TV show and the documentary aren't his first experiences in front of the cameras. He participated as a long jumper in an advertisement for the Canada Junior Athletics Games in 2013, a Bell company advertisement for the Tokyo 2021 Olympic games, and above all, he was the understudy of the actor Stephan James, who played the role of the great Jesse Owens in the movie Race. Jesse Owens is Stevens' biggest inspiration.
When asked what young Haitians can do to help Haiti improve, Stevens believes they should educate themselves about the history of Haiti. One way Stevens is currently mentoring young Haitians is by being a proud Haitian male model, inspiring other aspiring Haitian models to follow their dreams. Another way he's helping is planning trips to Haiti to carry out his humanitarian efforts.
Sports, finance, modeling and simply being amazing are not the only things Stevens excels in. He's also discovered a newfound talent. During the pandemic, he learned to play the piano and is continually progressing. "I started to play piano during COVID. I love it, I'm getting better and better," he says.
Stevens is excited about having a growing platform that will allow his voice to be heard. As he shares his story, he hopes to promote the importance of perseverance. The ultimate impact he would like to make, given the opportunity to reach his desired audience, is to maintain pure solidarity. Harmony is essential to him.