By Martine St. Hilaire and Photos by Christopher Harris
Markinson Alume, a 22-year-old Fort Pierce, Florida native and Tampa resident, is a certified personal trainer and an rising fitness model. He has a deep passion for health and fitness. He's one of the five finalists in our 2022 Hot 100 Young Haitians contest.
Markinson knew he'd be a great candidate for the Haiti Open Hot 100 Young Haitians contest because he's devoted to his Haitian culture. Though he wasn't born in Haiti, he's become assimilated with its culture. He loves the food, the people, the music, and everything about it. "I used to go to Haiti for two months every year to spend my summer vacation there with family and friends," he says.
Markinson believes placing highly in the competition will open doors to more industry opportunities that will, in turn, help him showcase Haiti and its beautiful culture. His goal is to get people to grasp that Haiti is much more than what the media portrays. He'll do anything in his power to eradicate the negative stigma against Haiti and its culture. Being Haitian has taught Markinson to be humble and grateful for everything he has.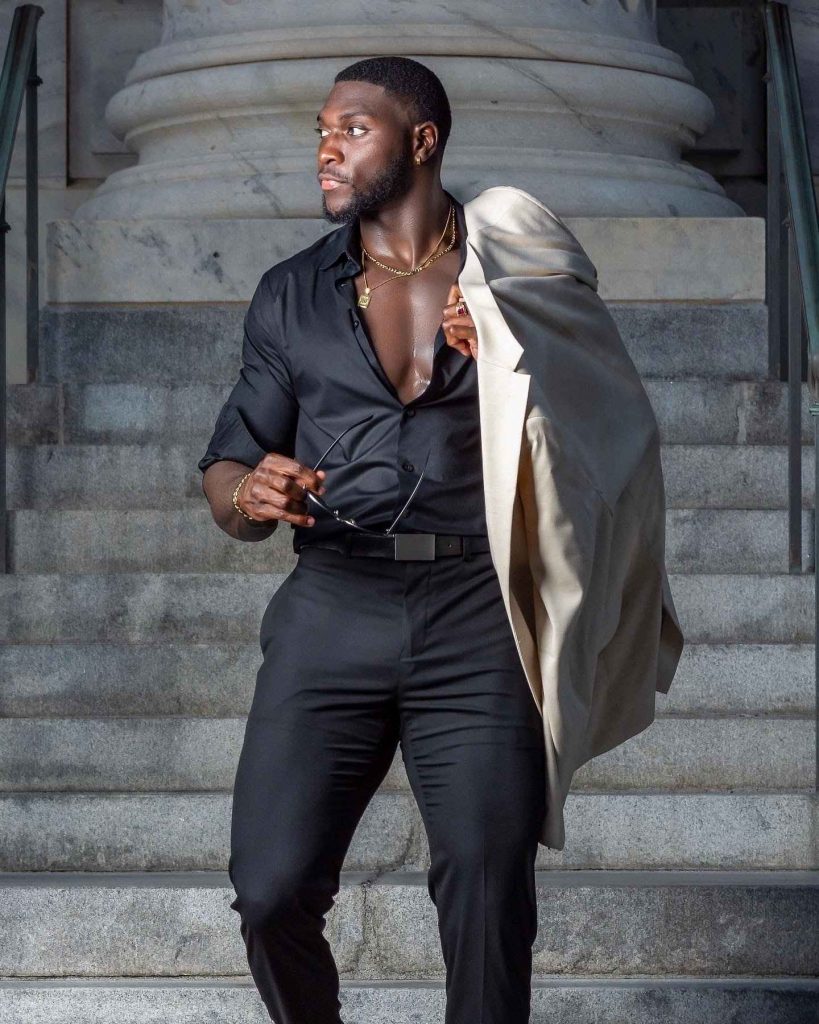 "As Haitians, we must work harder and overcome numerous obstacles that come our way," he says.
Markinson enjoys being a certified personal trainer and has an online training business called Alume Fitness. He's also a freelance fitness model and an rising fitness influencer on social media. He loves what he does, and he loves that he inspires and motivates other people. He aspires to become a top model and get a foothold in the acting industry.
Markinson started his training business at age 21. He accumulated over 50,000 followers on Instagram as an influencer in only two months. "I transformed my body within one year and lost over 70 pounds," he says proudly. In the future, he hopes to open gyms in the United States and Haiti to help Haitian youth learn about the importance of physical health. He intends to do this by having fundraisers and investing in the Haitian community within Haiti. He also wants to increase his follower count on social media so he can be a voice for Haiti and continue being an inspiration to others all around the world.
When asked what young Haitians can do to help improve Haiti, Markinson says young Haitians can start breaking generational curses by developing a constructive mindset. "Our country is currently divided," he says. "We lack unity!" He strongly believes Haiti needs effective leaders to help change its economic crisis and, that change must start with children. He's also aware of how imperative it is for young Haitians to start groups or organizations that will allow them to be a voice for Haiti. Markinson is personally guiding and mentoring young Haitians by helping the ones in his local and online communities get into physical shape and by teaching them how to develop proper eating habits.
If Markinson had an even larger platform to make his voice heard, he would still discuss mental and physical health in Haitian and non-Haitian communities. He continually notices that this issue doesn't receive enough attention. The impact he would like to make, given the opportunity to reach his desired audience, is to create small yet effective changes. He would start by promoting a cognitive change in the mindset of Haitian people and their perspective on subjects such as mental health awareness.
For fun, Markinson enjoys traveling and going on spontaneous adventures. He also loves to read and spend time with friends and family. Though he's a budding fitness influencer, he truly does treat working out as a hobby instead of work.