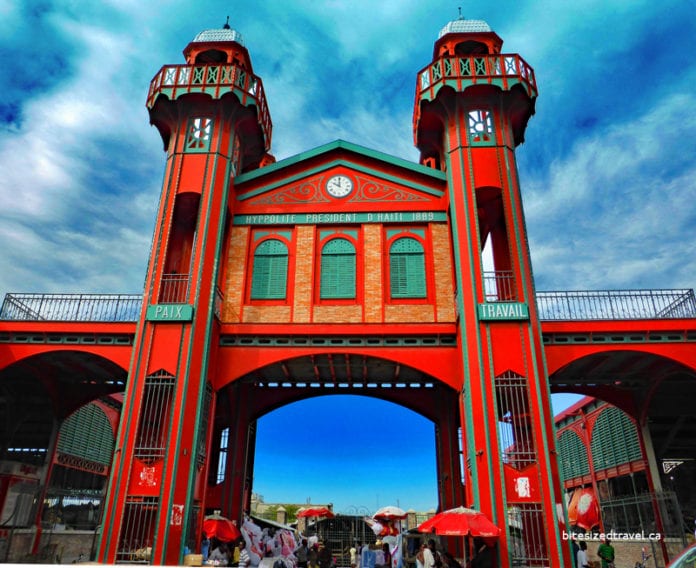 Number Nine Attraction in All of Haiti By Skite Polis
Built in Paris, bought and brought to Haiti in 1891 by Haitian president Florvil Hyppolite
Marché en Fer is a popular market catering mostly to tourists, so expect some vendors to be offering their services. You will probably appreciate their presence since you will need them as you go around the market.
The market is located in the main street so access to this popular shopping area is quite easy with room for lots of foot traffic, which is really good for both the locals and tourists. You can bargain to your heart's content, and it's pretty much certain you will not leave without buying something. Haggling in the Haitian way is really fun, and if you have never tried it, as you are probably used to fixed price tags that are just swiped by price reading guns at your local market, you are really missing out on traditional trading techniques.
Now for some trivial background facts: The market sports a fascinating metallic structure you can see at the Central Market. This structure has its very own story, and a dark one at that. It is said to foretell a hazardous ship wreck in Haitian waters. The ship carrying the structure was en route to Karachi, in Pakistan, where the structure was to be erected as a Sunni mosque. Neither the ship nor the structure ever arrived, and now it, the structure, stands guard over the Central Market. Be careful, though. With all the bustling, tented shops around you, you might easily miss it.
There is some fascinating architecture here too. Though appearing to be little more than facades, they are also historical in nature. There are various iron works and lots of native artworks including voodoo dolls used in rituals. If you are a fan of this stuff, you will love it here. It can be a bit shocking but very entertaining to say the least. You should ask the locals if they have some love potions available for you to take back home. In any event, with all the color and the bustle of the market you should, for golly's sake, just have some fun.
If you get tired of roaming around looking for various goods, and avoiding sharp elbows along the busy pathways, there is also a huge range of delicious foods on sale. You can even find fresh seafood. Some visitors enter the market carrying nothing, only to leave bearing a bucket-full of alcohol, some wooden sculptures, and even some livestock! You can also find marvelous paintings done by Haitian artists. The vendors may follow you around, but they are never aggressive. In fact, they are so friendly that you won't be able to resist them. Just make sure you know what you want, and haggle for the best price. You will definitely love it here in the market, so make sure you drop by if you're staying in Port-au-Prince.
COME EXPERIENCE IT:
Location: Port-au-Prince, Haiti
Transportation: Local transportation
Hotels nearby: Palm Inn, Hotel Oloffson
Restaurants nearby: Magdoos, Epi d'Or