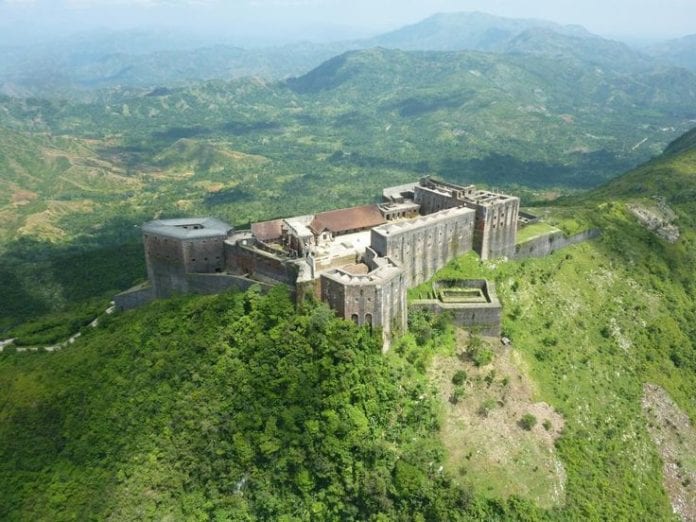 By Yselande Pierre + Photo by Hunter Kittrell
Tucked on a mountaintop in the northern plains of Haiti is the Citadelle Laferrière, or simply Citadelle. The Citadelle is located approximately 119 miles from Port-au-Prince and 17 miles south of the city of Cap-Haïtien and is a popular tourist destination for the island of Ayiti. It is, quite possibly, the hidden eighth wonder of the world. Paved in stone and surrounded by green landscapes and shrubbery, the Citadelle is a phenomenon for those who enjoy nature, mixed in with a good hike and rich culture. Expect a day of breathtaking views, high walls, and durable architecture that has weathered the wrath of Mother Nature.
The Citadelle represents the strength, revolution, liberty, and independence of a resilient country.
When you arrive at the Citadelle, expect several travel options. Numerous guided and individual tours offer up-close experiences to various parts of the fortress. These experiences range from storytelling and musical performances in nearby towns to horse or donkey rides to the palace. The cost of a visit to the fortress can range from $100-180 the U.S.
TripAdvisor reviews by travelers describe the Citadelle as an "exceptional experience," "so impressive," and a "must-see" for those visiting Haiti. Observe how the clouds hug the fortress. Touch the cannonballs that were ready for battle. Learn how the fortress storehouse could hold enough food for a year for King Henri Christophe and his family. Yes, Haiti had a King of the North – and fortunately, never experienced a battle. Traveling to see the largest fortress in the Americas will be worth the trip.
Whether you live in North America, South America, Europe, or Australia, make a bucket- list trip to the Citadelle Laferrière and enjoy an experience of a lifetime. In addition to the Citadelle, visit the towns of San Souci and Milot, where you can purchase Haitian artifacts and paintings and enjoy delicious Haitian cuisine.
With a 4.5-star rating from TripAdvisor and rave reviews, traveler satisfaction with the Citadelle is high. You must visit this incredible fortress at least once in your lifetime! One of the best things to do in Haiti and a premier attraction in Haiti.
Habitation Jouissant is one of the best hotels to stay at when visiting Cap-Haïtien to see the Citadelle.