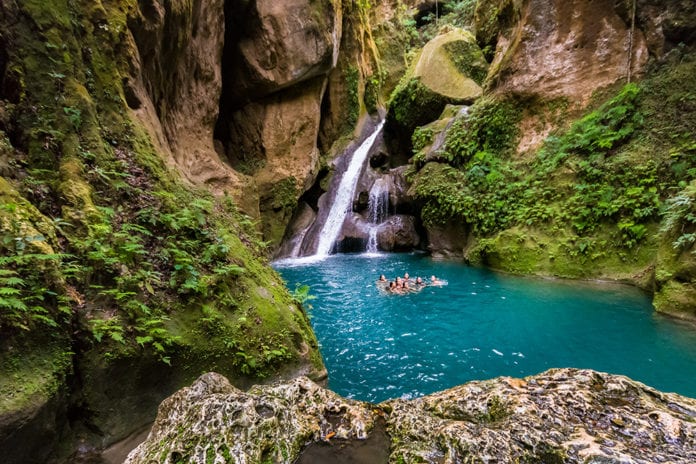 By Yselande Pierre + Photo by Verdy Verna
As the legendary musical girl group sang in their U.S. hit song titled Waterfall, "don't chase waterfalls, please stick to the rivers and lakes that you're used to" but then again travelers to the Bassin Bleu would beg to differ. They would want to chase the waterfalls that descend upon the little paradise called the Bassin Bleu. Bassin Bleu is a beautiful waterfall tourist attraction located approximately 12km outside of Jacmel, Haiti. Known to be the crown jewel of Jacmel, Bassin Blue is a memory away from being one of the best adventures you can have in Haiti. Nestled in the mountains, surrounded by additional cobalt-blue pools, Bassin Bleu is one of the prettiest swimming holes in Haiti. In the town of Jacmel and Bassin Bleu, there are tours that can guide visitors to the site at an affordable cost.
.. the crown jewel of Jacmel…
The cost of the guides or tours can range from $20.00 – $100.00 U.S. dollars depending on the experience you are seeking. There is a drive through a river and a small hike, so you will want to make sure that you prepare and dress for the occasion. This include sturdy hiking or tennis shoes, cool clothes, swimwear, sunblock, bug repellant, towels, drinking water, and a great attitude. Once at and crossing the Rivière de la Cosse, your ride will take you through a couple of villages, offering a preview of the local life within the area. Those who love nature will enjoy the excursion.
Based on TripAdvisor reviews, the waterfall attraction rates at 4.5 with comments that range from "I love it," "The pictures don't even do justice to how spectacular this place is," to "the water is clean and clear." You can jump off the cliffs or enjoy a romantic kiss beneath the mineral-rich water. As the water goes downhill into the steady basin, visitors can enjoy a refreshing look into nature. If you are trying to figure out the depth of the basin, proceed with caution because there are many stories and legends that surround this historic site. Whether you are a photographer, myth buster, explorer, trekker, natural historian, visitor, or native, make sure to set aside some time to visit the beautiful Bassin Bleu.
Stay at Colins Hotel when visiting Jacmel for Bassin Bleu.