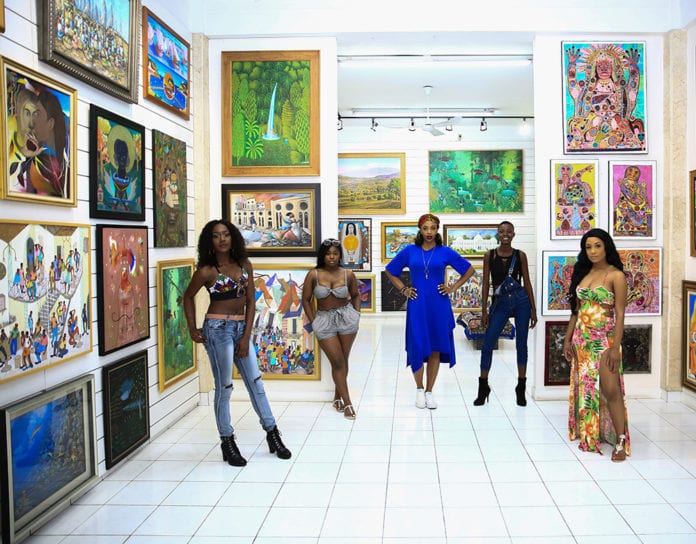 By Dana Fleuricharles + Photo by Mackinley "Spex" Madhere
If you are dreaming of immaculate beaches, beautiful waterfalls, and splendid mountains then vacationing in Haiti should be placed on your radar. There is so much to see here that will make you fall in love with the culture. While all the outside fares and attractions are remarkable, a splendid indoor enticement located in Petion-Ville is the Galerie Nader. This art gallery is now celebrating over 50 years in the art community. Galerie Nader offers you the chance to come into cool air conditioning and admire all the different art pieces collected during this time span. The repository includes over 17,000 works of art making it the largest collection of Haitian art in the world. The collection includes contemporary and modern pieces as well as traditional, cultural, and religious pieces; from the up and coming artist to the world-renowned artists. The array of pieces available makes it so that everyone can find something that speaks them.
The repository includes over 17,000 pieces of art…
And if you want to take a piece of paradise with you then you have come to the right place. The staff is knowledgeable and ready to assist. If you can't find a piece here, you most likely won't find it anywhere else. The gallery services include custom framing that come with an extensive variety of framing options. Moreover, for your convivence they offer packing and worldwide shipping for the memories you chose to collect. These experts also offer consulting and art appraisals.
For those who are art connoisseurs, you will be pleasantly surprised by what they have to offer, so have your credit cards ready. For everyone else, this gem is an experience you don't want to overlook if you get the chance. Don't you want a glimpse of the culture when you visit a new place? Well, the easiest way to do this is through a stroll down Galerie Nader lane, where you can collect the visual memories for later.
Recommended hotels to stay at when visiting Galerie Nader:
• Hôtel Montana
• B&B Comfy Inn