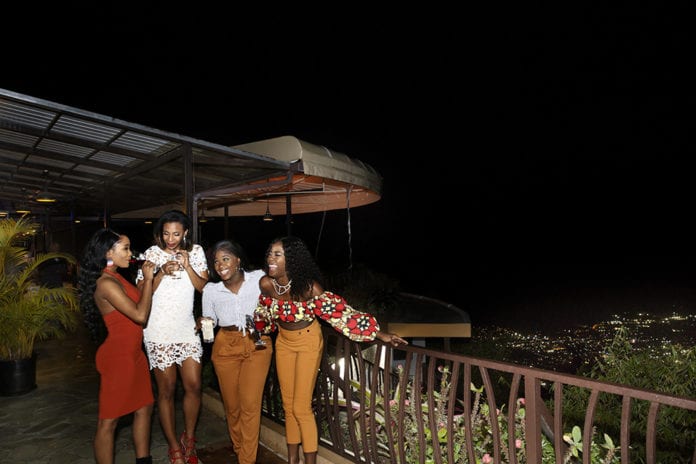 By Dana Fleuricharles + Photo by Mackinley "Spex" Madhere
Nothing says welcome better than a spectacular view of the city and at the Observatoire Restaurant, that is exactly what you get. This Haiti restaurant is a spot you must visit. Whether during the day or night time the view will wow you, the staff will astound you, and the food will have your taste buds thanking you.
…can only be described as breathtaking.
The Observatoire Restaurant sits high above the busy city, allowing a sense of calm from the fast pace of the city below. Be sure to request a table near the railings to get the full experience. The view of the bay of Port-au-Prince as well as the mountains encompassing the city can only be described as breathtaking. You may end up visiting here on more than one occasion just to compare if the day time view is as spectacular as the night time sight or even the vision at dusk while the sunsets.
More than likely you may be greeted by the owner during your visit. The staff is friendly and courteous. But if you can, call ahead although you're welcome to just walk in. At times the service is on island time but it's well worth the wait. At night when the sun sets so does the temperature so be prepared for a little chill. Still, the staff is ready and equipped with portable fireplaces and a few shawls for comfort. The restaurant often has special events, so you may get a chance at more cultural entertainment.
The menu offers a variety of authentic Haitian food which also includes American and Mediterranean options. You will find burgers, fries as well as Kibbeh as options outside the local fare. And don't forget dessert, it will be difficult choosing between items like the pain patate a la mode or the crème brulee.
So, indulge yourself and come take a look at this spot with its extraordinary view. The Observatoire Restaurant is a local lure you cannot afford to miss.