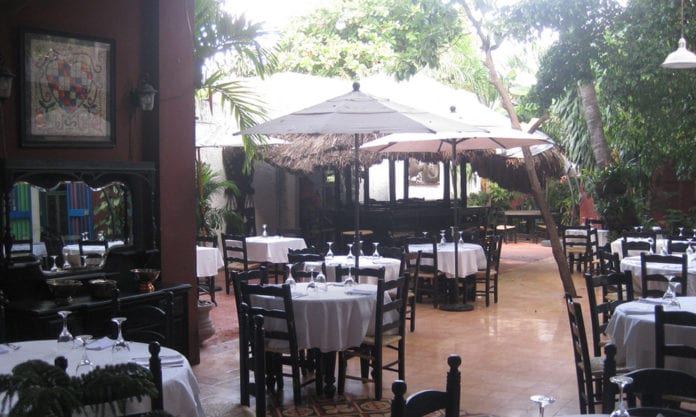 #1 out of 46 Restaurants in Pétionville, Haiti based on TripAdvisor Ratings
By Joseph Shane
Brasserie Quartier Latin Restaurant has a vibrant spirit. This charming restaurant, located in a converted house, is famed for its international cuisine and specializes in extensive breakfast and brunch choices. A shady courtyard offers natural respite from the heat, and an amazing blend of local jazz and salsa bands on different nights. The walls are tastefully decorated with art and graffiti.
Brassier Quartier Latin is open every day for lunch and dinner. Sunday it opens at 10:30 with special brunch offers.
Location
Ideally located in an area where spacious and safe parking is available. 10 Rue Goulard (Place Boyer), Petion-Ville, Port-au-Prince, Haiti.
Reviews
Most of the online reviews are over 4 stars for this amazing little restaurant in Haiti.
"I would be back," wrote one reviewer. "And I'd bring my marker to say thanks on the eatery's walls."
Another one wrote, "My personal favorite is SUNDAY BRUNCH. It's called 'the best brunch in Petion-ville' for a reason."
Yet another commented: "In my books, in terms of ambience and quality of food, Brasserie Quartier Latin is unrivaled in Port-au-Prince."
Culture
Brasserie Quartier Latin is proud to present international cuisine that's guaranteed to satisfy your palate. Different nights are dedicated to various international flavours – including Mongolian, Indonesian, Indian, Thai, fast food and local exotic cuisines – coupled with the best drinks available.
The fine dining experience is seamlessly amalgamated with live local jazz, salsa, blues bands and more.
The atmosphere at Brasserie Quartier Latin is cozy, casual and intimate.
Atmosphere
The atmosphere at Brasserie Quartier Latin is cozy, casual and intimate. At the same time, its private dining areas can be a good spot for business lunches.
Guests from every walk of life are welcome to enjoy a genuine experience of Haitian culture and hospitality.