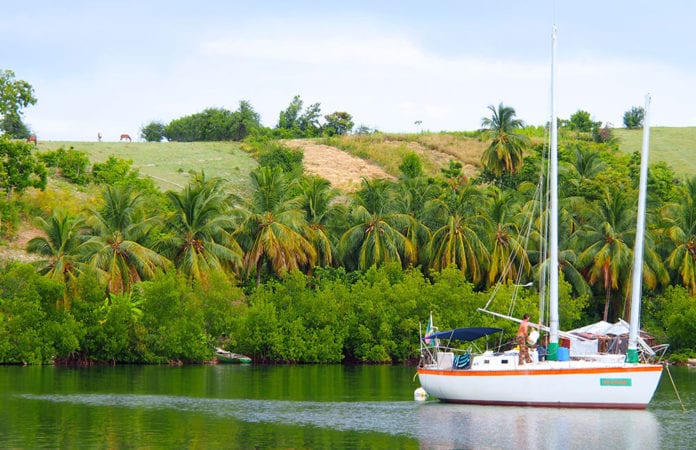 By Skite Polis
Île-à-Vache, Haiti was once the base of operations of the famous pirate, Captain Henry Morgan (c.1635–1688). It was from here he sailed out to attack French ships.
Haiti's fascinating tourism moves seamlessly from the historical to fun activities like hiking, beach excursions, and even cultural immersion through museum tours. But nothing compares to the allure of its southwest island called, Île-à-Vache. This pristine island lies roughly six miles off the coast of Les Cayes.
From Les Cayes, the nearest city, you can take a boat ride directly to the island. This is the easiest way to get to the island, though you can also get there by helicopter. The island has two resort hotels, the Port Morgan and the Abaka Bay. Between them, they have more than enough rooms to host large groups. Comparing these two hotels is futile as they have an equal footing in the efforts they make to give all their guests an unforgettable experience on the island. If you like facing the beach in the morning, right out of your bed, then go for Abaka Bay, otherwise, Port Morgan will do fine, although it can be crowded at times because it is more budget-friendly.
Since most of the locals live on the main island, the island's shorelines are largely untouched. You could easily find yourself alone on a pristine, white, sandy beach, perfect for a romantic walk or if you just want some alone time. Imagine standing on warm sandy beach, turquoise waters as far as your eyes can see. Take some snorkeling gear with you too, as water visibility is excellent.
The two hotels mentioned are not the only choices. In fact, if you enjoy socializing, you can literally stay on the island for free, plus you could get to experience life on the island the way the locals do. You can even eat home cook meals. Fresh seafoods available include conch and lobster, although you can always ask for other stuff like chicken. Staying with a fisherman and his family may seem too much of a backpacker's idea, but for fun's sake, it's totally worth it. They're not only friendly, they can also give you hints on where to go to find really secluded spots that only the locals know of.
Talking about hints, if you choose to stay in Abaka Bay, you may find it pricy, but again, it's worth it since the hotel sits right on the beautiful beach of Grande Anse Dufour. It's also a short walk to another secluded beach, the Petite Anse Dufour. As for the other lodgings, or if you choose to stay in one of the humble houses of the villagers, distances vary from 45 minutes to over an hour of walking to reach these amazing beaches. A pleasant walk to the beach could actually be more fun considering you will experience more scenic spots, like the mesmerizing lagoon atop a hill covered with mangroves. Perfect for photo shoots.
Have fun, and don't forget to experience the pristine waters of Petite Anse Dufour beach.
COME EXPERIENCE IT:
Location: Île-à-Vache, Haiti
Transportation: Boat ride from Les Cayes
Hotels nearby: Abaka Bay, Port Morgan
Restaurants nearby: Restaurants at the resorts
More Haiti Travel Guide Articles