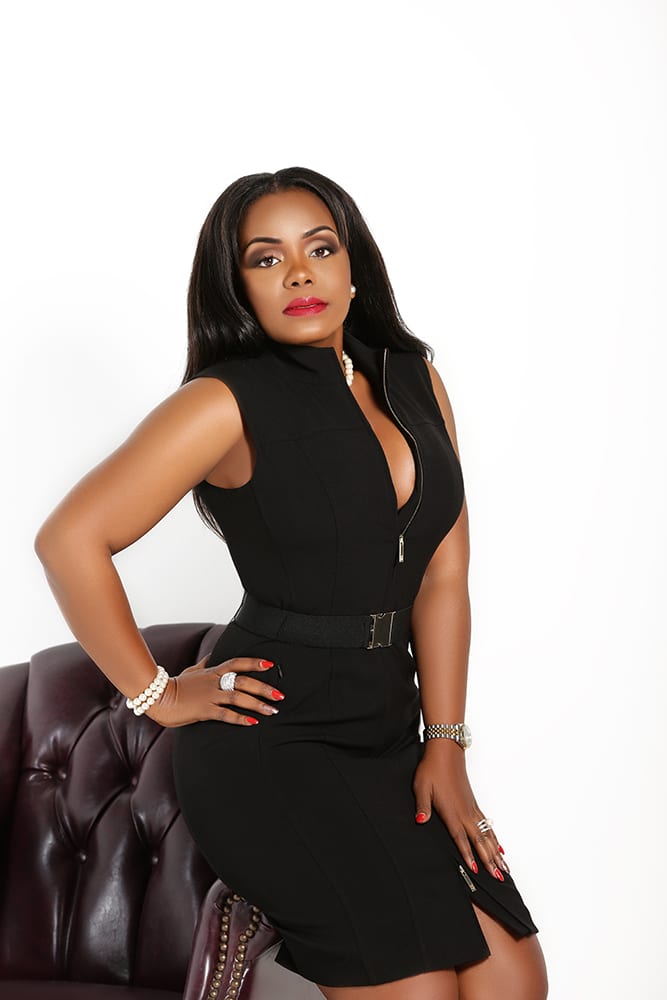 By Sarah Brutus, ESQ.
Tell us about your upbringing.
I'm originally from Haiti, Port Au Prince to be exact. My education commenced at College Bird and College Roger Anglade. I moved to the United States when I was 13 years old. Prior to that, I came back and forth to the United States. From there, my family moved to Boston, where I continued my education.
How did you get started in acting?
My brother Corvens Rozier A.K.A "Tonton Dezirab" put me in my first acting roll I was 18 years old. I've acted in several movies and have traveled all over the world with my brother to attend movie premieres, performing live plays "Banm Manmanm Tet Kale, movies like Ti Mafi, Papa'm Jalou, and numerous music videos. I'm Kathy Leger, a.k.a. Vierge Marie, the character. My brother is the one that put me on the spot to start acting. He said it ran in the family. When I first started, I was very shy and wondered if I was able to act in front hundreds of people or would I be any good. I always pressured myself to take on new challenges, but sometimes I would also question what did I get myself into. But my brother always believed in me and he pushed me to believe in myself but I owe him the credit for giving me the courage to perform live in front of thousands of people which later I use that same confidence in doing business but I still think TonTon Dezirab is the true talent.
Tell me about your work in the business field.
I have an associate in business, and I also became an investor in real estate while I was in Boston. In addition to that, I had the opportunity to work in banking and held various roles in the banking sector, I was also able to introduce various bank products we now use in the tax preparation industry. After a quick divorce, I decided it was time for a change and decided to take my talents elsewhere. I chose to move to Miami, and never looked back. I met my business partner a couple years later, and we have been partners for 10 years now. We started South Beach Funding, which offers credit empowerment, credit-building, business funding, and other professional services. We are currently nationwide representatives for 3 major accounting software, this sophisticated tax platform allows me to travel all over the country.
What do you think has motivated you and allowed you to move your business in the right direction over the years?
My goal is to pursue economic empowerment and educate financial literacy to my community especially for those in our community who don't have the access and resources to do it themselves. I've been extremely blessed and fortunate attend college, attend business conferences which affords me access and to gain the knowledge to help me build my business. I feel our haitian community would be furthef if we had more knowledge about credit, leveraging and most importantly financial literacy.
My goal is to pursue economic empowerment and educate financial literacy to my community especially for those in our community who don't have the access and resources to do it themselves.
What has been the hardest part about being an entrepreneur and growing your business?
The hardest part of being an entrepreneur for me was balancing my business and personal life. Being an entrepreneur sometimes require traveling and long hours at the office, It's important to have a great support system at home to keep the business and your personal life balance.
The second hardest for me was communicating and connecting with my Haitian people, Haitians are naturally uncomfortable discussing their financial business with strangers. It's important to put yourself out there, take advantage of social media , attend free conferences and most importantly read books. Knowledge is Power
What advice would you give young women entrepreneurs who are just starting out?
First to believe in yourself. Be selective on those you keep around you. Focus. Be self-motivated. Find that thing you are passionate about. If you're doing something just because someone else told you to do so, that is not your passion. Set goals, and actually follow through on them. Procrastination is the enemy of progress. When you start something, finish it.
What advice would you give a young lady who is going into acting in our community?
You must believe in yourself before someone else is going to believe in you, make sure to work with reputable producers that will have your best interest and future at heart. Never shy away from any challenge just because you're a women.
What do you do when you're not working and taking over the world?
I love to travel, especially to Haiti where I can let my hair down to enjoy some Lambi Boukannin as I enjoy those beautiful beaches.