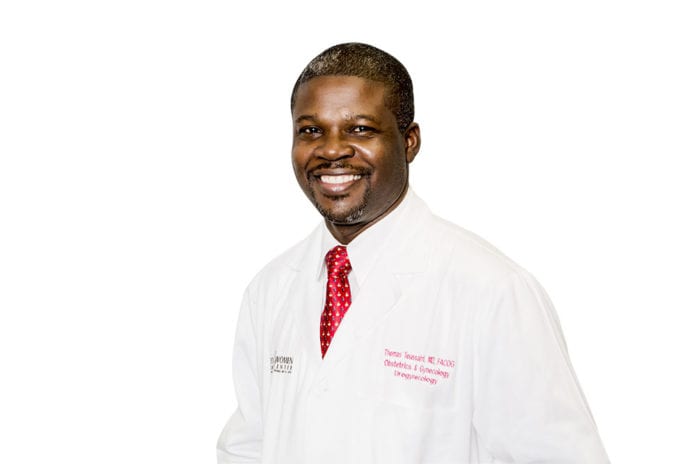 OBGYN Specialist
Dr. Thomas Toussaint is a co-founder of Total Women Wellness Center and serves as its CEO and Chief Gynecology Officer. He is Board Certified in Obstetrics and Gynecology by the American Board of Obstetrics and Gynecology and is one of the few specialists in Uro-Gynecology in the World. Born in Cap Haitien, Haiti, he received his Medical Doctor (M.D) degree from Universite D'Etat D'Haiti in Port-au-Prince, Haiti. After graduation, he obtained training in Obstetrics and Gynecology at the Hopital de l'Universite D'Etat D'Haiti and was elected Chief Resident in 2001. He served as OBGYN doctor at Hopital Sacré Coeur and Hopital Justinien in his native city. He later was recruited to train in Obstetrics & Gynecology at Nassau University Medical Center in Long Island, New York, at Memorial Sloan-Kettering Cancer Center in New York and South Side Hospital for Surgery. Subsequently, he completed his fellowship in Minimally Invasive Gynecologic Surgery at Nezhat Medical Center, Endoscopy Laser Institute of Atlanta, in Atlanta, Georgia.
This accomplished physician holds medical licenses to practice in Florida, New York, Georgia and Illinois. His training includes as well Advanced Operative Gynecologic Hysteroscopy & Laparoscopy (Atlanta, GA), Laparospocopic & Obstetric Surgical Techniques (Martinique, France) and Robotic Assisted Surgery expert. After his fellowship, he was recruited as a Clinical Instructor for the University of Illinois School of Medicine for Minimal Invasive Surgery, Pelvic Reconstructive Surgery, Urogynecology while being part of the Rockford Health System for Gynecologic Surgery & Clinic in Rockford, Illinois.
Dr. Toussaint is as passionate about medicine as he is compassionate about people. He has been part in many medical missions and sponsored many health-related activities in his homeland. His clinical interests include treatment of Cystocele, rectocele & Enterocele, overactive bladder syndrome, vaginal rejuvenation, pelvic organ prolapse, pelvic reconstructive surgery, robotic surgery, pelvic pain & endometriosis, post-menopausal bleeding, advanced laparoscopic minimally invasive surgeries, urinary and fecal urgency, leakage, frequency and nocturia. His great passion is bringing healing to those who have been through a traumatic/stressful experience dealing with hard to remedy disorders of the reproductive and the urinary systems. Women can experience urinary problems at any stage of their life. And it takes a great Physician like Dr. Toussaint with years of experience in Uro-Gynecology to help liberate those stigmas attach to urgency, leakage and frequency, prolapse, etc. He understands and provides individualized treatment for a successful outcome.
His presence has also been felt nationally in many conferences, workshops and meetings held in Washington, DC, Las Vegas, NV, Denver,CO, Hollywood, FL, etc. He has also conducted researches in Management of Uterine Adenosarcomas, Abnormal Vaginal Bleeding, disorders of Vagina & Vulva, and many more. His publications have also been read both nationally and internationally. With fluency in Spanish, Creole, French and English, Dr. Toussaint is a gem in the Haitian and Hispanic communities of South Florida. When he is not in his office in Miami, FL he is attending to patients in various hospitals in the Orlando, FL area.
Visit Dr. Thomas Toussaint or call his office at (305)705-4575 for an appointment.
CONTACT INFORMATION:
Thomas Toussaint, MD | Total Women Wellness Center
16400 NW 2nd Ave #101, Miami, FL 33169 | Web: www.totalwomenwellness.com
Phone: 305-705-4575 | E-mail: info@totalwomenwellness.com