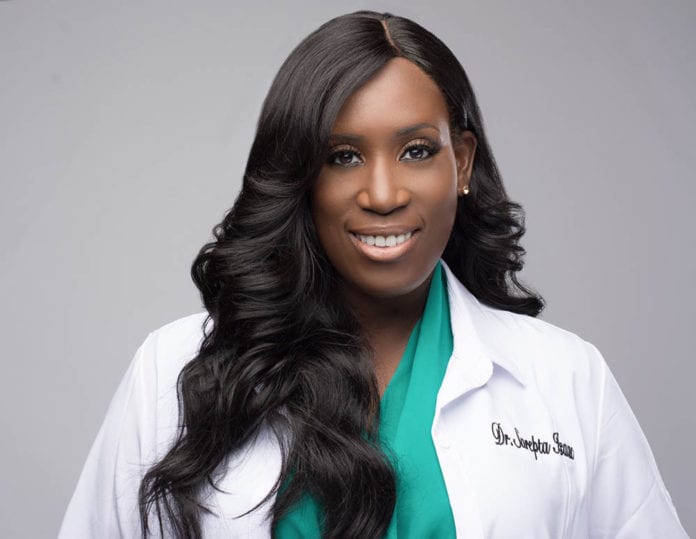 Podiatrist Specialist
Dr. Sarepta Isaac started her mission in healthcare and wellness advocacy and education after noticing a tremendous need while treating her patients in her everyday work. The passion and commitment to motivate, educate and advocate came from this.
Before commencing medical school, Dr. Sarepta had the opportunity to work closely with the Haitian community, of which she is native. There, she recognized the tremendous need for clarification of health-related information, not just in the Haitian community, but in general. She found that often, health topics are not clearly understood, and this misunderstanding contributed to complications and mismanagement of disease. Put simply, once one better understands their disease and treatment options, they are more likely to better manage and even be cured. Her mission is to motivate and encourage the public into taking charge and better care of their health and wellness.
After completing her undergraduate studies at Pace University in NYC with a major in biology and minor in chemistry, Dr. Sarepta received her Doctor of Podiatric Medicine Degree in 2011 from the New York College of Podiatric Medicine. She went on to her residency training at South Nassau Communities Hospital in Oceanside, NY. She served as Chief Resident in the Podiatric Medicine and Surgery residency program during her final year. At the end of her studies, she was awarded a Completion of Podiatric Medicine and Surgery with an added credential in Reconstructive Rearfoot Surgery certificate.
While serving as Chief resident, Dr. Isaac began pursuing her Masters' in Business Administration degree with a Concentration in Health Care Management which she completed in August 2016. Shortly after completion of her MBA program, Dr. Isaac began her entrepreneurial journey and opened her private practice, Serenity Podiatric Concierge, LLC in Atlanta, Ga with plans for further expansion in 2018.
Put simply, once one better understands their disease and treatment options, they are more likely to better manage and even be cured.
Dr. Sarepta enjoys researching and exploring all aspects of healthcare. She is a sought-after speaker and contributor of various health and wellness topics in numerous publications. To help her reach the masses and those that need this information, Dr. Sarepta holds monthly "Serenity Health Talks" seminars where she meets with her patients and family members of her patients to discuss pertinent health and wellness topics. If you are looking to bring expert health and wellness knowledge to your next conference, panel, or health event with high content health information- Contact Dr. Sarepta today.
Speaking topics include, Taking Charge of your Health, Keeping Your Health a Top Priority, Properly Advocating for the Health of a Loved One and Balancing your Mental and Physical Health. Dr. Sarepta is also available for all types of media interviews including television, radio, lectures, panel discussions and keynote speaking engagements. Inquiries should be made at contact@drsarepta.com
CONTACT INFORMATION:
Dr. Sarepta Isaac, DPM, MBA | Serenity Enterprises, LLC
P. O. Box 232, Alpharetta, GA 30009
Phone: 404-937-7005 | Email: contact@drsarepta.com | Web: www.drsarepta.com