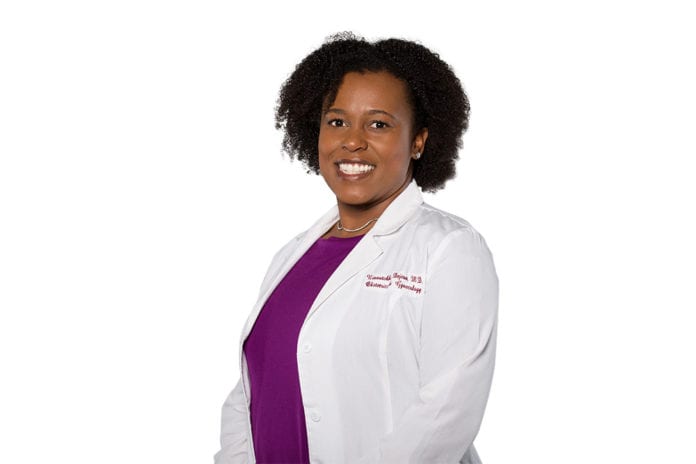 Obstetrics/Gynecology Specialist
Dr. Ninoutchka Dejean is board certified by the American Board of Obstetrics & Gynecology. She graduated from medical school at the University of Florida College of Medicine and completed her residency training in Ob/Gyn at New York Medical College. Dr. Dejean's focus is on the management of gynecologic disorders and performing minimally invasive office-based procedures such as hysteroscopy, endometrial ablations, Essure permanent birth control as well as routine pap screening.
About the clinics:
Our offices are located in the Memorial Hospital Pembroke Plaza and at the Boca Clinic where we offer personalized care to women of all ages in a private and relaxed atmosphere.
Our offices are designed with warmth and sensitivity to make your visit a comfortable and pleasant experience. We provide state of the art, comprehensive healthcare for women in every stage of life.
Our practice respects your time. We do our best to get everything done for you at the time of your visit. Blood work is drawn in our office so that you don't need a separate trip to the lab. Our doctors perform all of their own ultrasounds, avoiding a second appointment elsewhere, and allowing you to receive your results immediately.
Because our focus is solely on Gynecology, we are able to meet your needs in a timely fashion without the disruptions commonly experienced in an obstetric practice. With many years of experience in the field of OB/GYN, our staff is knowledgeable and ready to answer your questions both on the phone and in the office.
We offer evening appointment hours and Saturday appointments for your convenience. Call to schedule your appointment today!

List of Services:
GYNECOLOGIC OFFICE PROCEDURES
Colposcopy for Abnormal Pap Tests
LEEP Cone Procedure for Cervical Dysplasia
Transvaginal Pelvic Sonograms
Hysterosonograms
Essure™ permanent birth control
Nexplanon™ birth control implant insertions
Endometrial Ablations
Hysteroscopy and Endometrial Biopsy
GYNECOLOGIC OFFICE VISITS
Routine Wellness Exams
Menopause Care
Ovarian Birth Control
IUD Insertions
Post-Menopausal Bleeding
Abnormal and Heavy Menses
Family Planning
GYN Ultrasound
HPV Testing and Vaccination
Infertility
Cancer Screening
Hysteroscopic removal of uterine fibroids and polyps
CONTACT INFORMATION:
Dr. Ninoutchka Dejean, M. D., F. A. C. O. G. | drdejean@miamiwomencare.com
Broward: Pines Women's Care | 2253 North University Drive, Pembroke Pines, FL 33024
Phone: (954) 716-3378 Fax: (561) 939-0524
Palm Beach: Boca Women's Health | 1601 Clint Moore Road, Suite 210, Boca Raton, FL 33487
Phone: (561) 939-0520 Fax: (561) 939-0524