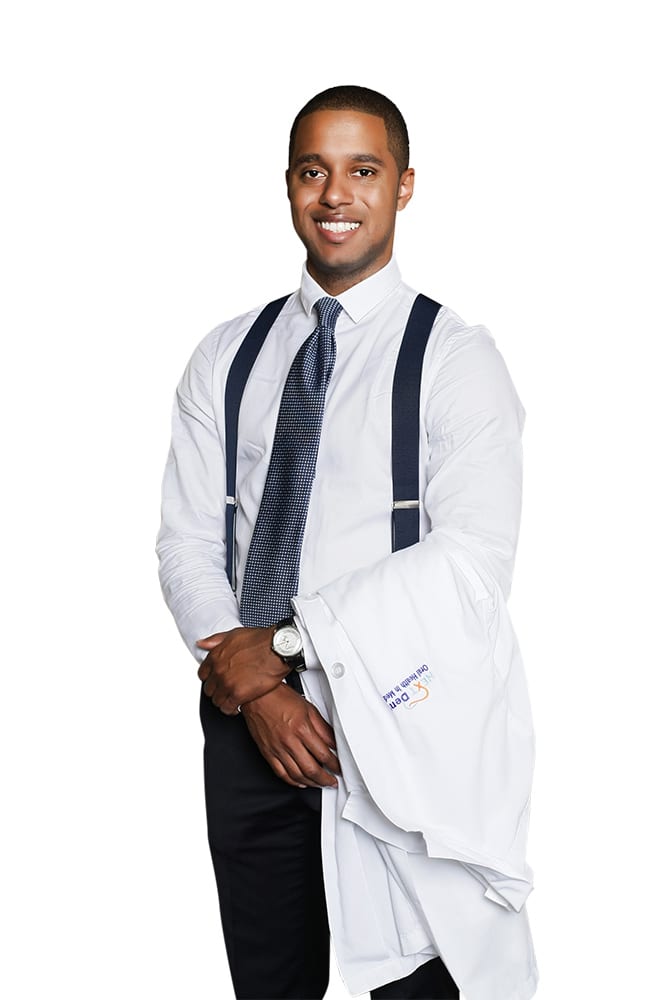 Dental Specialist
Dr. Edwin Smith is a devoted, caring, and highly skilled dentist who graduated from Columbia University College of Dental Medicine. He was raised in South Florida, attending High School at Chaminade-Madonna College Prep, and he graduated with a Bachelors in Science from Florida International University. After training in New York, he returned to North Miami Beach to treat his local community alongside his father, Dr. Pierre Michel Smith.
Dr. Smith is a member of the American Dental Association, Florida Dental Association, South Florida Dental Association, Miami-Dade County Dental Society, and Academy of General Dentistry. Dr. Smith is an avid learner who is passionate about providing the highest level of care to his patients so regularly doubles the board requirements for continued education.
Dr. Smith is the Director of Next Dental and Next Dental 6th Ave. In 2017 he was named one of Haiti Open Magazine's Top 10 Haitian Business Leaders in South Florida, and along with his wife Michelle Smith was named Legacy Magazine's Power couple of the year for their rapid business growth by enhancing access to care, and their real estate redevelopment projects in North Miami Beach.
About Next Dental:
Next Dental is a fast growing practice in the North Miami area whose main focus is to enhance the oral health of the community. We provide every patient with excellent dental care that will result in a lifetime of optimal dental health. We offer a tradition of professional integrity, and pride ourselves on providing the highest quality dentistry in a family environment.
Our mission is to enhance access to care in our community. We do this by accepting most insurance, and offering an in-house Wellness Plan for our uninsured community. With our in-house plan, we offer affordable fees and reasonable payment plans. In addition, we offer transportation services for locals upon availability. Many members of our community don't have reliable transportation so they frequently miss their appointments. This allows oral diseases to worsen and spread because the treatment that is required is not being received.
Your mouth is the gateway to your body. Oral disease does not exist in isolation. Gum Disease negatively affects Diabetes, Blood Pressure, and your overall health. Studies show that most adults have gum disease and don't know it. Common signs include bad breath, loose teeth, calculus buildup, and bleeding on brushing/flossing, and swollen gums. Treatment of gum disease can help with the management of many diseases, so we are regularly promoting continuity of care with local physicians. It is important that our community is regularly evaluated and treated.
We are a family-oriented dental practice, treating patients of all ages. We accept walk-ins, but always recommend scheduling an appointment to avoid a long wait time.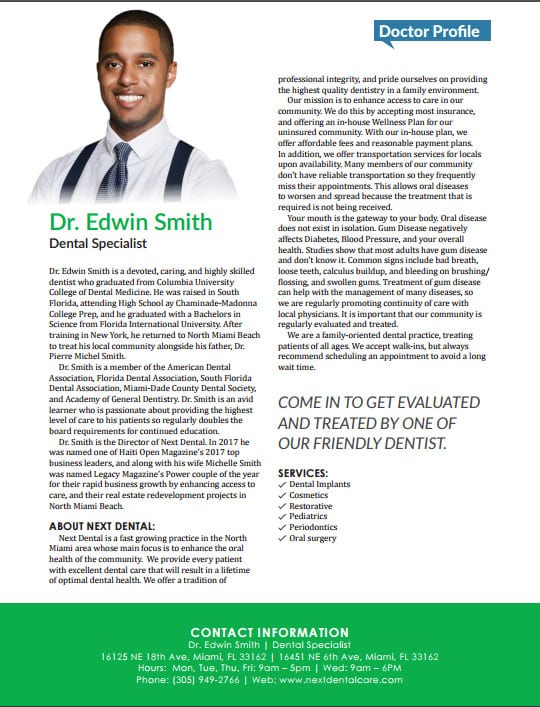 Come in to get evaluated and treated by one of our friendly dentist.
Services:
Dental Implants, cosmetics, restorative, pediatrics, periodontics, oral surgery
CONTACT INFORMATION:
Locations: 16125 NE 18th Ave, Miami, FL 33162 | 16451 NE 6th Ave, Miami, FL 33162
Hours: Mon, Tue, Thu, Fri: 9am – 5pm | Wed: 9am – 6PM
Phone: (305) 949-2766 | Website: www.nextdentalcare.com