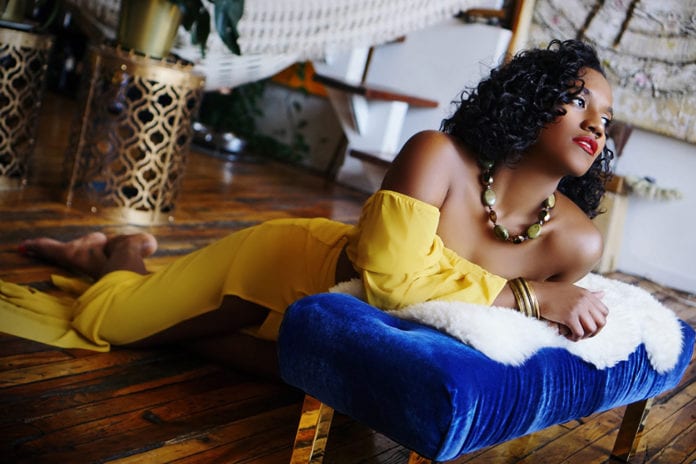 Photographed by Leticia Lamour @tilamou, bio excerpt
Nathalie Lubin is the epitome of a Haitian renaissance woman. From writing her own Haitian cooking blog to teaching art and producing exhibits and commissioned pieces, she has demonstrated her artistic aptitude over and over. After completing her Bachelor of Science in Biology with a concentration in pre-medical studies, Nathalie decided to break the standards of the society she grew up in by fully immersing herself in her passions, art education, and art management, and shifting her studies to studio art. Miss Lubin has spent the past 13 years in New York, painting, professionally framing, exhibiting and teaching art to marginalized communities. As a fine art framer, she manages a New York shop where she constantly deals with clients from all over the world who trust her with their art.
From writing a Haitian cooking blog to teaching art, and producing exhibits and commissioned pieces, she has demonstrated her artistic aptitude over and over again.
Inspired by Frida Kahlo and the Haitian painter Rigaud Benoit, Nathalie's paintings are self-portraits that capture human emotions (especially women's) through her own experiences. Her relatable narrative art is like an open book of endless stories and possibilities. While she is interested in patterns and the multiple subjects in Haitian paintings, she has an uncontrollable love for the art of One; that is, art that focuses on one subject. Her art studies loneliness through introspection, as a woman, to focus the attention on the forbidden and daring. Often, one subject asks its audience for their undivided focus/attention and perhaps turns itself into you. That is where a certain particularity, uniqueness, grace, and beauty is born – through the loneliness and attachment that comes from emotion and personal experience. Ironically, Miss Lubin balances this "sad" feeling with bold, vibrant colors.
Nathalie recently completed her residency with the Guggenheim Learning Through Art program, as she has a strong interest in Art Education and Management. She is now working on a future art exhibit that will combine a collection of women's personal experiences, symbols, and patterns. As a writer, her first children's book, "Trogon's Song of Hope" (Chante Lespwa Twogon) tries to educate readers about the national bird of Haiti, the Hispaniolan Trogon, whose habitat is threatened by deforestation and erosion.
Contact information:
Web: www.nathalielubinart.com