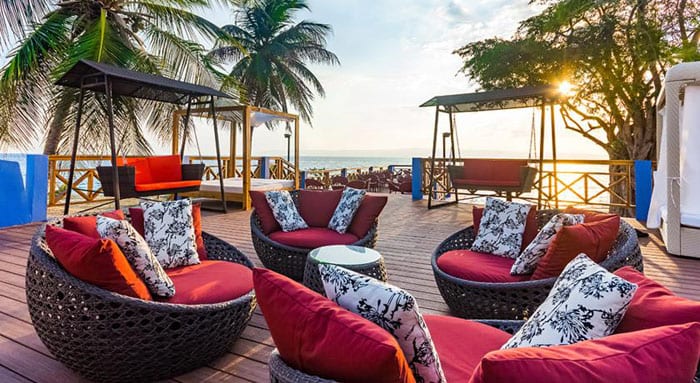 The Royal Decameron Indigo Beach Resort & Spa
It's got royal in the name, and for good reasons: this beach resort offers nothing short of an amazing experience, with all the details needed for a good, relaxing, fun time at the Beach. If you want to turn your Haiti hotel stay into something a little more experiential, the Royal Decameron may be just the place you need. With sun, sand, daily activities, quiet pool and activity pool, nightly shows, disco, spa just to name a few, this resort will put your vacation to Haiti over the top.
The Royal Decameron Indigo Beach Resort and Spa is sometimes called "The Jewel of Haiti." It is a beautiful nature reserve with 55 hectares of land surrounding the hotel. Guests have access to white sandy beaches next to the aqua blue coastal waters of the sea. The beaches are two kilometers long, which is about 1.25 miles. If you're the type of traveler who likes to take long walks on the beach with your partner, then you will enjoy this soft white sand under your feet.
If you want to participate in recreational activities, the hotel offers two outdoor swimming pools, a children's pool, tennis courts, and a health & fitness center. Since this is a spa resort, you can indeed find a nice spa tub to use while you're there as well. You should use the spa after you've walked or worked out. It is the perfect way to relax the muscles throughout your body.
…sun, sand, daily activities, quiet pool and activity pool, nightly shows, disco, spa just to name a few…
Reviews
The Royal Decameron Indigo offers the ideal experience for anyone who loves to lodge in a tropical location. The average outdoor temperature is 30°C, so you should be okay without a jacket on for the entire time you're there.
You will never be bored during your stay at the hotel. Between the hours of 9 AM and 5 PM, guests have access to an archery area, soccer court, basketball court, volleyball court, tennis courts, and children's club. If you're interested in theater, you can find several dramatic and musical stage performances in the center lobby area. There is something for everybody at the Royal Decameron Indigo.
Guests are greeted in a warm and friendly manner by the Haitian people. They go out of their way to make you feel welcomed at their hotel and in their country. It is undoubtedly worth the price for the accommodations just to experience their hospitality.
The Location
An ideal location is conducive to an ideal stay. At the Royal Decameron Indigo Beach Resort & Spa, you won't have to worry about where you are. It's a mere hour from the international airport and the capital's historical center, nestled between gorgeous mountains and the glistening sea. It is located on Haiti's famous cost, "La Cotes des Arcadins", right on over a mile long of pure white-sand beach and nestled on a tropical reserve of approximately 55 hectares.
The All-Inclusive Program
This kind of program provides guests both ease and comfort during their stay. With your reservations paid for, visitors to the hotel do not have to worry about spending any additional money. Visitors will have all their meals covered, all beverages (including unlimited alcoholic beverages), snacks in between meals, daily activities, non-motorized beach accessories, sports activities, nightly entertainment, disco ALL INCLUDED in their packages. To top it all of – tips and tax are included as well. It couldn't get any easier! (note: some services may require additional fees).
…unlimited alcoholic beverages…
Amenities
There is a total of 400 rooms available at the resort. Each room is extra spacious and designed in an Antillean architectural style. It is a European style of architecture that initially came from Central America. Approximately 350 rooms offer guests picturesque views of the sea. The hotel has 30 rooms that provide views of the garden and another 20 rooms that offer views of the two outdoor swimming pools. So, you can take your pick which room you want to stay in because they all give you something great to watch.
Every room includes air conditioning, Wi-Fi internet, cable television, a hairdryer, mini-refrigerator, shampoo, soap, telephone, bathroom, shower, ironing board, safety deposit box, and your choice of a double bed, king-size bed, or queen size bed. However, you do have to pay extra to use the safety deposit box, telephone, mini-refrigerator, and Wi-Fi internet. Please keep that in mind.
Daily Activity Programs
If you want to head off the resort and have a bit of fun, the staff at Royal Decameron has you covered. Sometimes guests need a bit of guidance, and the daily activity programs are the perfect entertainment. The list goes on and on but to name a few, one can enjoy Beach Volleyball, Mini Golf, Tennis (clay courts), Basketball, Archery, Bocce Ball, Golf Practice range, soccer etc. Additionally, for those who are a bit more adventurous, non-motorized water activities allow guests to get out there and explore a bit: Snorkeling, kayaking, paddle-boarding and the catamaran rides – all part of the all-inclusive package.
A fully equipped gym is also available to help guests stay fit and healthy during their stay. You can take advantage of cardio machines, resistance training and free weights, treadmills, bicycles, elliptical machines. So there's no need to abandon your workout routine just because you're on vacation. And by the way, did we mention Gym with an Ocean View??? Definitely helps out the work out process.
…enjoy Beach Volleyball, Mini Golf, Tennis (clay courts), Basketball, Archery, Bocce Ball, Golf Practice range, soccer etc.
Beach
With over a mile long stretch beach of pure white sand and crystal clear waters, all our guests are guaranteed to enjoy some R&R, fun, tan or disconnection needed whatever the reason of your travel purpose. At Decameron, there are NO additional fees for the beach towels, lounge chairs or umbrella tables. Guests comfort and ease is our priority.
The two Largest Pools of Haiti
You can spend a little time cooling off, soaking the sun, reading a book in the quiet pool centrally located in the Resort. Or for the visitors looking for a bit more fun and adventure, one can enjoy some fun in the sun with the Activities pool where you can catch a bit of Aqua Gym, water polo games, Zumba lessons, all while you have pop music playing in the background. If you're traveling as a family, the Resort is also equipped with two children's pools – both located next to each one of the Large pools.
Restaurants & Bars
The dining options at this resort are so plentiful that you may never have to leave to curb your hunger. At Le Grand Marche, the Resorts main buffet restaurant that can accommodate over 500 guests at any one time, serves daily meals. One can catch breakfast buffet with so much variety that they are guaranteed to leave happy
Local beers, local rum, cocktails, frozen drinks, wines are all available at the resort, throughout the 4 bars located in the Resort. If you want to party a little later into the evening, try the Disco bar in the southern restaurant "La Casserole Haitienne", which is open until 2am.
The Spa ($$$)
Sink into tranquility and true relaxation at the spa. Choose from a lengthy list of treatments including massages, facials and body treatments. Located on the Beach front, as if the treatments weren't relaxing enough, enjoy the sound of the waves splashing on shore while enjoying your choice of treatment. You are guaranteed to leave with a smile on your face.
Excursions ($$$)
Haiti is a country worth exploring. For this, Decameron offers a list of excursions to Discover Haiti outside of the Resort, through its receptive desk, Decameron Explorer. Varying from a Haitian Tap-Tap boat ride along the coast to explore beautiful beaches and some snorkeling; to a hike up the mountains of "Kay Pyat" with its beautiful scenery located behind and above the Resort where one can enjoy the views from the hike and a cool natural basin of fresh water at the top of the mountain while you are at it.
Service
But the best part of this Resort; it's the warmth of the Haitian people. They are all ready to serve, greet you with a smile and to ensure you have an enjoyable stay at the only ALL INCLUSIVE Royal Decameron Indigo Beach Resort & Spa.
Wedding Space
Are you planning a wedding in Haiti? The Royal Decameron Indigo offers wedding planning and honeymoon planning services too. Obviously, you'll have to pay extra to plan such events, but the accommodations available for them are incredible. You can reserve a private room in the central lobby for the wedding ceremony and/or reception.
There are three restaurants in the hotel. The most popular is a buffet-style restaurant that serves breakfast, lunch, and dinner meals. You'll also find Haitian and foreign alcoholic beverages served at the hotel too. These establishments are perfect for wedding guests who like to eat and drink as they celebrate the glorious occasion.
Address: La Cotes Des Arcadins, Haiti
Phone: +509 28 15 0111
@decameronhaiti