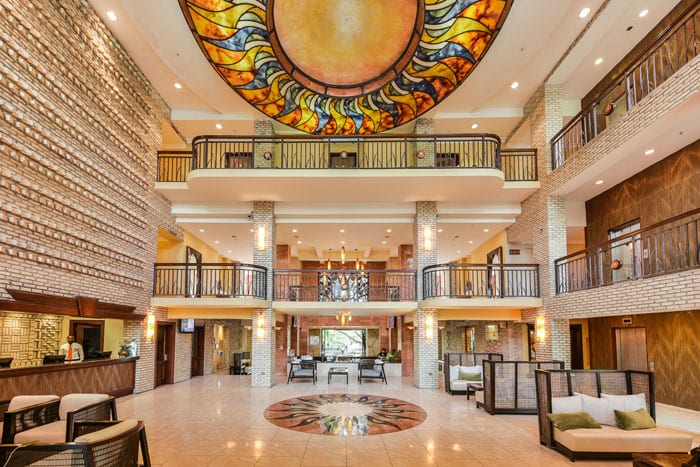 Karibe Hotel
#3 of 13 Hotels in Pétionville, Haiti based on TripAdvisor Ratings
By Shannon Bullman
Offering everything from shopping and dining to fitness and relaxation, Karibe knows what it takes to make your trip unforgettable.
The Accommodation
The Karibe hotel has rooms available for every type of visitor. The standard rooms offer a single, double or king-size bed with a balcony, while the deluxe rooms offer queen or king-size beds and a fantastic view. The junior suite has a balcony, king-size bed and view of the pool, while the central suite includes a closed bathroom, living room and two bedrooms. For those looking for a longer and more comfortable stay, the Presidential Suite offers two closed bedrooms, a dining room, a living room and a second level. Not only are the rooms spacious, but they are modernly designed with tasteful decorations.
The Reviews
Websites like Trip Advisor are some of the highest-rated travel planning sites on the internet at the moment, and the reviews left on them are increasingly vital for hospitality businesses. Karibe has received an overall score of excellence on this site, and its specific ratings rank it much higher than the average Haitian hotel.
The Amenities
The Karibe is more than just a place to rest your head at night. Guests love the onsite bar and restaurant that puts on frequent buffets and serves Creole-inspired dishes throughout the day. After breakfast, head to the hotel's spa for a massage, wax, nail care, facials and body treatments. Karibe's fitness center helps you stay in shape while traveling and offers weights, cardio equipment and classes like yoga and spinning. End the night at Asu Rooftop Lounge overlooking the city, with gourmet dishes and delicious cocktails in a cosmopolitan ambiance; it's the perfect spot for socializing with friends and colleagues. Before you leave, make sure to stop by Karibe's La Boutique for souvenirs and Haitian products to remind you of this magical place.
Note: Karibe Hotel is also known for its lush gardens, its countless trees and its architecture, which was carefully designed to showcase nature. The lobby is completely open to tropical breezes and natural lighting. It also highlights Haitian art through the metal work throughout the hotel. It is located in a safe neighborhood known for its quiet charms, yet close enough to the bustling city centers of Port-au-Prince and Petion-Ville.
Address: Juvenat 7, Port-au-Prince, Haiti
(509) 2812 7000
More hotels in Haiti