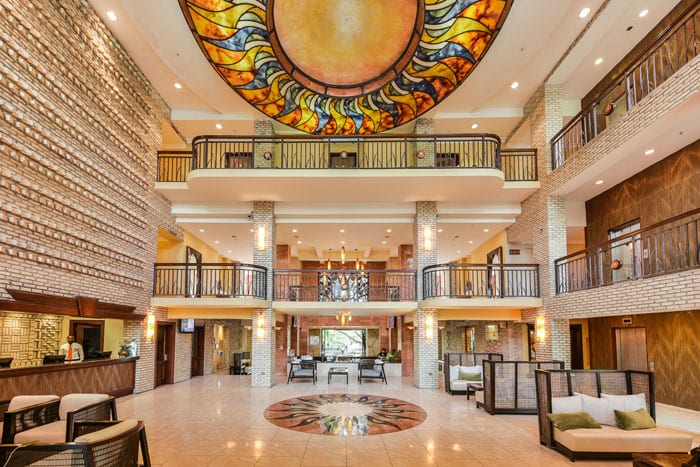 Karibe Hotel
Offering everything from shopping and dining to fitness and relaxation, Karibe knows what it takes to make your trip unforgettable.
The Accommodation
Karibe Hotel is a four-star hotel in the Juvenat neighborhood, which is located in the Haitian suburb of Petionville. You'll notice it is a quiet neighborhood that is only a couple of minutes away from the central area of the suburb. It is also a short trip from the international airport to get there, so you won't have to travel very far.
Some of the biggest attractions in the area are the Monnin Gallery and Marassa Gallery. These galleries give tourists and travelers a chance to learn about Haitian culture and history. You can also visit some famous landmarks in the area, such as Champs de Mars Square and the Church of St. Peter.
Local artisans and architects designed the Karibe Hotel. You'll get an immediate sense of the local culture as soon as you arrive there. The hotel has existed for about 100 years, with four different generations of owners. They've been around for so long because of their commitment to provide high-quality hospitality services.
The hotel structure has even been deemed anti-seismic by Miyamoto International, which is a global earthquake engineering firm. That means if an earthquake ever strikes, you will be safe inside of the hotel.
The Karibe hotel has rooms available for every type of visitor. The standard rooms offer a single, double or king-size bed with a balcony, while the deluxe rooms offer queen or king-size beds and a fantastic view. The junior suite has a balcony, king-size bed and view of the pool, while the central suite includes a closed bathroom, living room and two bedrooms. For those looking for a longer and more comfortable stay, the Presidential Suite offers two closed bedrooms, a dining room, a living room and a second level. Not only are the rooms spacious, but they are modernly designed with tasteful decorations.
The Reviews
Websites like Trip Advisor are some of the highest-rated travel planning sites on the internet at the moment, and the reviews left on them are increasingly vital for hospitality businesses. Karibe has received an overall score of excellence on this site, and its specific ratings rank it much higher than the average Haitian hotel.
If you want to get away from city life for a while, then come to the Karibe Hotel. It is a tropical escape from the crowded cities of Haiti. From the local airport, you can take an airport shuttle directly to the hotel. There is no need to rent a car or ride in a taxi if you're from out of town. It is very convenient and will save you money on transportation.
When you arrive at the Karibe Hotel, you will be greeted by staff members. They are very kind and welcoming to tourists that stay there. The outside of the hotel features luscious gardens and beautiful beaches that every guest will love and appreciate.
The hotel does not only have short-term rooms available. They also have 12 studios and apartments that can be rented by long-term guests at discounted prices. But you'll need to make reservations for these rooms well in advance because they go quickly.
The Amenities
There is a total of 147 rooms at the Karibe Hotel. The rooms are fully air-conditioned and come with open balconies and refrigerators. Other amenities include flatscreen televisions, satellite cable TV, free cable internet, free Wi-Fi internet, bathrobes, hairdryers, and toiletries. When you're ready to go to sleep, you will enjoy the premium quality bedding and pillow-top mattress that will knock you right out.
Guests of the Karibe Hotel can use the outdoor tennis court, the indoor health club (open 24 hours per day), and the outdoor swimming pool. There are additional amenities available for an additional cost, such as a full-service spa, Swedish massages, hot stone massages, body wraps, facials, thalassotherapy, aromatherapy, and hydrotherapy.
The Karibe is more than just a place to rest your head at night. Guests love the onsite bar and restaurant that puts on frequent buffets and serves Creole-inspired dishes throughout the day. After breakfast, head to the hotel's spa for a massage, wax, nail care, facials and body treatments. Karibe's fitness center helps you stay in shape while traveling and offers weights, cardio equipment and classes like yoga and spinning. End the night at Asu Rooftop Lounge overlooking the city, with gourmet dishes and delicious cocktails in a cosmopolitan ambiance; it's the perfect spot for socializing with friends and colleagues. Before you leave, make sure to stop by Karibe's La Boutique for souvenirs and Haitian products to remind you of this magical place.
Wedding Space
Do you dream of having a wedding in a beautiful tropical oasis? If so, then the Karibe Hotel is the perfect place to have a wedding. The hotel has specialized services available for people who plan to get married there. The staff members can assist you in making your wedding a memorable day for you, your partner, and all your guests.
If you want an indoor wedding, the Karibe Hotel gives you a choice of five different deluxe rooms for it. The rooms are the Ginger Room, Cattleya Room, Acajou Room, Asu Room, and Bamboo Room. But if you'd prefer an outdoor wedding, then you can choose the Terrasse Chemally or the Jardins des Orchidees.
Note: Karibe Hotel is also known for its lush gardens, its countless trees and its architecture, which was carefully designed to showcase nature. The lobby is completely open to tropical breezes and natural lighting. It also highlights Haitian art through the metal work throughout the hotel. It is located in a safe neighborhood known for its quiet charms, yet close enough to the bustling city centers of Port-au-Prince and Petion-Ville.
Address: Juvenat 7, Port-au-Prince, Haiti
(509) 2812 7000
More hotels in Haiti