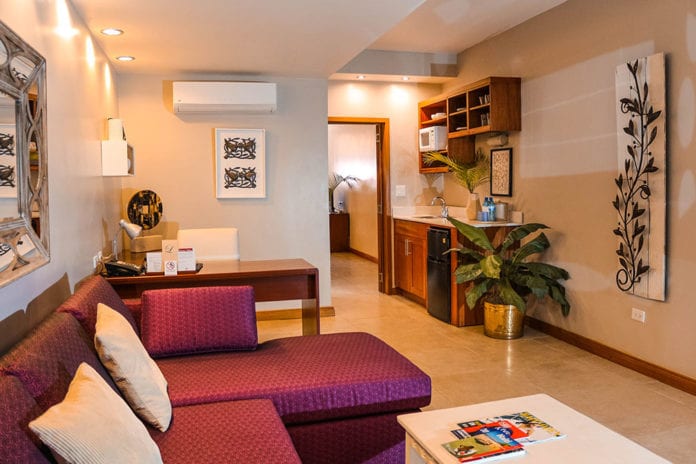 Le Plaza Hotel: a tropical oasis nestled in the heart of Port-Au-Prince
Whether you are visiting Haiti for business or pleasure, Le Plaza Hotel has all the amenities to suit your needs to have a great and unforgettable stay. This full-service comfort and convenient hotel is a tropical oasis nestled in the heart of Port-Au-Prince. It boasts a lush tropical garden and large outdoor swimming pool and is conveniently located on the Champ de Mars just steps away from the Presidential Palace, the Cathedral, the National Museum of Art, and the National Museum Pantheon. This property features safe, free on-site ample parking and is walking distance from shops, restaurants, nightlife, businesses, and banks.
The Le Plaza Hotel is a three-store hotel in Port-au-Prince. You'll find the hotel conveniently located in the city center, which is close to the Toussaint Louverture International Airport. A shuttle will take you to the hotel from the airport. You should call ahead of time to confirm the schedule of the shuttle. If you don't want to wait for the shuttle to take you everywhere, then consider renting a car instead.
The cultural sights in the area include the National Pantheon Museum, Museum of Haitian Art, National Palace, and Champs de Mars Square. Most of these sights are within walking distance of the hotel. It is a two-minute walk to the Champs de Mars Square, a five-minute walk to the Museum of Haitian Art, a five-minute walk to the National Pantheon Museum, a seven-minute walk to the National Palace, and a thirteen-minute walk to the Port-au-Prince Cathedral.
Reviews
You get what you would expect from this three-star hotel. The Le Plaza hotel features two onsite restaurants. Each guest is entitled to a free buffet breakfast at one of the restaurants. No smoking is allowed anywhere in the hotel.
There is no beachfront property at the hotel either. However, you are within walking distance to the nearby Baie de Port-au-Prince, which is a water bay. You can enjoy some water sporting activities if you want to walk over 1000 meters or so to get to them. Otherwise, you can stay at the hotel and enjoy its onsite activities.
The best activities to do at the Le Plaza Hotel are the massages. The staff offers a variety of different massage types, such as couples' massages, neck massages, head massages, full-body massages, foot massages and hand massages. If you need extra help relaxing after a long trip, then any one of these massages will do the trick.
The nightly rate is between $100 and $110. It is a low price for a Haitian hotel in the city center. If you're in the mood to gamble and make money, you could visit the Roy Plaza Casino and try your luck at some traditional casino games.
Amenities:
With so many amenities on-premises, there are few reasons to even leave the property. Amenities include 2 restaurants, 6 meeting rooms, free Safety box in the room, business center, fitness room, laundry service, free WIFI access, free swimming pool, on-premises ATM, currency exchange, Taxi Service, a 24-hour reception desk, secured free parking and not to mention the Compas-Acoustik special Thursday night.
There are 96 rooms with air conditioning in each of them. You'll also find safety deposit box (safe), bathrobes, cable television, hairdryers, free Wi-Fi internet access, desks, phones, room service, and private yards. Guests may also access recreational amenities like the fitness center and outdoor swimming pool.
If you are checking into the hotel on a business trip, then you can visit the Business Center. It offers you conference facilities and wireless internet access. If you need to conduct business meetings or talk to clients, then you have great accommodations available to you at the hotel for these purposes.
Le Plaza Hotel boasts a lush tropical garden and large outdoor swimming pool and is conveniently located on the Champ de Mars just steps away from the Presidential Palace, the Cathedral, the National Museum of Art, and the National Museum Pantheon.
Rooms and Suites:
Le Plaza Hotel has 95 spacious rooms. Residential suites cater to longer-term guests and junior suits for those wanting a bit more space and homey comforts. All rooms, Executive, Deluxe or Standards will provide you comfortable modern furnishings, twin or king Beds, cable Television, Flat Screen TV, a safety deposit box and ironing facilities are standard. All rooms offer a view of the garden or the swimming pool.
Dining:
There are several dining options available to Le Plaza Hotel guests and visitors.
La Terrasse Bar and Restaurant offers open-air casual dining and live entertainment. It is a hip meeting spot for locals and hotel guests alike. La Terrasse offers classic Haitian dishes, sandwiches, and snacks in addition to a free breakfast buffet served to guests from 6:30 am to 10:00 am daily.
Kanel Restaurant is a formal dining room that is open Tuesday through Saturday for lunch and dinner. It features themed lunch buffets and international cuisine. Guests can enjoy creole, international and seafood buffets on Wednesdays, Thursdays, and Fridays.
Meetings and Events:
With 6 function spaces, Le Plaza Hotel can accommodate large and small seminars, workshops, meetings, weddings, and social events.
Touissant-Louverture includes 3 rooms on the same floor perfect for workshop activities and breakout sessions.
The Executive Meeting Room is the smallest room with a capacity of 12 guests. This room is perfect for small private meetings.
Thérèse is the largest room, measuring 2,200 square feet with a capacity of 300 guests. This space is ideal for large conferences, annual meetings, and weddings.
Wedding Space
The Le Plaza Hotel can offer happy couples an intimidate wedding experience. There are several spacious event halls available for guests who plan to hold private events or parties at the hotel. What better place to have a wedding than downtown Port-au-Prince? Even though it is not a beach resort, there are several beaches nearby that you can enjoy for a wedding afterparty.
There are up to eight event halls available. They each vary in size and seating capacity. The event hall in which you book will depend on the number of guests who come to your wedding. If it's a big wedding, then you can have 300 people in the 2,207-square foot Thérèse room. But if you'd rather have a smaller venue that holds no more than 40 people, try the 436-square foot Toussaint-Louverture 3.
Le Plaza Hotel
10 rue Capois – Champ de Mars
Port-au-Prince – HAITI
reception@plazahaiti.com
Phone : +509 2814 6000
Toll-free: 1-866-356-5407
www.plazahaiti.com