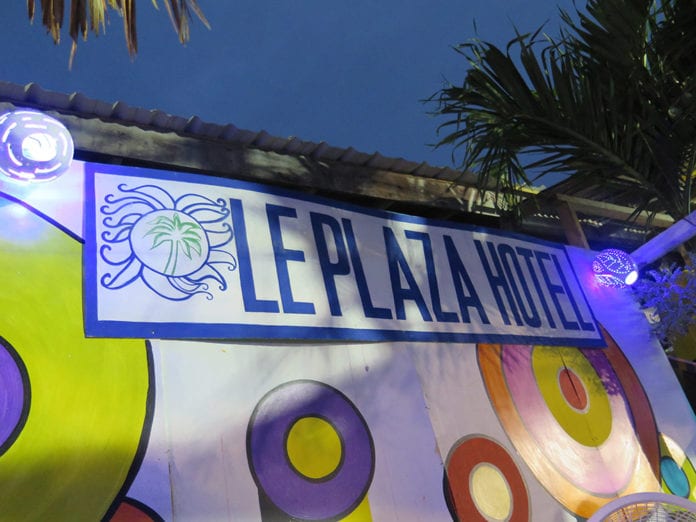 By Isabelle Vasquez
Carnival in Haiti is a three-day bacchanal filled with music, dancing, fine Haitian rum, and cold Prestige to keep you cool while you dance the night away.
Le Plaza Hotel offers an inclusive three-night stay deal. With your hotel reservation, you get access to the hotel's privately catered stand, a secure place to park your car and a fun new carnival T-shirt each day, which makes for a great keepsake. Le Plaza's catered stand offers a traditional Haitian bouillon to all the brave souls who make it through the night of partying and into the wee hours of the morning.
Le Plaza Hôtel is the only hotel situated directly on the official trajectory of Haiti's carnival parade.
Le Plaza Hotel is a proud supporter of the arts and has a longstanding tradition of commissioning a Haitian artist to paint a different mural onto their stand each year. Last year's piece was done by the incredibly talented Pascale Faublas, a Jacmel-based Haitian artist who has showcased her art around the world.
There's no better way to enjoy carnival than by knowing you can enjoy the festivities and party to your heart's content without having to worry about having to travel further than your room in the hotel. You'll spend the night dancing to some of the best carnival songs, all performed by Haiti's hottest new artists and longstanding favorites. Carnival on the Champs de Mars is a much-beloved tradition that brings Haitians of all walks of life together to celebrate and revel for a few days of carefree abandon. And there's no better place to enjoy it than Le Plaza Hotel, one of best hotels in Haiti.
CALL FOR RATES:
Le Plaza Hôtel | 10 Rue Capois, Port-au-Prince
Haiti: +509 28 14 6000 | Toll-free: 1-877-810-0975
E-mail: Reservations@PlazaHaiti.com | Web: www.PlazaHaiti.com