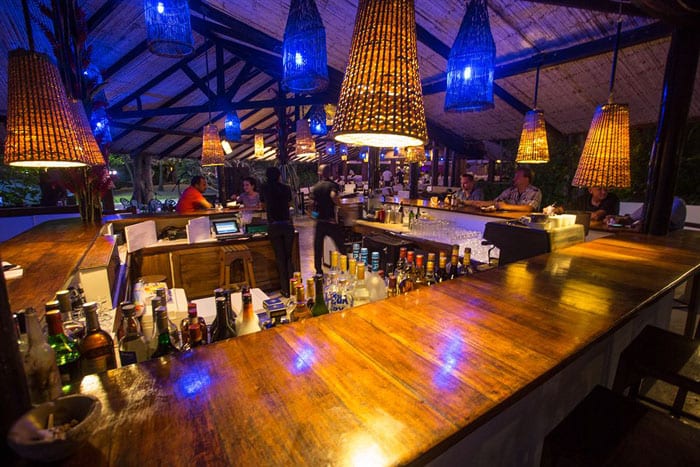 Cormier Beach Resort
Located on the beach, this resort comprises five acres of luxury landscape and accommodation. By offering a complimentary breakfast and dinner, Comier shows that they put guest satisfaction first. Aside from their great relationships with guests, there are other compelling reasons why you should consider staying at Comier Beach Resort when visiting Haiti.
The Cormier Plage Resort can be found in a small commune and port city called Cap-Haitien. It is on the northern Haitian coastline, which is a rural area that is away from the city. When you arrive at the Cap-Haitien International Airport, a free shuttle service will be available. It is about a 26-minute drive from the airport to the hotel.
Hotel guests have easy access to beautiful scenery and white sandy beaches, including Cormier Beach as well as Labadee Beach. If you love to swim or perform water sporting activities, such as kayaking, boating, or snorkelling, then you will be in heaven at this hotel. There are boat tour adventures designed to leave you thrilled and excited.
If you wish to go sightseeing and learn more about the history and culture of Haiti, then you'll find some famous landmarks in the area. Some of the most recognized landmarks are the Cap-Haitien Cathedral, Sans Souci Palace and Place d'Armes. Even though you get a shuttle to the hotel, you'll still have to find transportation if you want to travel around and look at these sights.
Reviews
If you want to feel like you're a castaway on an island with a beautiful resort hotel, then you will want to stay at the Cormier Plage Resort. It is far away from the city and traffic so you won't hear a lot of noise at the hotel. Couples that want to have a relaxing time together without commotion should choose Cormier Plage Resort. It feels secluded, but you'll have a team of staff members who are on-call to assist you day and night. So, you are never really alone at the hotel.
There is free shuttling between the airport and hotel on a 24/7 basis. However, you might want to rent your own vehicle because there is a lot of coastlines to explore. You might find some more secluded beaches and sights with no one else around. It all depends on how much sightseeing you want to do when you're there. The hotel offers free self-parking.
Located on the beach, this resort comprises five acres of luxury landscape and accommodation.
The Food
If you want traditional cuisine, this is the place. From breakfast and lunch to dinner, guests can enjoy gourmet fusion options and eat their meals right on the beach. Make sure to try the seafood, as it's always one of the freshest items on the menu. They have a children's menu as well, plus an extensive cocktail list to help you cool off and wind down.
Amenities
There is a total of 32 rooms at the Cormier Plage Resort. Each room comes with free Wi-Fi internet access, air conditioning, 32″ flatscreen television, balcony, cable channels, toiletries, showers, safes, and Mp3 docking stations. Guests also get free access to several recreational amenities and activities, including an outdoor tennis court, beach volleyball, basketball, regular volleyball and private beach access.
If you're interested in reading the local newspaper, you may request a free newspaper from the front desk of the lobby. There are no elevators at the hotel, so it should be easy enough to find your way around. Beach towels and designated smoking areas are available for guests who need them.
Do you dream of getting a massage on the beach? If so, then you can pay extra to make that dream come true. Beach loungers and picnic area access are complimentary to guests of the hotel.
The Beach
When lounging on the beach, guests have the best of both worlds. Enjoy views, comfy lounge chairs and sunsets, right at your own back door.
The Lounge & Bar
Take time to relax and mingle with the other hotel guests at the lounge and bar. It's a meeting place for those who want to socialize – and there are plenty of ways to relax once you arrive. Grab a cocktail or beer and enjoy the frequent live music, dance, or just chat with new friends.
The Massages
If you want the ultimate relaxation, opt for a massage. The trained staff will greet you on the beach, where you will lay in a little bungalow by the water. The masseuse will knead all the tension from your body as you listen to ocean waves lap at the sand in the near distance. Make it even better by bringing over a cocktail from the bar!
Wedding Space
The Cormier Plage Resort offers wedding hosting and planning services. If you need to take the pressure off your shoulders when it comes to planning the details of your wedding, then let the staff at Cormier Plage Resort handle that burden. They can provide the facility, decorations, food catering, music, and the ordained minister who'll perform the ceremony.
Try to plan your wedding well in advance because a lot of preparations go into wedding planning at the Cormier Plage Resort. The staff members need to make sure there are enough hotel rooms for guests and plenty of free space available for your private party. It is well worth the money to plan the event at the resort.
Address: RD 15, Cormier, Haiti
Phone: +509 37 02 0210