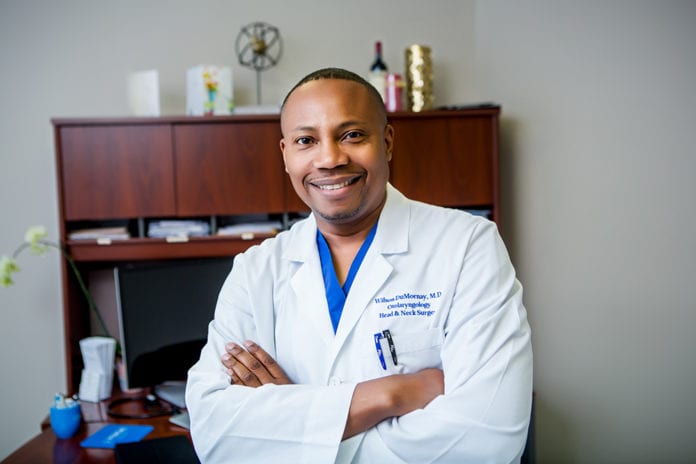 Board-certified ENT surgeon
Photo by Johny "Redlight" Luc
Dr. Wilson Dumornay specializes in advanced Head and neck oncology; Robot assisted surgery (TORS), Endoscopic Sinus surgery, Snoring, Sleep Surgery, Tracheal stenosis, Vocal cord paralysis, minimally invasive thyroid, parathyroid surgery and general Otolaryngology.
Dr. Wilson DuMornay graduated from Temple University School of Medicine with honors. He completed his surgical internship at Tulane University at Charity Medical center in New Orleans, Louisiana. His Otolaryngology Head and Neck surgery residency was completed at Albert Einstein/Montefiore Medical Center in New York City. Dr. DuMornay continued his postgraduate training at memorial Sloan Kettering Cancer Center and the University of Miami in Head and Neck Surgery with microvascular reconstruction. Dr. DuMornay is a Diplomate of the American Board of Otolaryngology Head and Neck Surgery.
Dr. DuMornay is also a retired Lieutenant Colonel in the United States Army Reserve, having served multiple tours in Overseas.
Our mission is to provide the highest quality of care to patients with disorders of the ears, nose, throat, head and neck. To achieve this vision, our team emphasizes compassionate care, clinical excellence, and the use of the latest technology available to treat the medical and surgical problems of the Ear, Nose, Throat. We strive to ensure our patients are treated with courtesy, dignity, and respect. We are committed to the overall patient experience. We strive to be responsive to individual needs of the patient so that the care is individualized and not simply confined to the disease process.