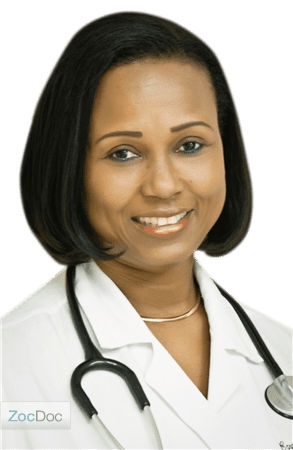 Obstetrics/ Gynecology Specialist
Dr. Marie-Carmelle Liburd hails directly from the former Pearl of the Antilles – the island nation of Haiti. She completed her education at the Sisters of the Sacred Heart of Turgeau, and received her medical degree from the State University of Haiti in 1994. After practicing for a few years, Dr. Liburd relocated to Miami, Florida, where she was recertified as a physician and completed her residency training as an OB/GYN at the prestigious Mount Sinai School of Medicine. Soon after, she was also certified as a Fellow of the American Congress of Obstetricians and Gynecologists (ACOG, Board Certified).
In 2006, Dr. Liburd returned to Miami and established a clinic through North Shore Medical Center. She has been providing quality service to the diverse communities of Miami-Dade and Broward Counties since, and strives for excellence every day with you and your family in mind.
Dr. Liburd is married with two children, and is an active member of the South Florida community affiliated with organizations such as the Haitian American Leadership Organization, Association des Medecins Haitiens a l'Etranger, Florida Medical Association.
About the Clinic
Medical Care for Women strives to provide high quality and comprehensive care for women of all ages in a state-of-the-art facility. MCFW offers a full breadth of Obstetric and Gynecologic services to its patients including in-office procedures as well as gynecologic surgeries in the hospital. We only deliver at North Shore and Jackson North Medical Centers, as we strongly believe it is safer to deliver your baby where a full service NICU team is available 24/7.
Obstetrics
"Women Caring For Women."
Are you currently pregnant and planning to deliver in the Miami area?
Medical Care for Women is your medical center of choice. Our staff is fluent in English, Spanish, French, and Haitian Creole. It is of the utmost importance that women educate themselves about the benefits and the challenges of giving birth in South Florida. We will provide answers to all your questions, whether you're a first time mother or welcoming your fourth child. The more you know, the better equipped you will be when making decisions about what is best for you and your unborn child.
Our all-female staff will make you feel welcome, and have implemented a professional but warm environment that will help future mothers prepare for the fulfilling and natural experience of birth. The goal of our obstetrics practice is to ensure that both the mother and baby remain safe and healthy during this special time. You will receive personalized care throughout your pregnancy, including delivery and any subsequent follow-up visits. The same level of care that you thought was only available "lakay an Ayiti."
Gynecology
"Women Treating Women."
Dr. Carmelle Liburd and her staff provide regularly scheduled health screenings as part of your plan of care. At your annual exam, our doctors and staff take the opportunity to listen to your concerns, to answer your questions, and to get to know you and your unique needs in order to make recommendations specific to you.
At Medical Care for Women, we take your privacy seriously, and offer the services and skills required for you to have a healthy treatment plan from start to finish, free of stress.
Our office of all-female, Board Certified providers and experienced staff offer women in the South Florida community personalized and compassionate, high quality OB/GYN care in a unique, relaxed environment.
For Women, By Women.
CONTACT INFORMATION:
Marie Carmelle Liburd, MD, FACOG | Medical Care for Women
1190 NW 95 ST, Suite 107, Miami, FL 33150 | Phone: 305-696-9400