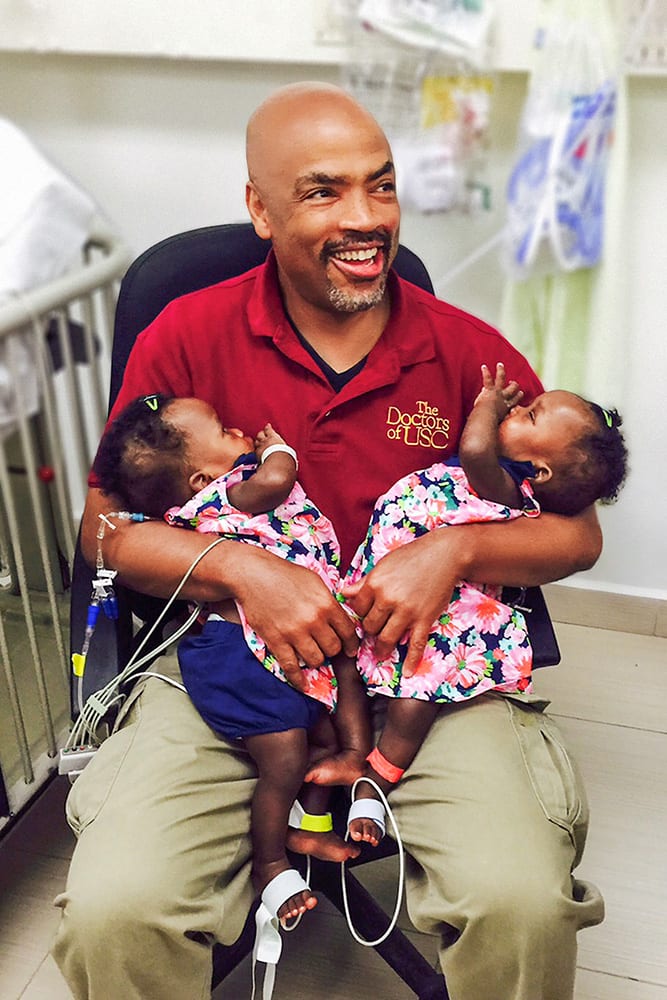 When he was only 13 years old, an aspiring physician left Port-au-Prince, Haiti to settle in Brooklyn, New York seeking the American dream. Dr. Henri Ford went on to earn a bachelor's degree in public and international affairs from Princeton, his M.D. from the illustrious Harvard Medical School, and a Master of Health Administration (MHA) from the University of Southern California. The ivy-league student attended medical school to alleviate human suffering and, as a result, went on to an extremely gratifying and prolific career.
Ford has played an integral role in the development of a cutting-edge, minimally invasive surgery program during his tenure as the chief of surgery and senior vice president at the Children's Hospital Los Angeles (CHLA). His fellowship in pediatric surgery at the University of Pittsburgh's School of Medicine, along with his drive to bring positive and meaningful change to medicine, led to his groundbreaking research on necrotizing enterocolitis (NEC), a lethal disease affecting the gastrointestinal tract of premature infants. With over 300 publications, book chapters, manuscripts, and presentations, Ford is an immigrant with a success story that always motivates students looking to follow in his footsteps.
The Haiti-born pediatric surgeon maintains a close relationship with his native country. During the years of political turmoil in Haiti, Ford stopped visiting due to worries for his safety. After the devastating earthquake struck Haiti, Ford put his concerns behind him and traveled to the country to help develop its healthcare infrastructure—by providing medical care and training physicians—while spearheading a new, world-class, nationwide critical care and trauma network to cope with preventable causes of death in the Caribbean country. "There is a strong need for Haiti to invest in a national trauma critical care network," explains Ford.
Ford is renowned for his risky and rare medical milestones. His knowledge of medicine extends from surgery and trauma to critical care and infections. His experience in these areas has led to his rarefied accomplishments. On May 22, 2015, the chief of surgery at Children's Hospital, Los Angles, California traveled to the University Hospital in Mirebalais, Haiti to perform the first separation of six-month-old girls joined at the abdomen. He joined an organization tied to the University of Miami's Medical School, two dozen volunteer health professionals from the US, and Haitian medical staff. He performed the successful seven-hour operation on the conjoined twins during a medical mission trip.
Today, Ford continues to make history as the first Haitian-American doctor to head a medical school in the United States. He is embarking on his journey as the Dean of the Miller School of Medicine at the University of Miami. In Miami, he will be living among America's largest Haitian community and answering the need for greater access to healthcare in a city developed by immigrants. But the university has a long history of providing critical and primary care, medical equipment, and training in Haiti.
"I'm very excited about the tremendous opportunity to potentially help Haiti establish much-needed trauma and critical-care infrastructure," says Ford. "Haitians [won't] have to jump on an airplane to come to the U or Jackson Memorial for treatment, or simply die in-country whenever they sustain significant multi-system trauma, a heart attack, or a critical burn.
"[That] also applies to other impoverished Caribbean and Latin American nations that may potentially benefit from the expertise that is readily available at the Hemispheric University."
Ford feels his calling at UM is to build a state-of-the-art research facility that attracts a diverse group of faculty and students—specifically, underrepresented minority students.
Ford is renowned for his risky and rare medical milestones… On May 22, 2015, the chief of surgery at Children's Hospital, Los Angles, California traveled to the University Hospital in Mirebalais, Haiti to perform the first separation of six-month-old girls joined at the abdomen.
He is an active member of several professional and scientific societies, including the American Surgical Association, the American Physiological Society, the British Association of Pediatric Surgeons, the American Trauma Society, the Society of Critical Care Medicine, the American Pediatric Surgical Association, the Society of University Surgeons, the Shock Society, the Surgical Infections Society, the Society of Black Academic Surgeons and the Association for Academic Surgery. His past accomplishments include serving as a professor and vice chair for clinical affairs in the Department of Surgery at the Keck School of Medicine of the University of Southern California, and professor and chief of the Division of Pediatric Surgery and surgeon-in-chief at the Children's Hospital of Pittsburgh and the University of Pittsburgh School of Medicine.
Ford's students describe him as "a true hero who exemplifies the professional and personal qualities of a great doctor." Such praise had led to prestigious honors and recognition for his mentorship to medical students and his medical discoveries regarding several pediatric disorders. This recognition is to no surprise to his colleagues, who are keenly aware of his devotion to medicine and his desire to help others.
The physician has taken on many roles as a physician-scientist, physician-educator, and administrator throughout his medical career. Ford says his life-long goal is "to establish a culture of excellence in scientific research and promote the translation of discoveries into interventions that will transform lives, build healthier communities, and improve global health."
To promote change and achieve his lifelong goal, Ford and representatives of the non-profit Project Medishare, the Haitian Ministry of Health, and the Interim Commission for Haiti's Reconstruction have joined Haiti's government initiative of establishing a National Trauma Critical Care (NTCC). In addition, he will participate in a commission to develop a long-term sustainability plan for the hospital's facilities and to cultivate donors. This project will reduce the mortality arising from major traumas, heart attacks, strokes, severe burns and maternal emergencies in Haiti.
"The healthcare needs in Haiti are great, and [the NTCC] will benefit the citizenry and help the overworked physicians providing the care for patients on a daily basis."